Bills fans really are second to none.
For anyone that tuned in to watch the 2019 NFL Draft, it was clear that the Bills were well represented by their loyal followers. From fans proudly sporting red, white and blue Bills gear around Nashville to Bills Backer Chapter members cheering loudly from Buffalo's "Inner Circle," Bills faithful showed up as they always do – in a big way to support their team.
Bills longtime Season Ticket Members, Larry and Carol Le Blanc were among those who made the trip to Tennessee. Selected to take part in the NFL's Draft Season Ticket Member Experience, the couple embarked on the trip of a lifetime. Hardly able to contain their excitement, the Le Blancs recanted highlights from their weekend.
"Larry was able to take the jersey and the cap up to the commissioner and then we did a pick together [the 225th pick]," said Carol. "I did the third round by myself, which was unexpected."
Called upon to announce the team's third-round pick Dawson Knox, Carol was nervous and excited at the same time.
 "I was a nervous wreck. They just came down to our seat and said, 'You have to come right now.' And we weren't really expecting it. Then when I got back stage, Coy Wire said that he would do the pick and then he saw me there and said that we were going to both do it together…He was great."
What happened next to the duo, seemed like an act of fate.
"Friday night, after the draft was over, Tim McGraw put on a performance for about an hour or so," said Larry. "Then we started walking back to the hotel…and we just got to the corner of the hotel and there was a group of young fellas, college age…. They started chanting 'Buffalo Bills!' because we had our jerseys on…Then someone yells, 'That's Miss Carol!' – they recognized her from the pick. It just so happens that it was Dawson Knox himself with his buddies."
Posing with Knox, the Le Blancs felt an instant connection to Buffalo's new tight end.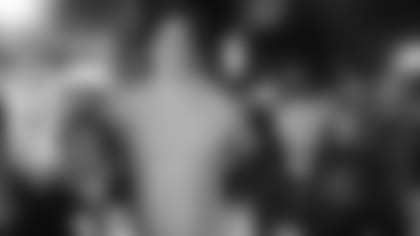 While on the scene in Music City, the Le Blancs joined others from each of the League's 32 teams for exclusive events reserved solely for those in the Draft Season Ticket Member Experience. The group was treated to a "You Make the Call" dinner with the Senior Vice President of Officiating, Al Riveron, breakfast with Commissioner Roger Goodell, lunch with NFL Legends and got to walk the red carpet.
Of all the noteworthy moments, the Le Blancs particularly enjoyed the comradery that existed between the fans.
"We got to know tons of people," said Carol. "There was a fella that after my presentation, came up to me and he was a Pittsburgh Steelers fan and we started to talk. He asked where we were from. I said, 'Hilton, New York' and he said, 'So am I.' He lived about a mile and a half from us."
"There wasn't any competition with the other teams. It was just a good get together with everybody," said Larry. "Everyone was enjoying each other."
Leaving Nashville with an enhanced sense of Bills pride as well as with new friendships, the Le Blancs will always remember the 2019 NFL Draft.
 "[We've been Season Ticket Members] for 32 years. We were thrilled," said the Le Blancs in unison. [This was] the best experience we've had."
Photos of the Buffalo Bills on the scene at the 2019 NFL Draft in Nashville. Bills draft coverage is presented by ECMC.