Like communities around the country, the City of Good Neighbors has come together to support one another during these trying and unprecedented times. As announced on Wednesday, March 25, Pegula Sports & Entertainment, in partnership with the Buffalo Bills and Buffalo Sabres foundations, will provide at least $1.2 million in direct community aid to Western New York residents in need during the COVID-19 pandemic.*
Determined to do their part, many Bills players and Legends have also taken action to make a difference:
Josh Allen
Bills quarterback Josh Allen is once again showcasing his dedication to Western New York. As announced on Friday, April 3, Allen has committed to matching the next $10,000 in donations to Kaleida Health's COVID-19 Response Fund, which supports the organization's healthcare teams.
"[Due to] my relationship with Kaleida Health and John R. Oishei Children's Hospital, I wanted to make sure that I could give back to them because they've been great to me," said Allen. "I wanted to make sure that they've got all the equipment that they need and protective masks. I know that no amount of money can probably make that happen…but I do appreciate what they're doing – their staff and their doctors and nurses that are risking their lives to keep Western New York safe."
The generous act is not Allen's first this offseason. Soon after learning of the Pegula Sports & Entertainment commitment, he took to Twitter to showcase his eagerness to help.
The third-year signal caller out of Wyoming then pledged to donate $25,000 to join the Pegulas' efforts.
"That amount and that much time and effort that they're putting into this, it really speaks volumes," said Allen of the Pegulas during an interview with Adam Schein. "I just really wanted to follow their lead, the direction that they put this franchise in. I wanted to follow them and help them out in any way [I could]. They're really looking out for Western New York and I wanted to be a part of it. It's going to supply a lot of food to a lot of people that can't get out. Whether it be the elderly or people that go to school that relied on those meals…I know our center, Mitch Morse, he donated a huge amount, $100,000, and I just wanted to be a part of that for Western New York because they do deserve it. They deserve the help. Because we are going through such times right now, I think, 'If you can, you must' and that's what I was thinking of and that's why I did it.
"Buffalo and Bills Mafia is unmatched in my opinion by anybody. They are the greatest fans in the world and without them, I wouldn't be in this position. So, if you can, you must. I'm just trying to follow the leadership in our organization. I do believe that Kim and Terry are the best owners in the league and anything they do or say, I'm going to try in my power to emulate that."
Matt & Brittany Barkley
During his time with the Bills, quarterback Matt Barkley and his wife Brittany have developed a relationship with the Matt Urban Hope House. A local center dedicated to providing safe emergency housing for area women and children, the Matt Urban Hope House serves hundreds of community members annually. On Friday, April 17, the Barkleys announced a $10,000 donation to the organization through the Matt Urban Center. The generous gift will afford the shelter an opportunity to purchase activities, electronics and other items to aid the 25 young children and their mothers who are living there.
Tremaine Edmunds
Bills defender Tremaine Edmunds has elected to focus his attention on aiding those in his hometown, Danville, Virginia. As seen on Twitter, Edmunds and his brother Terrell, who plays for the Steelers, distributed nearly 1,000 lunches to their community members. A close-knit group, the Edmunds brothers have often expressed their unwavering desire to give back to the place that gave them their roots.
Reid Ferguson
Like many of his teammates, long snapper Reid Ferguson is eager to help during this difficult time. As announced on Friday, April 10, Ferguson teamed up with La Nova Pizzeria to deliver meals, including 140 sheet pizzas, to the dedicated staff at John R. Oishei Children's Hospital. Contributing $5,000 toward the total cost, the special teamer helped ensure that all the workers would be able to enjoy the delicious treat.
"This is just a way to show our appreciation," said Ferguson to Sal Capaccio. "We're truly grateful for everybody over there that's working really on the front lines against coronavirus right now and trying to keep everybody healthy."
The heartfelt gesture not only offered Ferguson a chance to express his gratitude, it was another opportunity to highlight the deep connection he's made with the hospital over the years.
"I've been doing visits over there with the children, really since I got up to Buffalo," he said. "We do routine children's visits – just go and try and brighten some spirits every now and then with some of the kids that are there in the hospital. So, I've been doing it for about four years now since I've been a part of the Bills organization and just felt like it was the right move."
Ferguson's kindness continued when he joined young students for a virtual learning session on Google! A mentor in the Classroom Champions program, which pairs students with athletes, Ferguson stopped by to say hello and check in on the kids.
Jon Feliciano
Throughout his tenure in the NFL, Jon Feliciano's love and appreciation for his home state have been well-documented. So, when it came to offering respite for those impacted by COVID-19, he knew exactly what he wanted to do. The offensive lineman recently donated $25,000 to two nonprofits: Feeding South Florida and Meals on Wheels South Florida. The funds will help the groups provide food and additional resources to aid individuals in Broward, Miami-Dade, Monroe and Palm Beach Counties.
"Individuals, especially those in low-income households, are being blindsided by the impact that this pandemic is having on all our communities," said Feliciano. "I grew up in South Florida and still call it home. Without knowing how long we'll be quarantined; I couldn't just stand back and not help families get fed."
Harrison Phillips
Although he's only been with the Bills since 2018, defensive tackle Harrison Phillips has already established himself as a major community advocate. Continuing his work this offseason, Phillips – like many of his teammates and coaches – wanted to demonstrate his gratitude for those working to combat COVID-19. Teaming up with Rachel's Mediterranean Grill and Ilio DiPaolo's Restaurant & Banquet Facility, the defensive lineman provided 650 meals to dedicated staff at Buffalo General Medical Center and Millard Fillmore Suburban Hospital.
"I've just been very appreciative of my time in Buffalo," said Phillips. "That's a place that I want to call home, so it was a no-brainer to get involved in some way. I have such a strong relationship with the healthcare system up there, with Kaleida Health and all those guys. I reached out to them to say, 'How can I get involved?' and they pointed out these two hospitals as areas that have some people who are very appreciative of this. I went ahead and partnered with Ilio DiPaolo's and Rachel's Mediterranean Grill to make it happen. I did my Playmakers challenge as well, where I got my kids with special needs involved."
Through Phillips' work with The Playmakers Organization, his nonprofit that serves youth with special needs and developmental differences, he was able to give kids a unique opportunity to help others.
"One of the things that separates us, is we have our kids giving back and serving others. So, this was a teaching moment for me," said Phillips. "I sent out a video to our Playmakers in Buffalo and it was just me saying that I'm going to donate a bunch of meals to the hospital and moms and dads, if you guys can challenge your Playmaker to do a chore around the house, I'll pay them $10 to do that chore. That $10 will actually be in the form of a donation and they'll be paying for one of the doctors and nurses to have a dinner.
"So, I've got about 50 pictures and videos from different Playmakers in Buffalo, mowing the lawn, washing the dishes, folding laundry, walking their dog – all these fun things that their parents sent me pictures and videos of to prove that they did something. Out of those 650 meals, maybe 50 of them have been donated by my kids with special needs."
Stephen & Lindsey Hauschka
They may not live in Western New York during the offseason, but that certainly hasn't stopped Stephen and Lindsey Hauschka from giving back to the place that's become their second home. Through their donation to the Pegulas' relief efforts, the pair teamed up with The Grange Community Kitchen – a local restaurant – to provide dinner to 500 healthcare workers at ECMC and Buffalo General Medical Center. A special way to show appreciation for those on the front lines, the meals were delivered to emergency room staff at each center on Monday, April 6.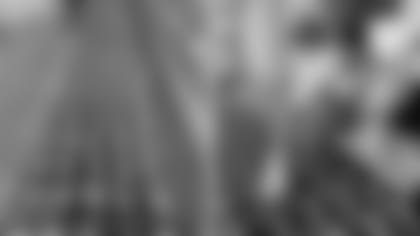 Jerry & Meghan Hughes
Veteran defensive end Jerry Hughes and his wife Meghan have also taken a proactive approach to helping others during this time. The Hughes family, as shared on Friday, April 17, has contributed $50,000 to the Pegulas' initiative. In addition to the substantial donation, the pair partnered with The Grange Community Kitchen to supply food to Western New York first responders and healthcare workers.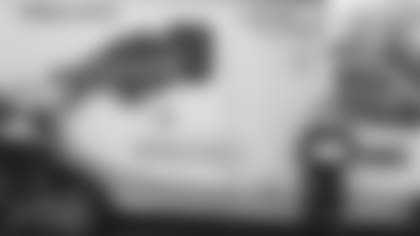 On Wednesday, April 22, 500 meals were delivered to the Buffalo Police Department, Buffalo Fire Department and the AMR team. Additionally, the couple allocated 500 meals to staff at Millard Fillmore Suburban Hospital on Friday, April 24.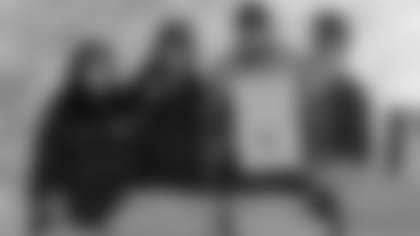 Tyler & Lexi Kroft
Tight end Tyler Kroft also joined in the social media conversation, posting on Thursday, March 25, that he had his wife Lexi would give $50,000 to four causes.
In addition to allocating some of the generous gift to Western New York like Allen, the Krofts will also give back to three other non-profits in their hometowns: Lord's Pantry in Downingtown, Pennsylvania, The Food Bank of the Hudson Valley in Cornwall, New York, and Franklin Food Bank in Somerset, New Jersey. While expressing their desire to be of service for residents living in those areas, the Krofts have also encouraged others to get involved.
Mitch & Caitlin Morse
On March 19, Mitch and Caitlin Morse announced that they would be generously donating $100,000 to FeedMore WNY – a nonprofit (formerly Meals on Wheels and the Food Bank) committed to providing food for Western New Yorker's of all ages. The selfless act of kindness will go a long way toward the organization's ability to provide emergency food relief efforts to individuals throughout the region.
Sean & Jamie McDermott
Bills head coach Sean McDermott and his wife Jamie started the 2020 draft week off on a very positive note, donating $15,000 to area COVID-19 relief efforts. To make a difference in Western New York, the McDermotts linked up with The Grange Community Kitchen, a local restaurant, to provide 500 meals to staff at Buffalo General Medical Center and ECMC. On Monday, April 20, the food – a token of the couple's appreciation for the individuals working on the front lines – was packaged and dropped off at each center for workers to enjoy.
Their kindness continued Tuesday, April 28, when the pair partnered with Uncle Joe's Diner to offer 500 meals to Buffalo General Medical Center staff. 
To aid families in the region, the McDermotts also donated gift cards for necessities, such as groceries. Their generosity will go a long way toward helping residents during the coronavirus pandemic.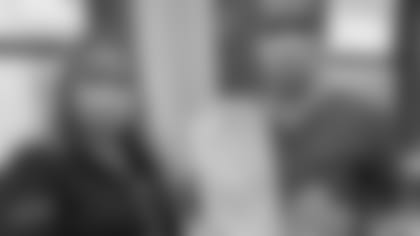 Josh Norman
Bills newcomer Josh Norman took to Twitter to share how he's making a major difference during this difficult time. Through his Starz24 Foundation, Norman has launched a COVID-19 initiative to provide essentials, such as food, to children and families in need. To kick things off, he donated $50,000 to the effort, which will be allocated toward meals and web-based programs. Teaming up with the Boys & Girls Clubs of America, the veteran cornerback is also encouraging others to contribute if they're able by visiting bgca.org/joshnorman.
Jonathan Woodard
Although he's still new to the Bills, Jonathan Woodard – a third-year defender out of Central Arkansas – is already establishing himself as an advocate in the Western New York community. To demonstrate his gratitude for residents working on the front lines during the coronavirus pandemic, Woodard has donated to the Pegulas' initiative. On Friday, May 29, the defensive end's contribution was allocated to provide 125 meals to the staff at DeGraff Memorial Hospital Skilled Nursing Facility. Woodard's generosity was well-received by the devoted employees.
Lorenzo & Manjanique Alexander
He may have retired, but that hasn't stopped fan favorite Lorenzo Alexander from giving back to Western New York. Alexander – a three-time Bills Walter Payton Man of the Year nominee – and his wife Manjanique partnered with two local restaurants to showcase their appreciation for Buffalonians working on the front lines. On Tuesday, April 14, Homegrown Bistro delivered boxed meals to the entire Environmental Services team at Buffalo General Medical Center on the couple's behalf.
The Alexanders' acts of good will continued Thursday, April 16, when they supplied food from The Grange Community Kitchen to the Environmental Services staff at ECMC, supporting workers during each shift.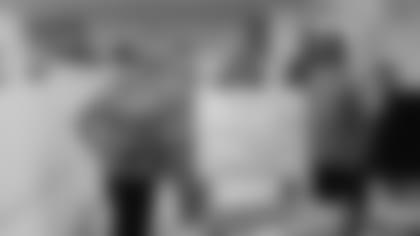 Doug Flutie
A longtime advocate for autism awareness, Bills Legend Doug Flutie is taking extra measures to support the autism community during the coronavirus crisis. Working to mitigate the increased stressors afflicting individuals and families, the Doug Flutie Jr. Foundation for Autism is collecting resources. The group's COVID-19 Autism Relief Fund has already generated $100,000, which will help address the community's growing needs. Initial funding was dispersed directly to families in March and additional support was distributed in early April to assist with technological supplies. All donations made to the effort will be matched by the Doug Flutie Jr. Foundation for Autism up to $50,000.
Eric Wood
Bills Legend Eric Wood, and two-time Walter Payton Man of the Year, has also been steadfast in his approach to helping locals in both in Western New York and Louisville, Kentucky. Through donations made to The Eric Wood Fund, the former Bills center will give gift cards to families through Stone's Buddies – a John R. Oishei Children's Hospital program that supports families coping with chronic and life-threatening illness.
Although he no longer lives in Buffalo, Wood is still a champion for the lovable place that he called home during his entire NFL career.
Wood has taken additional measures to ensure that families going through a difficult time are receiving special care. In partnership with John R. Oishei Children's Hospital, Wood and his foundation are working tirelessly to mitigate any hardships imposed on families by new hospital procedures put in place to combat the spread of coronavirus. Parents and family members, especially those from out of town, seeking a place to stay while a child is undergoing treatment will now have added options. In conjunction with Aloft Hotel at 500 Pearl, Wood and John R. Oishei Children's Hospital will offer lodging to families requiring an extended stay.
Wood has also turned his attention to the Buffalo Ronald McDonald House. The center, which typically offers several services to hundreds of guests whose children are battling illness, including shelter, has similarly endured disruptions to their operations due to the pandemic. While the non-profit is no longer able to accept new guests, it is currently still accommodating five families. To assist the organization in providing carry out meals to the groups, The Eric Wood Fund will cover the financial costs associated with the food.
Understanding that both caring for a sick child and the coronavirus crisis can take a financial and emotional toll, Wood has also purchased dozens of Tops Friendly Markets gift cards to be distributed to families at John R. Oishei Children's Hospital. Seeking to alleviate stress, Wood's heartfelt gestures will have a significant positive impact on deserving families.
"We're just trying to do anything we can from 500 miles away", said Wood.
Teaming up with others, Wood has made strides in Louisville as well, volunteering through LifeBridge Missions to provide 5,000 boxes of meals to individuals in need.
Jon Corto
Former Bills player, and Orchard Park native, Jon Corto has had his hands full since he stopped playing football. An entrepreneur, Corto and his wife developed a business to "promote wellness and offer innovation through high-tech markets and vending machines that offer a unique mix of product options." Huddling with local organizations, Corto's company supplied box lunches to ECMC's Environmental Sciences staff.
Thurman Thomas
Bills Hall of Famer Thurman Thomas has long showcased his dedication to the 716 and surrounding areas. Through the Thurman Thomas Family Foundation, the celebrated running back and his wife Patti have kindly donated 1,000 meals to a local campaign called "Stock the Freezer." The food will be supplied to individuals in Buffalo's inner city.
Corto & Thomas family collaborate
In addition to their individual efforts, Jon Corto and the Thomas clan have teamed up to launch the "Strive for Seniors Challenge." Through the campaign, the Thurman Thomas Family Foundation has pledged $5,000 in collaboration with Corto's company, Buffalo Strive Vending, to provide 14,000 snacks and drinks to senior community members. Western New Yorkers can get involved in the challenge by purchasing a "34 Box," containing 50 snacks. Each snack box purchased will be delivered to local senior centers. Orders will be accepted until April 5, with deliveries occurring on April 11. For more information, please visit here.
Andre Reed
Through his foundation, Hall of Famer Andre Reed is also leading the charge on an initiative near and dear to his heart. Working with a California-based organization, along with several professional athletes, the longtime Bills Legend has started the #QuarantineHOOPChallenge. The interactive program, which encourages others to act, offers individuals a chance to join the conversation by donating to the challenge's dedicated GoFundMe page and by following three simple rules. Standing 10 feet away, participants will toss 10 socks in a bin and then tag 10 friends on social media to do the same. Proceeds generated from the #QuarantineHOOPChallenge will benefit the CDC Foundation. Visit here for additional details.
This is an evolving story and will be updated as more information becomes available.