There was a very special fan in the stands at Buffalo's preseason opener against Carolina, Thursday night, when AJ McCarron got his first live game reps as a Bills quarterback. That fan is a young man who credits McCarron with "saving him" at one of his lowest moments. That young man is also one of McCarron's closest friends today.
It was a week before Alabama's season opener for the 2012 campaign. Starr had just been dropped by a campus bus at a transfer stop. New to the bus system, AJ was a bit crossed up as to which bus he had to take next to get back to his apartment complex.
Standing out in the rain only added to Starr's feeling of being all alone.
The start of new school year had not gone well for Starr. The freshman found making friends difficult.
Looking a bit disoriented, Starr watched as a vehicle pulled up. The window of the car came down and the driver asked him if he needed a ride.
The look of shock on Starr's face was apparent when he saw who the driver was.
"I saw this car pull up and it stopped, and it was AJ McCarron asking if I needed a ride," said Starr. "So, I hopped in the car and he gave me a ride to my apartment complex and our friendship kind of grew from there."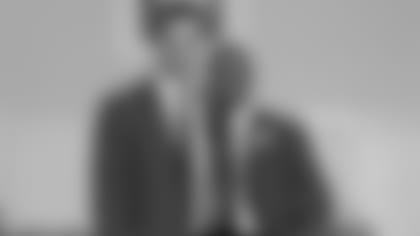 Starr, who has cerebral palsy, was a business management major. He was just beginning his college education in Tuscaloosa. His first week however, had not gone so well. Most other students steered clear of Starr, whose disability was visually evident.
Standing there in the rain, Starr was contemplating whether he should even pursue a college degree. Then McCarron showed up.
"I saw him getting left behind and so I pulled over there and noticed something was physically wrong with him," McCarron recalled. "He told me everything from the time we left the bus stop to his apartment complex and we pulled in there and talked for a little bit."
"We kind of talked about the football team, about cerebral palsy and my condition," said Starr. "AJ talked to me about how I was a big Alabama fan. We talked about life in general."
It was clear to McCarron that Starr was a big fan of the football team. Starr even admitted to watching the Crimson Tide practice through a crack in the fence on occasion during the preseason in early-August.
Sensing that Starr needed to be a part of something, McCarron set out to make that happen.
McCarron spoke to the football team's head equipment manager and associate athletic director, Jeff Springer. He asked if there was a job for Starr in the equipment office.
Springer said Starr could serve as an assistant, but it wouldn't be a paid position.
"I just wanted to be part of the team," he said.
It didn't take long for Starr to be accepted as one of the guys in the Crimson Tide locker room. McCarron's Alabama teammates even joked with him that Starr was "the real AJ." The Crimson Tide quarterback didn't mind at all.
"To be able to use my platform to pull those strings to get him in there and get him a job was awesome," said McCarron. "One of my favorite memories for sure in college. It's something I'll never forget."
A spiritual person, McCarron is convinced that a higher power played a major part in him being at that bus station at the same time as Starr.
"Oh yeah for sure," McCarron said. "I said I thought God put us there and let our paths cross. Both of our names are AJ. Just the way it all happened."
"It was definitely divine intervention," said Starr. "That's the only thing I can think of in terms of how that happened. It's kind of crazy how it all worked out. It's kind of a sign from above."
Proof of that came in just where Starr was mentally at that moment when McCarron picked him up.
"I would've just given up if it wasn't for him," Starr said of McCarron. "I kind of felt like if what happened hadn't occurred, I would've just given up and I probably wouldn't have gotten my degree or anything. I just couldn't make friends and was by myself."
As pleased as McCarron was that he could be there to provide Starr with a sense of hope, the quarterback values what Starr's friendship has given him.
"I understand I helped him, but he helped me in ways you don't realize at the time," McCarron said. "Just how much he helped me grow mentally as a person and emotionally when it comes to looking to people with difficulties like that. It makes you realize how lucky you are. He taught me a lot."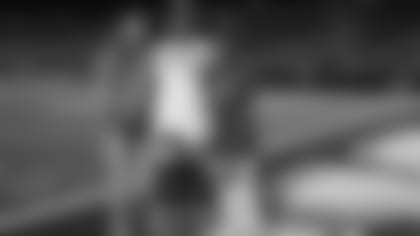 Even after McCarron graduated, he and Starr kept in touch often by text. Their friendship remained strong, even though McCarron was in Cincinnati as a rookie fifth-round draft choice of the Cincinnati Bengals.
Starr was surprised a second time by McCarron when he asked him to be a groomsman in his wedding.
"It just speaks volumes of how our friendship has grown," said Starr. "To be in his wedding was something special for me, especially knowing how many friends he's got being the starting quarterback of Alabama. He didn't have to ask me to be in his wedding, but thankfully he did. I appreciated that."
"We still keep in touch," said McCarron. "He came to Cincinnati to watch me play in the playoff game. It was a good one, but a tough one. He's just an awesome kid."
With McCarron a part of the quarterback free agent frenzy this offseason, Starr felt he had to reach out to McCarron after seeing a handful of other quarterbacks sign quickly.
"I told him to keep his head up," said Starr. "I thought I had to text him something. I thought he could use the support. Then Buffalo ended up signing him."
AJ McCarron has fared well with opportunity in the past. He's come through in big moments, like his four-touchdown effort in Alabama's national title win over Notre Dame. And he's won position battles when the competition he's been up against has been formidable.
"I just thought it was a great opportunity for myself to compete for a starting job," McCarron said of his opportunity with Buffalo. "That's all you can ask for in this league. I just wanted a chance to compete and play and I felt like I would have that opportunity here."
"It's really something. I can't believe he's getting his first shot to be a starting quarterback," Starr said. "AJ has been waiting for four years behind Andy Dalton. His competitive nature isn't going to let him hand that position to the rookie."
"His competitiveness from the time he was little is what separates him," said Rusty McCarron, AJ's older cousin. "The kid never backed down. He always wanted to go out and play and win. Even if it was a pickup game or wiffle ball in the backyard. He always wanted to win.
"I think that drive to this day is probably just one of his best attributes because he is determined to win and find a way. I think that's helped him get to where he's at now."
As competitive as McCarron might be, there's a measure of compassion in the quarterback too, which still resonates with Starr.
"He's a great personality. He's not a cocky, flashy guy," said Starr. "He's a real down-to-earth person who will always help you. Most important is he understands his position as a starting quarterback. Just seeing him embrace that role and carry it on his shoulders and just being the top dog is what separates him from most guys."
"He brings that demeanor that you need in the huddle. I've been around Drew Brees my whole career and when he came in the huddle I knew what he demanded and expected from us. You feel that presence with AJ." Bills running back Travaris Cadet
On the first day of training camp, McCarron was asked if he was anxious about who the starting quarterback will ultimately be for Buffalo.
"That's [McDermott's] job, we just go out and play," said McCarron. "Whatever happens, happens."
McCarron has always kept things simple. He's found his head is a lot clearer that way, and when his mind is clear he often plays his best ball.
"You just prepare and practice like you are the starter, that is all you can do," he said. "When you get your opportunity, you try to make the most of it. You have to just have fun."
"He's a leader. You can tell he's been in that role before," said Travaris Cadet. "He brings that demeanor that you need in the huddle. I've been around Drew Brees my whole career and when he came in the huddle I knew what he demanded and expected from us. You feel that presence with AJ."
McCarron is hoping his body of work between training camp and the preseason games will be enough to convince the Bills offensive staff and coach McDermott that he can be for them what he was for Alabama.
"Hopefully a winner," he said. "I kind of take what they give me, and I feel like I'm smart with the football. I've always been that way, but I feel like I can make every throw on the field whenever it's needed. I'm a competitor."