Ed Oliver did not register a sack against the Miami Dolphins on Sunday. He did not force a turnover, nor was he credited with a QB hit. His stat line simply showed two tackles, one for a loss.
It doesn't take an NFL set of eyes to know those numbers don't tell the full story. The havoc wreaked by Oliver along the line of scrimmage was evident throughout Buffalo's 26-11 victory.
Defensive coordinator Leslie Frazier said Oliver was recognized with a game ball afterward.
"I just felt free," Oliver said. "I was just out there just playing, just feeling free, playing, hitting the quarterback. When you're having so much fun, it's hard to tell how good you're playing."
Oliver joined defensive end Jerry Hughes to create pressure on Tua Tagovailoa's first pass attempt of the afternoon. He burst into the backfield to stuff running back Myles Gaskin for a 3-yard loss during Miami's second offensive drive. When Miami opened the second quarter facing third-and-20, it was Oliver who sped past his blocker and forced Tagovailoa to throw the ball away.
TruMedia credited Oliver with three pressures. He was a driving force for a run defense that held the Dolphins to an average of 3.0 yards per carry.
"I thought he played really well," head coach Sean McDermott said. "He's really developing and he's putting in a lot of time, so give him credit for it. He's really starting to process what it looks like to play that position in a complete way, run and pass. So, real proud of what he's done the last couple of weeks."
Oliver finished the afternoon having played 45 defensive snaps, most among Bills defensive linemen.
Frazier said the coaching staff challenged Oliver to take another step in his understanding of the game during the offseason. His natural athleticism had always been apparent; he was a ninth-overall draft pick for a reason. His confidence matched his talent. The next step, Frazier said, had to be cerebral.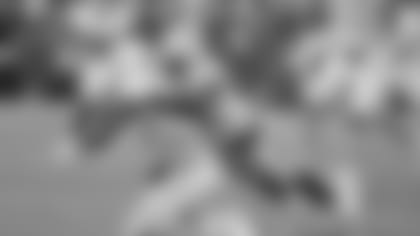 "He's such a gifted athlete, we wanted him to get to the point where he was becoming more of a thinking man's player and being able to anticipate things by personnel on the field, by down and distance, looking at a guy's stance, having an idea of what may be happening before the play actually begins," Frazier said.
"He's really grown in that area with his film study and really having a better understanding of what our defense is asking him to do within a certain call. So, that growth alone I think has helped him to become a better player, a more all-around player. And we're the beneficiaries of that."
As for the stat sheet – Oliver would have had a turnover, had a loose fumble not slipped through his fingers late in the game. He had his first sack of the season negated during the fourth quarter when Hughes was called for lining up offsides.
"That'd have been number one," Oliver said. "A long, long way coming. I've hit the quarterback so many times, I ain't got no sacks. So, Jerry owes me something."
For now, a game ball will have to do.
Here are more notes from Monday's sessions with McDermott, Frazier, and offensive coordinator Brian Daboll.
The Hyde-Poyer connection
Jordan Poyer recorded his third interception to seal the victory over the Dolphins, tying fellow safety Micah Hyde for the team lead. They are the only safety duo in the NFL to each have three or more interceptions this season.
Frazier said their individual successes are a product of their chemistry, which dates back to 2017. Poyer's interception, he said, was precipitated by a disguise orchestrated by the two safeties.
"It looked like Micah may end up playing a certain position," Frazier said. "Then once the ball was snapped, Jordan actually ended up playing the position that Micah made the quarterback think he was going to be playing.
"So, the fact that they're able to play off of each other and really give the quarterback false looks, I think it really helps both of them because of that. That goes back once again to the amount of time they've played together. Sometimes, it's just a nod and a wink and they both are on the same page as to what look they want to give a quarterback."
Feliciano week-to-week with calf strain
Offensive lineman Jon Feliciano sustained a calf strain during the win over the Dolphins and is considered week-to-week, McDermott announced.
Feliciano started the game at right guard in the absence of rookie right tackle Spencer Brown, who was inactive with a back injury. Daryl Williams slid back to right tackle, where he started the season, while Ike Boettger entered the lineup at left guard.
McDermott said Brown is trending in a positive direction but could not say whether the rookie will be available to practice on Wednesday.
"I think he's moving in the right direction," McDermott said. "I don't know yet on exactly what Wednesday will look like."
Cody Ford opened the season as the starter at right guard but moved to a reserve role when Brown entered the starting lineup in Week 4. Daboll commended the third-year offensive lineman for how he's handled the decision.
"He's a pro," Daboll said. "We've got a lot of them on our football team, and again, he's gonna try to do whatever he can do to put himself in a position to help us. And right now, it was on the look team the last couple of weeks. And we'll see as it goes, but he's done a really good job in his role."
Looking ahead to the deadline
The NFL trade deadline is 4 p.m. on Tuesday. McDermott said that while general manager Brandon Beane is in the driver's seat when it comes to potential acquisitions, the two will have conversations about ways to enhance the roster.
"You know us, we're always looking to improve our football team any way we can," McDermott said.