By your 12th training camp, it's safe to say you're an expert when it comes to what your body needs to get ready for the season. Bills defensive end Jerry Hughes is heading into his 12th NFL season and ninth with Buffalo. By now he knows the training camp schedule like the back of his hand, but this season Hughes has added rehabbing back from a lingering calf injury to his list of things to check off before the Steelers come to town.
The calf injury forced Hughes to be sidelined for the first part of training camp. Thankfully, the veteran is now back on the field and understands what it will take to be ready by Week 1.
"It's just about pushing myself to see if I have a limit on my calf," Hughes said. "If not, just trying to still stack up good days right now. I think that's really been the key, which is doing a lot of rehab and just taking care of my body."
While Hughes was out of practice, he took on the role of leading and teaching a defensive line that is stacked with young talent. With two rookies soaking up every word and teachable moment, Hughes was taken back to his rookie season with the Colts when he had seven-time Pro Bowler Dwight Freeney and five-time Pro Bowler Robert Mathis leading their room. 
"I had to sit behind Dwight Freeney and Robert Mathis, but during my time there I learned a lot from them and I was always asking questions," Hughes shared. "I felt like it really helped me to kind of get to where I am in my career. And I've shared that with all those guys in the room. None of them are really too shy or bashful when it comes to trying to figure something out--how can they get a competitive edge, what do they need to do as far as their diet, any kind of in game chat that they want to have."
The leader of the defensive line believes the group's openness will create a stronger bond between each other. And Hughes' willingness to offer up advice and words of wisdom has quickly helped the rookies grow.
"For them to go out there and hit the field so fast, and just play violent, it was exciting to see," Hughes said of the first preseason game. "Those young guys did a lot of great things especially, Greg (Rousseau) and big Harry (Phillips), they were able to put some pressure on the quarterback early and throughout the game. All the guys in our room have the tools.
"For them to display that confidence and go out and execute what we talk about throughout the week, it was exciting to just sit back and watch them play and just fly around."
Hughes is eager to watch their development throughout the season.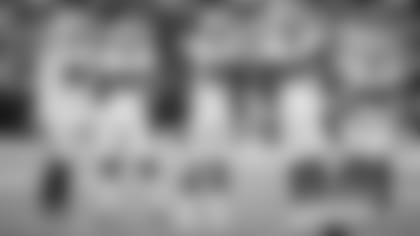 The defensive line puts a high priority on chemistry since they line up next to each other every day. After a year of not being able to gather outside of the complex, Hughes said it has been nice to share a meal together and grow their relationships off the football field.
Teammates label Hughes as the generous one who's always trying to cultivate that tight bond as the leader of the pack. The 12-year vet will be a vital piece to a defensive line room that has eight players with three or less years of NFL experience.