When head coach Sean McDermott and his staff came through the doors of One Bills Drive in January of 2017, Lorenzo Alexander was two weeks away from being named Pro Bowl MVP. It put an exclamation point on a career-best season for the pass rusher, who logged 76 tackles, 12.5 sacks, six pass breakups and an interception all while serving as a key performer on special teams in 2016 for the Bills.
The 2017 season however, brought a large degree of change.
Going from a 3-4 to a 4-3 system, Alexander was asked to play off the ball as a linebacker in their base defense and then as a nickel linebacker in subpackages. He was often asked to cover tight ends and backs in passing situations.
Thrust into a dramatically different role in a new defensive system, Alexander did what he could to make it work, but his impact on games wasn't as noticeable as it was the year before.
So, McDermott and his defensive staff got to work this past offseason to more effectively maximize Alexander's strengths for their defense.
"We just sat down as a staff and with Lorenzo and wanted to see how we could better use his skill set," McDermott said. "Before we got here he was used in a certain way and when you go from a 3-4 to a 4-3 it's a difference. I want our 11-best guys on the field and Lorenzo standing next to me is not helping us."
"Last year I played a lot more nickel weak side linebacker, which I can do, but Matt Milano is a better fit for that," Alexander told Buffalobills.com. "I'm more suited to play that down defensive end, coming off the edge, rushing the passer, stopping the run type of guy. So the role that I have is much better because we are playing a lot more big nickel with Rafael (Bush).
"Instead of running around and covering guys, now I'm on the line of scrimmage, rotating in with the defensive line and I'm able to get after the passer and stop the run and feel more a part of the game plan."
The impact of Alexander's presence on the line has been significant.
Third on the team in tackles for loss, fourth on the team in sacks and fifth in quarterback hits might not seem impactful, but when you consider he has played on less than 50 percent of the defensive snaps (48.2%) you see how much he has made of the snaps he's had.
Being the oldest player on the team at age 35, the defensive staff's approach with Alexander is more about quality than quantity.
"We're trying to keep track of the percentage of how much time he takes in practice and the games," said McDermott. "It's something we monitor so we're not wearing him out. It's a fine line."
When Alexander is in the game, the problems he causes for opposing offensive lines with their protections have created opportunities for linemates Jerry Hughes, Trent Murphy and Kyle Williams.
"On our third down package he comes in and he's an extra down guy and he can play outside or inside," said Williams of Alexander. "We can move him around. The great thing is when you play with a guy for so long or you see things from watching film a certain way, there's a lot of non-verbal communication where you point, and he sees it."
Alexander has made no secret of how much he likes playing alongside Williams. The veteran defensive tackle calls all the pass rush games up front when it comes to stunts and twists to cross up offensive linemen. Going on three seasons together, Alexander and Williams often know what the other is thinking.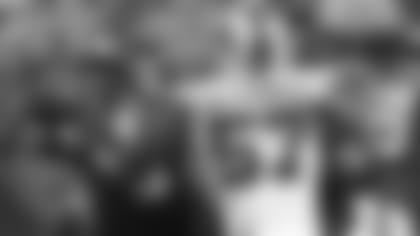 "It's just a good feel of the game, especially with me and Kyle," Alexander said. "When you have guys who have played that long and have that chemistry – we hang out a lot too. I just get the way he communicates. There are just times where I just know, or I can see him giving a signal. Some guys are like, 'Huh? What are you saying?' And that becomes a tip off for the offensive line where they know a game is coming. So we've really built up that chemistry and that trust over the last three years and really start to feel it."
Alexander is also much more comfortable in Buffalo's defensive scheme now than he was a year ago.
"Last year there were times where I'd get lost," said Alexander. "I either wasn't out there much or rotated at weak side linebacker, which wasn't my strong suit, because I hadn't played off the ball in four or five years.
"This year I think they understand what my strengths are and when I am playing off the ball in base defense, I feel more comfortable because I have a year of experience in this defense. Eyes are better, reading keys are better. I've been better in coverage this year. I understand how people are going to attack me. So I feel I'm a better player all the way around by the way I'm being used. Matching that up is why I've had success."
Alexander may not blow it up in the sack category quite like he did in 2016, but his teammates and coaches will tell you the multitude of roles he fills has just as great an impact on games.
"He's a swiss army knife, but every blade is sharp as hell," said Trent Murphy. "He is a dog and a player. He comes after everyone and (opponents) circle him on film. They need to know where he is and what he's going to do, and he can go anywhere. He's an impressive player and I'm glad he's on our side."
"When you consider where he is in his career – he's playing defensive end for us, we line him up inside at tackle at times in our third down defense, he's playing inside linebacker, outside linebacker, making plays," said defensive coordinator Leslie Frazier. "It's great for our young players to see a guy who has kind of evolved as a player over the course of his career.
"[He's a] tremendous leader, great teammate, and obviously terrific player as well. I don't know if I can pinpoint where he found his fountain of youth, but it's working out really well for him and our defense as well."