As Josh Allen drops back to pass, Jon Feliciano is on a seek and destroy mission. Dropping into his set, the opposing defensive tackle loops outside, leaving Feliciano with the option to go find work. The right guard drive-steps to his left and knocks Jets defensive tackle Leonard Williams, who is engaged with Mitch Morse, off his feet.
Jets safety Jamal Adams tries to loop underneath Williams, but Feliciano steps off the combo block and hammers Adams, stopping him dead in his tracks. He then finishes the play with a stiff-arm punch to Adams chest as Allen delivers the pass.
This past Sunday against the Giants, a designed quarterback sweep to the right requires Feliciano and Morse to pull as lead blockers on the play. Morse picks up the oncoming linebacker and Feliciano obliterates the safety driving him into the ground with his full body weight as Allen scoots untouched into the end zone.
For Feliciano, his helmet and uniform may have changed, but his willingness to mix it up with opponents to make sure they know they're in for a long day remains a quintessential part of the lineman's game.
And the reminders from him aren't just physical. The battles are intense and the language is colorful. In short, Feliciano is determined to win every snap, and is not shy about finishing someone on a play and then telling them about it.
The only thing different is the fifth-year lineman is finally a starter on Buffalo's offensive line.
"He's a junkyard dog," said Lee Smith, who has been Feliciano's teammate since his rookie year in 2015, first in Oakland and now in Buffalo. "He's that dog you just leave out and no matter what comes along that dog is either going to run it off or kill himself trying. That's just who he is. He didn't have a silver spoon childhood by any means. He's had to come up the hard way and he's worked his a-- off to have a great career. He's a guy where if a bar fight breaks out you want him with you."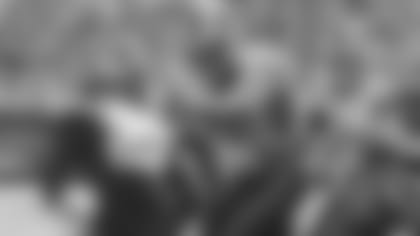 Feliciano spent half his childhood in a trailer park in Davie, Florida after his parents divorced when he was 10. He steered clear of the common pitfalls that often gobble up kids growing up in less than ideal circumstances. Football became his way out after earning a scholarship at the University of Miami. His nasty demeanor on the field was developed at the U. Now it's the only way he knows how to play.
"It's just years of trying to get under people's skin. I love doing it. It fuels me," said Feliciano. "When we have a lot of jawing up front that makes me play better. I'm not one of those kinds of guys who cracks under the pressure. When we start talking and start getting into it, that's where I like things to go. I think when my new teammates saw that for the first time they didn't understand what was going on."
It's not unlike what former Oakland linemate Gabe Jackson witnessed in Feliciano's first start as a rookie in 2015.
"My first impression was who is this big guy with tattoos of cartoon characters who is trying to fight everyone with his attitude," Jackson told Buffalobills.com. "He got thrown in the fire his rookie year because one of our guards got hurt, J'Marcus Webb. So he had to start in his place and that week we had the Packers, and they had Mike Daniels at defensive tackle. And he knew the type of person and player Mike Daniels was. He talks a lot, and for some reason, Jon being Jon, he wanted to pick a fight.
"After a few plays Mike Daniels comes over to me and says, 'Hey, you all better talk to this rookie! He doesn't know who he's messing with! You better talk to this rookie!' And I'm like, 'Jon what are you doing?' And he looked me dead in the eye and said, 'I don't care.' So I always had respect for him because I liked him, but after that day I was like, okay I like this guy."
VALUABLE LESSONS IN OAKLAND
Feliciano took that same approach when it came to battling for a starting job with the Raiders, but his hopes to land the starting right guard position with Webb an impending free agent were soon dashed when Oakland signed free agent Kelechi Osemele to a record-setting contract.
"I'm thinking I'm the right guard," said Feliciano entering his second NFL season. "So I was working my a-- off during that winter to come in and continue to build off of what I did. Then they sign K.O. and I was devastated. At first, I hated him. I was not fond of them paying him 'X' amount of money. So it took some adjusting on my part."
Frustration and anger had served as fuel many times over for Feliciano. Whether it was taking up football in high school to get bigger and stronger so he wouldn't feel helpless around his older brother who would beat him up or taking on any defensive lineman who wanted to scrap in the league, Feliciano was ready to scratch and claw.
Come OTA practices however, Feliciano's 'fight back' nature melted away.
"When I got around those guys it was hard to have a bad day," he said. "They were veterans and understood where my frustrations were."
Feliciano quickly came to realize he had a rare opportunity to learn the finer points of his craft first hand from three Pro Bowl linemen, and a fellow guard who probably would have a Pro Bowl on his resume were it not for his teammates who were named themselves.
"I always watched their one-on-ones," said Feliciano of his Oakland teammates. "All of them. Rodney (Hudson), Gabe (Jackson) and K.O. depending on what position I felt like I was going to play that week with injuries or what not.
"Gabe has one hell of a punch and his footwork and the way his body position is when he throws his punch. That's what I try to emulate. With K.O. you learn quick that there are some people who do things that you just can't do. Me and Gabe have more similar body types even though he's bigger and stronger than me. I'm a bit taller, but I try to emulate Gabe's style.
"Rodney taught me how to be more of a student of the game with little tricks. He doesn't look like a football player, but then he gets on the field and he's dominant. That's because of his mind and never being in a bad position and being able to read defenses the way he does, I tried to pick his brain and learn like that."
Feliciano also credited veteran offensive line coaches Mike Tice and Tom Cable in Oakland for helping him develop his personal game.
What endeared him to the veteran linemen in front of him on the Oakland depth chart was the way he absorbed and applied what he learned.
"He was a smart guy," said Jackson. "He always watched and paid attention. That's the other reason I liked him so much. You didn't have to tell him every single thing to do. He watched and learned from seeing other people fail or succeed. So he took things on his own and added them to his game. Sometimes he might have a question and ask me why I did this or that. But for the most part he didn't come to me for too much overall."
Smith, who as a blocking tight end spent a lot of time with the linemen, worked with Hudson to help Feliciano understand that his time to start would come. And part of convincing people that he could be a starter would be rooted in making the most of every chance he had to be on the field.
"Sooner or later in this league the lineman in front of you is going to get hurt," said Smith. "He'll miss a game or a rep and what do you do with those opportunities? He got a multi-million dollar contract to become a Buffalo Bill because when those small opportunities arose, he was prepared. He worked his a—off. That junkyard dog had fought damn near everybody in practice. When it was time for his opportunity to come, he was prepared. He worked for it. It wasn't too big for him and he was ready to make plays."
Feliciano appreciates how Hudson, Jackson and Smith helped him see his NFL future. It kept him from stewing about being a backup.
"They helped me to see the light at the end of the tunnel," he said. "I had three years of sitting and learning and at that point I was able to get healthier and not take as many blows to my body, so I should be able to have a longer career."
MAKING A NAME FOR HIMSELF
As for his former teammates back in Oakland, they were proud to see Feliciano finally land a quality free agent contract and the starting opportunity he had toiled four years to obtain.
"I was too happy," said Jackson. "Anytime you see someone do something the right way and they work hard for it and they earn it… just knowing him as a person and how good a person he is that could not have happened to anyone better. And the fact that he was so patient. He waited four years and finally got it. It literally paid off for him. I'm too happy for him."
Now the starting right guard for Buffalo, Feliciano is grateful for the football education he received while toiling as an understudy in Oakland.
And for those who still don't know who Jon Feliciano is, Lee Smith is convinced they'll know soon enough.
"The one thing I don't worry about is having to tell anybody s—t about Jon Feliciano," Smith said sternly. "His play says it fine by itself. I can promise you his career is going to be long lasting. People are going to know who Jon Feliciano is."