Bills Mafia is a family. 'Go Bills' has become a way to say hello and goodbye (and not just in Buffalo). And the Buffalo Bills Backers community has made a second home for Bills fans across the world.
With the Buffalo Bills Backers network growing to almost 500 grassroots chapters by the end of the 2021 season, there almost isn't a place you can go without someone repping the Bills. There are currently chapters at bars and restaurants in over 40 different states and throughout 11 different countries.
Dennis Mill, who grew up in Orchard Park, has lived in San Francisco for ten years and has been the San Francisco Bay Area Chapter President for the past two years.
"It's just great finding a community of close-knit people and a lot of them became best friends," Mill shared. "Over the years, at least my close-knit crew are the ones that show up first at the bar and are always the ones that have their own bar spots, up at the counter. I kind of went from being the local Buffalo Bills mascot to being forced into a presidency by my peers, which I thought was a pretty cool honor."
Mill has been running the chapter with his friend and Vice President Christopher Fuzi, at the Northstar Café in the North Beach neighborhood of San Francisco. The owner, Mark Jennings, has run the bar for over 20 years, and he likes to do as much as he can to make Bills fans feel welcome.
The historic bar has been around since 1885 and houses anywhere from 150-300 people on gamedays. There is a lot of dedication that goes into being a Bills fan on the west coast, and the bar opens around 8:00 - 9:00 am on gamedays to accommodate for the mostly-early Bills kickoffs.
"The first thing we did was expand it from not just saying SF Bay but SF Bay Area to include Oakland and Santa Cruz and even San Jose," Mill said. "People drive from extremely long distances to come to this bar because it's really the only Backers Bar in the whole San Francisco area.
"That's what I find to be most telling about the crowd out here is that I have friends that are driving, maybe an hour and a half to get to the bar. That means that they're waking up at 7am on game day, to make it over by the 9am openings. It's pretty crazy."
The San Francisco Bay Area was named Chapter of the Month for November 2021, and it meant a lot to the chapter president.
"We love it and it's a real big honor," Mill added. "We couldn't be any further from home. So, it's just nice to be recognized from so far away and it really reinvigorated the crowd out here."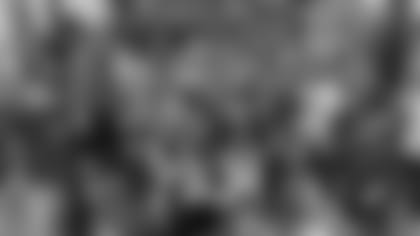 Another Backers chapter that received the honor of Chapter of the Month during the 2021 season was the Charm City Bills Backers in Baltimore, Maryland.
Located at The Admiral's Cup in historic Fells Point, the chapter is run by President Jared Sanson. Sanson, originally from Hamburg, moved down to Baltimore in 2005 and founded the Bills Backers chapter then. The location of the chapter continued to change until Sanson became chapter president in 2018, and The Admiral's Cup has been its home ever since.
"It took us years to find like a spot that wasn't closing down or wasn't changing names," Sanson said. "Because it's hard to get one of these well-established businesses in Ravens country to show Bills games for us. That was always a problem."
The owner of the bar wasn't even a football fan until Sanson moved the chapter there and now the owner is a huge Bills fan. They usually get around 75 people for regular-season games, and during the offseason there is a draft day party with Buffalo-themed specials.
The first game at The Admiral's Cup was when the Bills played the Ravens in Baltimore to start the 2018 season.
"It was wild," Sanson shared. "I put a tailgate together. Think we had 1,000 tickets sold for a tailgate then and that was the first game of this new bar ownership. So, for the very first game, not a lot of people showed up at the bar because everyone was at the game.
"But that weekend, the bar owner saw probably hundreds of Bills fans cycle in and out of his bar knowing that was the location we sat at. The pre-game parties and stuff like that were just blue and red all over that place."
With the Bills scheduled to play the Ravens in Baltimore at some point during the 2022 season, Sanson is very excited for that weekend and has a lot in the works.
"I still think there'll be a big crowd now because I think that ticket sales are in such high demand," Sanson said. "Prices are going up; things are going up that some people don't mind just staying at the bar and everything during the tailgate that we put together and then go into the bar to watch the game."
If you are planning a trip out to Baltimore for that Bills game, make sure to check The Admiral's Cup Facebook page for all the details on their weekend tailgate/pre-game party.
The Bills Backers network is more than just places to watch the Bills on gamedays, they also embody the true Bills Mafia spirit and give back to their own communities and in Buffalo. On Friday, March 4, the Washington DC Bills Backers raised $5,181 for Campus House, a home for runaway, homeless, and at-risk youth in Buffalo. Even though these chapters are far away from Buffalo, they are still finding ways to make an impact in peoples lives.
Thinking about starting your own Bills Backers chapter? Starting your own is easy. First, select a public meeting place for your chapter to cheer for the Buffalo Bills on game days. Next, fill out this form to officially submit your request to start a Bills Backers chapter. We'll be in contact as soon as possible after we receive your application.
Mill and Sanson had advice for anyone interested in starting their own Bills Backers chapter.
"I would say it's not that hard to do," Mill stated. "We are everywhere. Bills Mafia is in corners you wouldn't even imagine. So, I would just say, don't be afraid to put the word out, start a chapter, and then people will come.
"Especially in our case, we make sure to have Labatt Blues at our bar which I think this is probably the only bar in all of San Francisco and most of California that serve Labatt. So that definitely attracts people too."
"A lot of people expect a lot out of there but it's awesome," Sanson explained. "You get to meet a lot of new people. You get to try a lot of new things. A lot of trial and error to see what your fans want. Whether it's we're not going to duplicate the Buffalo food, but we'll try as best as we can. And it's just really cool. You'll meet a lot of people that are gonna stay your friends for life."
For more information on the Bills Backers, click here.
The Buffalo Bills Backers are taking the world by storm! In the 2021 season alone, the Backers networks grew to almost 500 chapters across the globe, welcoming visiting fans, transplants, Buffalo natives, and new fans alike into their bars and restaurants to cheer on the team.