For the better part of the last 10 seasons the Bills' pass rush calls in games were made by one person despite the frequent change of defensive coordinators.
Each week Williams immersed himself in game film study. It wasn't just an exercise in self-preparation. It was his responsibility to know the opponent inside and out on their passing down situations so he could make the pass rush scheme calls on the field for the defensive front.
Each new defensive coordinator who came in the door quickly saw how keen Williams was in making the right calls at the right time and put their trust in the six-time Pro Bowl defensive tackle. Current defensive coordinator Leslie Frazier was no different.
Now, however, comes the task of replacing that play-calling expertise.
"That is something that we have talked about a lot and that's one of the things we'll miss from Kyle, how he took control of our defensive line in certain situations and was really a coach on the field," said Frazier. "We put it to our players, we wanted to ask them who was going to be that guy to step up and have the courage to put the time in."
"Well we're looking at it as a group effort right now," said Trent Murphy. "We'll all put some time in to fill that role that Kyle did on his own. It's a lot of responsibility and Kyle made it look easy, but we may have to share it to some degree because Kyle watched a ton of tape and knew everything backwards and forwards."
Williams estimates that he devoted about 30 hours to film study with most of it coming on Monday and Tuesday in a game week so he'd be able to make suggestions to the coaching staff before the game plan was finalized.
"I watched a lot," he said. "I wanted to be able to come in on Wednesday when we were putting our game plan together and be able to provide our defense not just our front with keys of run, pass keys. What's this guy doing? What's that guy doing? What works well against each one of these guys not just the interior three. Who I was going to see mostly, but the tackles too. How can I help Jerry (Hughes)? How can I help Trent? It was just really important to know that I would know how they set their protections and what I could do to put us in the best position to be successful in the way that we were rushing."
Frazier even now still marvels at the time Williams put in to have the depth of knowledge of an opponent each week and understands it's not easily replaceable. A competent play caller on the field is invaluable to have because the communication is faster and easier to deliver to the line, especially if a pre-snap check has to be made.
"You have to be able to communicate what we want to do up front," said Frazier. "Then the guy has to have confidence and the only way you have confidence is if you know what you're talking about."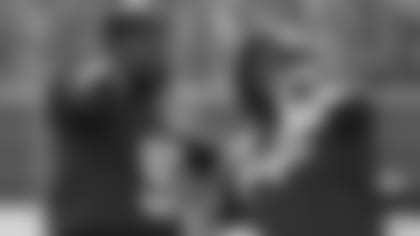 The defensive staff hasn't finalized who would take on such a demanding role in addition to one's own positional responsibilities, but there's a prime candidate that Williams believes would be a good fit.
"I think the natural selection would be Lorenzo as he moves in you know he'll play linebacker he'll kick down on third downs, he can play inside and outside on third downs," said Williams. "But Jerry will be fine. Trent will be fine taking cues, because there's a whole lot of nonverbal communication that goes with that. Like pointing to guys, in case we have to change the way that we rush and flip our whole plan, just based on a look and a point. So there's a lot of that comes with growing and spending time together, but naturally Lorenzo would be the someone who can do it as well as I did when I wasn't in, and did it as well when I was in."
Knowing Alexander has already done some of it in the past makes him a natural choice, but the veteran also plays multiple roles defensively as well as special teams. Frazier isn't certain he wants it all to fall on one man. For now, the plan is to see who else might demonstrate a knack for making the right calls.
"We'll see how that goes over time," said Frazier. "We have an idea of who we want to do it and we've already begun that process. We'll see how it shakes out in the next weeks and months to come."
Check out photos of the Buffalo Bills working out during week 3 of OTAs. Bills weight room photos are presented by Crunch Fitness.