Although inconsistency hurt Buffalo's defense Sunday at Pittsburgh, some took the opportunity to show their resolve in the face of defeat.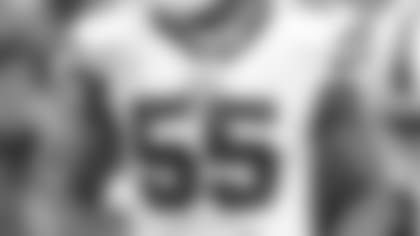 To outside linebacker Jerry Hughes, each day he touches the turf is an opportunity he may not have had elsewhere; Buffalo acquired him in a trade with the Colts following the 2013 draft.
"That's what I've been saying since day one. I've had an opportunity to come out here and play and so I'm finally doing what I'm capable of doing," Hughes told Buffalobills.com. "Just playing hard and playing fast and giving it my all."
He gave his all Sunday; leading the team with two sacks on Ben Roethlisberger along with four tackles on the day. The sacks were one bright spot through the 23-10 loss.
"Coach Pettine draws up multiple pressures throughout the week and we practice them working on the timing and it worked well today so it was good," Hughes said.
Sunday's production brought him to six sacks this season a new single-season career high. He's also racked up 33 tackles — 21 solo and 12 assisted.
"One was off of a pressure that coach Pettine drew up and it just unfolded perfectly for us," said Hughes, who also had two quarterback hits. "The other was just me coming around the corner."
Hughes' production slotted him as a defensive leader on the day, his teammates dubbed him a playmaker.
"We made one or two big plays here and there," cornerback Stephon Gilmore said. "We got to Ben a few times. That's what the NFL is. Looking at the teams that win and lose, it's always those one or two plays."
But Hughes said he couldn't feel good with an 'L' in the ledger.
"We could've played better. We could've got off the field more on third down and gotten more turnovers on defense," Hughes said. "There's really no moral victories to take out of this. We've just got to see on the film what areas we can improve on for next week."
Improving quarterback pressure isn't necessary, though. For the first time since 2000, Buffalo has four players with at least five sacks to their name: Mario Williams with 11, Jerry Hughes with six, Kyle Williams with five and Marcell Dareus with five. Head Coach Doug Marrone said the improvements will be elsewhere.
"At times we were able to generate that pressure," Marrone said. "It just seems like right now, even when we do get the ball on the ground, we can't even recover it, and we got the ball on the ground the one time."
For the first time since 2000, #Bills have four players with at least 5.0 sacks (M. Williams – 11, K. Williams – 5, Dareus – 5, Hughes – 5) — Buffalo Bills (@buffalobills) November 10, 2013
Hughes said forcing fumbles is already a focus. He had one against Kansas City, but said luck isn't on Buffalo's side right now.
"It's just crazy how things have worked out," he said. "We practiced that throughout the week. We put a big emphasis on getting turnovers. We were able to get one. Hopefully next week we continue to work at it and maybe the ball will bounce in our favor."
Marrone said it's always about forward progress.
"I thought the defense was doing well for the most part, except for we gave up a couple plays," Marrone said. "We have to come back and get hungry and get after those challenges. When you miss those opportunities, you can't say, 'We missed this opportunity.' You try to get them on the next series and move forward."