---
---
Adam Thielen will never forget the first time he watched Stefon Diggs. Few people do.
Thielen was entering his second season with the Minnesota Vikings when Diggs arrived out of the University of Maryland in 2015. It took all of one practice for Diggs to capture his teammates' attention with explosive plays and a polish unbefitting for a rookie, let alone a fifth-round pick.
Then again, Stefon Diggs was no ordinary fifth-round pick.
"Everybody kind of looked at each other and were like, 'Wow. This dude is really good,'" Thielen recalled last week during a phone conversation with BuffaloBills.com.
"I kind of always tell that story and preface it by saying, you don't usually see a whole lot of guys in the NFL that really stick out and that look different. Maybe over a sample size of 10, 15 practices you can see guys separate themselves. But he kind of immediately did that over the first couple days. So, you knew there was something special there."
It was the sort of first impression that Diggs has made at each stop on his football journey, from Our Lady of Good Counsel High School to Maryland and now with the Bills. The receiver came as advertised in his team debut against the New York Jets, hauling in eight receptions for 86 yards. Afterwards, teammates gushed about the energy he brought to the sidelines.
Diggs was even better Sunday in Miami, this time catching eight passes for 153 yards and a touchdown. He is the first Bills player to record 16 catches over the first two games of a season since Eric Moulds and Peerless Price did so in 2002 as well as the first to have eight or more receptions in back-to-back games since Stevie Johnson in 2011.
"Big-time player," Bills head coach Sean McDermott said. "They say big-time players make big-time plays in big-time games. He did that."
Speaking to the Buffalo media prior to his first game with the Bills, Diggs admitted to carrying a chip on his shoulder into every season. Talk to those who know him and they either bring the "chip" up unprovoked or chuckle when asked about it, as if to say, "Oh, yeah."
Then comes a story about how that chip molded the energetic teammate, the fiery competitor, and the detailed student who Bills fans and players have already begun to appreciate.
---
---
FOOTBALL IS HIS NO. 1 HOBBY
Shawn Petty first encountered Diggs during a high school scrimmage. Diggs was a sophomore and already entering his second varsity season at Good Counsel, where he played receiver and cornerback. Petty was a quarterback for Eleanor Roosevelt in neighboring Greenbelt, Maryland.
"We scrimmaged them and he had seven touchdowns on us that day," Petty recalled.
Petty found himself on the other end of that equation at Maryland two years later. Diggs arrived as a landmark commit for the program, the state's top-ranked player and the No. 13 prospect in the nation. Petty was recruited to Maryland as a linebacker and spent the first part of the season on the scout team.
Mike Locksley, then in his first year as offensive coordinator for the Terrapins, remembers Diggs arriving as a humble, hardworking player whose No. 1 hobby was football.
"Typically, you sign a five-star and he comes in and kind of wants to look down on the other guys, maybe, who are in the program, especially because we hadn't had a bunch of success," Locksley said.
"He really came in and earned the respect of his peers and his teammates because of how he worked and the plays he made on the field."
Ask Locksley about Diggs the teammate and he harkens back to the second half of that freshman year, when Maryland's season was in dire straits. The team had lost an astounding four quarterbacks to injury, leaving Petty – the scout team linebacker – to take the reins under center.
"There's no doubt for a receiver, having a scout team linebacker playing quarterback, most guys would cash it in," Locksley said. "I can just remember how hard he competed and challenged his teammates whenever we stepped on the field."
Petty remembers making his debut against Georgia Tech and seeing Diggs wide open on the very first play. He was sacked before he could throw the ball but later connected with Diggs on a pair of touchdowns in what ended as a 33-14 loss.
The second touchdown made the highlight reels, a jump ball that Diggs pulled down in the end zone as the final seconds ticked off the clock. But it's the first touchdown that lives in Petty's mind.
"You can see the effort in the play," Petty said. "He caught the ball like five yards out and then shook one guy and then dragged a couple into the endzone. His energy after he scored, it boosted everybody. Even though the score still ended up bad, it was, 'OK, we're here. We're not quitting.'"
Petty started the final four games of the season for Maryland. In the finale against North Carolina, Diggs passed for one touchdown and returned a kick 99 yards for another.
"Even though we had a lot of the deck stacked against us per se, he would be the guy in the locker room who was going to give it every ounce of his energy until the clock struck zero," Locksley said. "That's where – when I talk about him being the ultimate competitor – that's where the motivation comes in. That's just how he is. He's never going to give in. He's never going to quit until the clock strikes zero."
---
---
BECOMING THE ULTIMATE COMPETITOR
Andy Stefanelli was a new assistant coach on the junior varsity staff at Good Counsel when he first watched Stefon Diggs. It was at a summer camp for incoming recruits, where Diggs was one of two standouts along with another future Maryland teammate, Wes Brown.
"They were both dominating the camp the whole week," Stefanelli said. "So, at the end of the camp they put the two of them on opposing teams and they went at it. It was just one play after the other between the two of them. I just remember watching Stefon in particular, but both of them and how dynamic they were thinking, 'Wow, we've got both of these kids coming to our school.'"
That sort of one-on-one competition became commonplace at Good Counsel, as it did at Maryland, in Minnesota, and now on the Bills.
Stefanelli remembers Diggs dominating younger teammates looking to prove their mettle against the team's star player. Petty recalls being on the receiving end of a crackback block from Diggs in practice and going at it for the rest of the session.
Thielen said the incentive for running good routes in practice was to avoid taking heat – not from coaches, but from Diggs. "I think that's what was so great about our relationship and so great about that kind of duo that we had was we fed off each other," Thielen said. "When one guy did something well, we wanted to show him up and do something well ourselves.
"… I mean, there's nobody that competes the way he does. He doesn't want to just win. He wants to crush you every single play. That's the big reason why he's been so successful."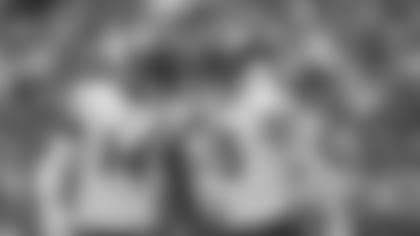 Locksley refers to Diggs as "the ultimate competitor."
"He's a guy who will race you to see who can tie their shoe the fastest," he said. "Everything about him is about competing to be the best."
That competition infiltrated Bills camp this fall in the form of clashes between Diggs and All-Pro cornerback Tre'Davious White. Diggs described their competition as a "non-stop battle" with each player wanting to win every single rep. Both are better for it.
Thielen said it was common for Diggs to insist he could shut him down at cornerback. Ask Drew Stefanelli – Andy's son, who played all four seasons with Diggs at Good Counsel and again at Maryland – and that might not be far from the truth.
"The crazy thing to me was, if Stefon was playing himself, I don't know which one was better, if he was a better corner or receiver," Drew said. "And it was all that chip on his shoulder. He just had this mindset, you know?
"It was like he was so confident in himself and his ability that no one could beat him, and it rang true. He was a lockdown corner and a star receiver. It would actually be pretty cool to see him play corner against himself or vice-versa. Him against himself is probably the best competition he'll ever get."
Stefon Diggs against Stefon Diggs. That, Locksley believes, is where the chip comes from.
"I think it's more of an inner chip," Locksley said. "An inner competitiveness where he's competing and racing against himself and living up to his own standards."
---
---
PROFESSIONAL MINDSET
Keenan McCardell arrived as the wide receivers coach at Maryland in January 2014. Diggs had just completed a difficult sophomore season in which a broken leg limited him to seven games, one of the first times in his life that football had been taken away from him.
"The first thing he asked me was bout my mindset," McCardell, a 12th-round pick who played 209 NFL games, wrote via email. "He wanted to learn about a professional's mindset, and I kind of told him that you have to come to work every day and focus on something each day to get better.
"He took the approach where he wanted to be a better practice player. When I got there, I think a lot people felt like he would just cruise through practice, and I told him that pros always go out and work hard and get themselves ready for Sunday. I think he took that to heart, and I saw him change his practice habits. I saw him continue to get better with his releases and his route-running, and I know those were two things that he wanted to get better at."
Today, Diggs is renowned as one of the NFL's best route runners. Thielen – twice a Pro Bowler himself – said he learned from Diggs' attention to detail over the years, be it the way he ran his routes or the way he could look like he was running ahead full speed before stopping on a dime to cut back.
Thielen believes he learned so much from Diggs, he tends to look like him at times.
"It was something that we always talked about," Thielen said. "It was in meetings. … We were constantly looking at each other and he's telling me, 'I'm going to do this' or 'I'm going to do that,' 'I'm going to make it look like this.' His attention to detail, his willingness to always get better and not stay the same and try to figure out ways to win was really fun to be around."
Drew Stefanelli believes those habits have developed as Diggs progressed from a high school standout able to dominate on athleticism alone to a college player embattled by injuries, and then to a late-round pick hellbent on proving himself right.
"He's one of those guys that, when he gets knocked down, when he gets pushed around or whatever, gets beaten, that chip on his shoulder gets heavier," Stefanelli said. "He wants it more. He doesn't accept defeat.
"He's a winner. He's a straight-up winner. You guys in Buffalo are lucky to have him, for sure."