It's been a busy offseason for Bills offensive lineman Jeremiah Sirles.
Electing to utilize his downtime to give back in an unforgettable way, Sirles joined his wife Emma and six other football players including, Bengals quarterback Jeff Driskel, Broncos tight end Temarrick Hemingway, Titans guard Kevin Pamphile, Eagles running back Boston Scott, Broncos safety Justin Simmons and former Bears linebacker John Timu, on the trip of a lifetime.
Teaming up with a church in Florida and the Federazione Italiana Di American Football, Sirles set his sights on Italy, where he and his counterparts would hold four free football outreach camps in Orbassano, a commune in the city of Turin, Perugia and Rome from March 1 – March 6. Not only did the trip offer Sirles a chance to teach fundamentals of a sport that he's loved since he was a kid, it allowed him to share his faith and form lasting friendships.
"It was a missions trip," explained Sirles. "We were going to use football to go out there and share the good news and it was really, really fun and uplifting. Because a lot of these guys just play football for the sheer fact of they want to play. They're not getting paid. There are three Americans on each team – the rest of them are just guys that want to play football and they just love it. They're passionate about it."
Eager to make the most of the trip abroad, Sirles and Emma arrived in Italy three days before the camps were scheduled to start to get the full experience. Making stops in Venice and Milan, the couple basked in the beauty of landmarks like the Duomo di Milano before they traveled to Turin, a city in Northern Italy, to meet up with the group.
Once together, they made their way back to Milan for a full day of camp. The camps featured a "team host," – each one being one of Italy's American football teams – and here they met the Piemonte Razorbacks.
Overwhelmed by the warm welcome they received, Sirles was also completely enamored by the participants' jubilant personalities and genuine love for a game that in many ways was still foreign to them.
"We did a morning camp for their varsity guys, which are the actual team there in Italy," said Sirles. "I believe they're called the Milan Seamen. It was cool to see because they'd won the league the year before, so you could see there was some talented players on that team. But at the same time, you could see that there were guys that were like, 'What's football?' and they were just out there running around trying to figure it out."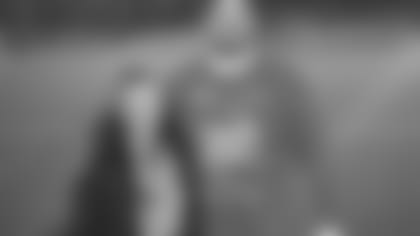 Even though many of the campers were well-versed in the English language, having a translator on-site was important – especially when running drills.
"Surprisingly, a lot of people spoke really good English and even the people that didn't speak English very well, understood it," said Sirles. "But we always had a translator during the camps especially because if you're trying to explain a drill and people don't speak great English [it's hard].
"It was so funny because I was like, 'For this drill, we're going to do this.' And one of the translators at the very first camp goes, 'This drill?' [And so, I said], 'Yeah, this drill.'
"'Drill, like drill it to your arm?' [he asked]. 'I was like, no. This exercise.'
"...Just some translation stuff got interesting. How we have so many meanings for different words. Like the same word means so many different things. That's not necessarily how it works over there. So, that was some of the harder parts."
From there, after making a quick stop in Florence, the group bussed to Perugia – the capital city of Italy's Umbria region, for the next camp. The team host here was the Perugia Grifoni.
While he was still blown away by everyone's gratitude, Sirles was also in awe at the stark differences between the American football he'd grown accustomed to and the Italian teams he encountered.
"…The starting quarterback for the Perugian team was 47 years old," said Sirles. "It's crazy. The way I would describe it to people is that it was [like] intramural football. This was their organized league…they practice three times a week, one of which is a walk-thru before their game. So, they really practice twice a week and all after school or after work – it's all in the evening."
The time he spent in Perugia was special in more ways than one for Sirles.
"…We hosted a team at the local church there for a pizza dinner afterwards and they all came, and we got to connect those guys to the ministry there. Really it was all about sharing our testimony and how football players here in America, we can combine the two – faith and football."
The next morning, Sirles and company traveled to Rome for the last camp.
This stop proved epic for Sirles, who in the process of teaching others, learned a few things himself.
"It was a really good time," he said. "Me and one of the other offensive lineman, Kevin Pamphile from the Tennessee Titans, we played this thing called Jorkyball, which is essentially, if you picture a living room, and you put little mini soccer goals on both sides and you have to play soccer against two of their offensive linemen…Me and Kevin were just kicking it and it wasn't going anywhere we thought it was going to go. So, that was a fun little thing that we did to just get involved with them."
To Sirles' surprise once again, this camp featured boys and men ranging from 16 to around 52 years old.
"They were running around and doing the whole bit," said Sirles. "They had helmets on so there were times when you didn't realize how old someone was until they popped their helmets off."
Although the entire experience was rewarding, in Rome everything came together.
"I actually got to share my testimony at the Rome camp and it was the last camp…my wife and I stayed an extra day because we were going to do some sightseeing and one of the campers tracked me down at my hotel and left me a note saying that he felt moved by my testimony and he wanted to ask some more questions about faith. We've actually had multiple Facebook conversations…To have someone kind of fulfill the fruits of your labor and say this was so worth it, is exciting. Francesco is his name. We have Facebook conversations twice a week and so it's been super neat."
Before saying goodbye to Italy, Sirles and Emma toured the Vatican, saw the Sistine Chapel and visited St. Peter's Basilica.
"The trip itself was incredible – a once-in-a-lifetime trip and I'm just so happy we got to the opportunity to go," Sirles said in reflection. "It just makes you realize, man we have such an amazing platform to do so much good. Not just in the U.S., but in the world. Football has become a world phenomenon and I think that was really the first time I saw it when I was over in Italy…I mean it's so much of a platform worldwide to do things, that it's almost irresponsible for you to do nothing."