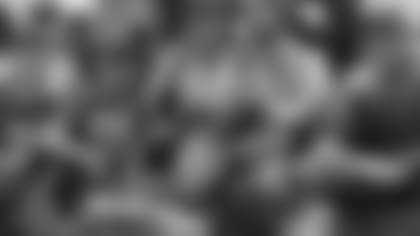 For many former NFL greats, getting back to football means giving back to football.
In the early 1990s, Hall of Fame quarterback Jim Kelly led the Buffalo Bills to four straight Super Bowls.
Today, he is leading a new generation of young athletes who are striving for success during his annual Jim Kelly Football camp held at Ralph Wilson Stadium.
The camp is back to the Ralph after being held at Sweet Home High School last year due to renovations at the stadium.
"It's great to be back at the Ralph," Kelly said. "We couldn't have done it last year without the tremendous support we received from Sweet Home High School, but there's no place like home. The Buffalo Bills organization has been a true partner, and we are truly thankful for our relationship with them. "Our camp is a positive environment where many lessons are learned and friendships made. A large number of our nearly 600 campers are returning, and I can't wait to see them out on the field!"  
The camp started in 1988 with 325 campers, and has since grown to more than 500 enrollments. Athletes come from all over the country to learn from one of football's greatest quarterbacks and his carefully assembled staff of instructors, including former Bills players.
This camp concentrates on stressing the fundamentals of football, but allows campers to learn about valuable topics including health and nutrition, drug awareness, sportsmanship, and teamwork.
For more  information or to register for the annual Jim Kelly Football Clinic held in Rochester, NY at St. John Fisher College on July 14th, please visit www.jimkellyfootballcamp.com.