Jim Kelly arrived home in Buffalo today, and in Buffalo he'll stay to continue his cancer treatments.
"Jim is coming back, and he wants to fight cancer here in Buffalo," said his brother Dan Kelly. "He'll be continuing all his treatments here in Buffalo."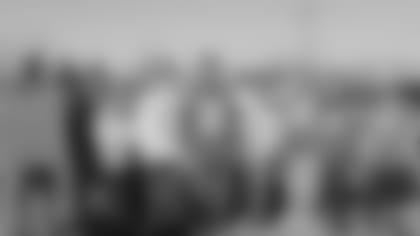 The Hall of Famer landed just shy of 5 p.m. and though his route didn't take him through the Prior Aviation hub in Cheektowaga, a few dozen fans were there to welcome him home, donning number 12 jerseys with posters showing their support.
"There's no place like home, and for Jim, Buffalo is home,"  Dan said.
Echoing his brother, in a special message to fans upon his arrival in Buffalo, Jim said, "I'm glad to be home back in Buffalo. Thank you, God bless you, and I will be back."
Jim had been receiving treatment for his second battle with cancer at Lenox Hill Hospital in New York City. He completed his first round of chemotherapy there on April 8th and according to the Associated Press, is set for two more chemotherapy treatments and is receiving radiation treatments five times a week. Dan said he will continue to receive the same treatment and great care in Buffalo.
His brother also mentioned how excited Jim is to be home for Easter and how much the continuous support from Western New York and beyond has meant to the family.
"Jim is so incredibly humbled by it and he asks that you continue to pray for him as he continues his treatment," said Dan.