For the second year in a row, a former Bills second round draft pick will come full circle to announce the next player selected by the Bills in the second round of the NFL Draft.
Recently retired DE Chris Kelsay follows in Wall-of-Famer DE Phil Hansen's footsteps, quite literally, as he takes the stage at Radio City Music Hall to present a Bills second round selection Friday night.
"I'm really excited," said Kelsay on the John Murphy Show. "It's an honor. It's a blessing. It was totally unexpected. I was kind of floored when it first was brought to my attention. It's going to be a lot of fun and I'm really looking forward to it."
The similarities don't end at their draft round and position; neither former number 90 had the New York City experience when they were drafted to the team, Kelsay in 2003 and Hansen in 1991. Though they'll announce the Bills selections on the big stage, they remember a much simpler Draft Day from their Midwestern posts.
"I was in my college apartment and I remember we didn't even have call waiting," Hansen remembered, laughing. "The first round was on ESPN and then they just went to something else. I watched the first round, and I knew I wasn't going to go in the first round, but then I was kind of just sitting around and every time the phone rang and a friend would be on the line saying 'Hey, what's going on?' I'd say, 'Shut up I can't talk, I don't have call waiting!'"
"I got a phone call a couple of minutes before the Bills picked me, and they told me first and foremost that they were drafting me and that I'd soon be announced," Kelsay said. "I was drafted on Saturday. We went down to mom and pop's and had a bunch of my friends and family over to the house and grilled out. It was a great time, something that I'll never forget."
With the Friday night camera lights brighter than the sun at Kelsay's Nebraska barbeque, there's just one thing he's worried about.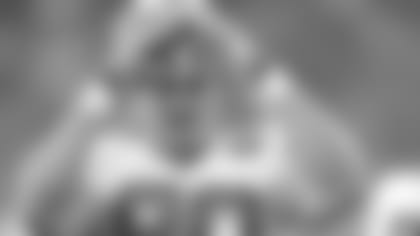 ](http://www.buffalobills.com/media-center/photo-gallery/pipeline:Bills-Veteran-Chris-Kelsay-Retires/c050c359-2ee2-42b1-948a-e1032cdd7e4f)
"Hopefully it's a name that's easy to pronounce. That's the only thing I'm hoping really."
He can only hope the name on the Bills draft card will read as easy as Hansen's did last year.
"They bring you out and give you a little card that has the pronunciation of the name on it. Thankfully, I didn't have a very hard name," said Hansen on announcing the selection of LT Cordy Glenn. "If that's the worst thing you have to worry about it should be pretty easy. Pro Football players don't have much else to worry about. Maybe we just find something to be worried about."
And with an easy name to pronounce, Hansen didn't settle for the traditional script. During his time waiting backstage in the green room of Radio City, he brainstormed some Bills flair to add to his announcement.
"When I went out there to announce, I said 'Hey can we jazz this up a little bit? Can I add a little something special?' They said 'What do you mean?' And told them the Buffalo Bills tagline about circling the wagons," Hansen said.
"So I said, 'With the 45th pick of the second round of the NFL Draft, the Buffalo Bills once again circle the wagons and select Cordy Glenn."
Whether or not Kelsay adds a unique Bills touch of his own remains to be seen, but with ten years of perspective on his own Draft Day and a few months of retirement under his belt, he's flattered to represent his former team at the NFL Draft.
"It changes people's lives," Kelsay said. "It's a huge day for the athletes, for the organizations, and for the NFL as a whole. It's a great situation. It's a great time in a lot of people's lives, and I'm thrilled for the honor to be a part of that."
Look for Kelsay tonight as coverage of the second round of the NFL Draft kicks off at 6:30 p.m. EST.