Typically, the conversations between NFL clubs increases in the last 24 to 48 hours before the draft is officially underway. This year appears no different for the Bills. In an interview with Buffalobills.com just hours before round one of the draft commences, GM Brandon Beane described a relatively steady amount of dialogue.
"I'd say moderate. A lot of it is standard. A lot of it is teams calling me or (Assistant GM) Joe (Schoen) or Sean (McDermott). Just checking in and saying, 'Hey we may have an interest in coming up to 22 if you're there,'" Beane said. "Or coming off of this pick if you're still at 12 we might be interested in moving back depending on who is on the board."
It's not surprising that other NFL clubs are trying to lay some ground work with the Bills, holders of six picks in the top 100 selections at 12, 22, 53, 56, 65 and 96 respectively. NFL general managers perhaps looking to add to their stash of draft choices would be wise to at least place a call to the Bills, especially if they currently reside in the top 10.
"It's really not a lot of teams being ready to do a move (now)," Beane explained of the calls he's taken thus far. "It's more of maybe type scenarios depending on what's on the board."
But if and when those maybes become realities, that's when a team can circle back with the Bills and present a formal trade offer. Beane in turn could make his own offer to some of those same clubs with which he's had previous contact.
And the Bills do have some of the best trading power armed with nine total picks.
"It gives us currency which is power in the draft to be able to move around on the board," said Beane. "When there are players there that we think can be impact players we'll target them and try to go get them."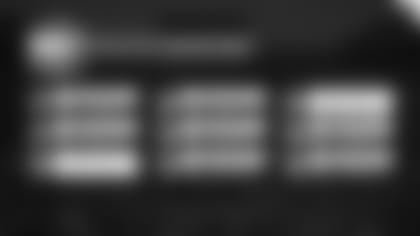 Despite the overwhelming narrative that the Bills will try to trade up for a quarterback prospect somewhere in the top 10, Beane maintains supreme confidence that no matter where their first pick in round one ends up tonight that they'll be able to get an impact player who can help the team right away.
"Yeah most definitely," he said. "We feel good about our board and where it's at. We've gone through all the scenarios as I mentioned. Whether it's at 12, later than 12 or earlier than 12, we're ready for any scenario and it's going to be fun."