INDIANAPOLIS -- For some draft prospects the NFL Combine is just the next step in the process to getting drafted. Heck, it's probably an expectation for some five-star recruits who played in big roles at powerhouse schools. But, then there's your prospects who didn't expect to be in a place standing among the most talented football players in the country, interviewing with NFL teams, talking to national analysts, rubbing elbows with NFL greats — those are the ones who truly are thankful for each and every second of the process.
Neville Gallimore didn't think the NFL Scouting Combine and his name belonged in the same sentence. Why? He's from Ottawa, Ontario in Canada. Hailing from a country oozing with hockey talent and a family where two of his brothers played professional basketball. Gallimore is on the verge of becoming a professional football star.
"If you would have told me six or seven years ago, you're going to be at the NFL Combine competing, I would have been like, 'you are crazy,'" Gallimore said. "I'm just blessed to be here, to have an opportunity."
Gallimore describes how he began his football career as a young kid in Canada.
"I was playing basketball in a neighborhood one day and I saw a couple guys who I'm still really cool with to this day," Gallimore explained. "They were playing football with each other, tackling each other to the ground. Nobody was complaining, you know having a lot of fun. I just went over there and started playing with them, kind of fell in love with the game ever since."
Love honestly may not be a strong enough word to explain how much Gallimore appreciates the game. Ottawa, unfortunately didn't have the exposure the defensive lineman needed to take his talents to the United States, so Gallimore needed to find somewhere to grow and develop in hopes to play at the Division I collegiate level.
In walks the person who would be his high school coach Geoff McArthur, a former standout wide receiver from the University of California, Berkley. Gallimore trained with McArthur from time-to-time prior to joining him at Canada Prep Academy. As the head football coach, McArthur helped start a two-year private school named Canada Prep Academy in St. Catharines, Ontario around 30 minutes outside of Buffalo.
What made the prep academy different from others was the fact that their entire season was played in the United States against teams across the country. Without playing those American high schools, Gallimore wouldn't have gotten the exposure he needed to make it to the University of Oklahoma.
"He kind of gave me the tools I needed to take that step and going through that whole process being away from a young age at 15 and 16, but I feel like it prepared me," the Canada Prep Academy alum explained. "The one thing I say is he fought really hard to try and help me get recruited. It's one thing when you believe in yourself, but it's another when you have a coach that believes in you and wants the best for you."
Gallimore became the first Canadian player to play in the U.S. Army All-American Bowl during his senior year of high school in 2015.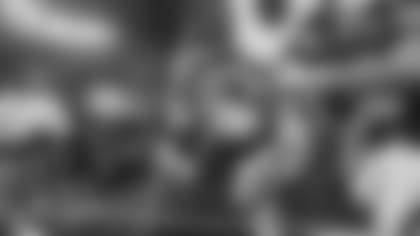 From playing in St. Catharines, Gallimore's scholarship offers began to roll in with Oklahoma being one of them. The defensive lineman said he always had a dream of playing at Oklahoma, watching the school on TV growing up. Gallimore says he met his second family once he got to the University of Oklahoma. One of those former teammates is Bills offensive lineman Cody Ford who thinks the Ottawa native is far from his ceiling.
"He's a very diverse kind of player," Ford explained. "He has a bunch of moves and he knows a lot more than people give him credit for, he's not as inexperienced as people think. He's a great guy, a great player. He's always working hard. He was one of the toughest guys to go up against in practice every day."
Gallimore was named first team All-Big 12 as a senior after posting 30 tackles a career-best 7.5 tackles for loss, 4.0 sacks and forced two fumbles.
"That's another guy that really appreciates the game, we both came into college together," Gallimore said of Cody Ford. "Just to see his work ethic and everything payoff is a credit to him. He definitely deserves everything and more. Can't wait to look for the opportunity to compete against him, God-willing."
Ford was the first connection Gallimore had to the Buffalo Bills. Even though he was less than an hour away from New Era Field, the Canada Prep Academy alum didn't make it to a Bills game during high school but always saw plenty of Bills fans.
"Never got a chance to go to Bills games, but one thing I know is that St. Catharines has a lot of Bills fans because it's just across the border every Sunday you would see a lot of Bills fans, everybody had their gear on," Gallimore said with a laugh.
For Gallimore the opportunity to play professional football seemed like a foreign idea when he first made the decision to move away from his family in Ottawa to St. Catharines in high school. Now he is on the verge of getting drafted to the NFL and as he sat on the podium answering questions at the NFL Combine, the Canadian has hopes for the future of football that extend past his home country. His hope is that one day young boys like him from all over the world will have the same chance he did.
"I just hope the game evolves in a sense that coaches and scouts are just willing to go wherever they have to go to find that talent," Gallimore said from the heart. "I'm really not just speaking for Canada, I'm speaking for Ottawa, I'm speaking for the kids that have a dream that grow up watching football, grow up having that passion and that talent. That God-given ability, but also that work ethic that shows if you have that desire to play they'll come find you."
"You still got to do your work as well, but just showing that no matter where you come from, what your background is, you still can get that opportunity. I have a lot of family, my parents are from Jamaica. Just to see when I went out there, there is so much talent. There are so many guys that if they got an opportunity, I wonder what they could do with it."
Gallimore is taking full advantage of his opportunity, making sure every moment is savored. As he prepares to potentially be one of the few NFL defensive linemen from Canada, Gallimore will proudly take his roots with him.