MARTINSVILLE, N.J. (AP) - The big-screen television hanging on the wall at TEST Football Academy has various colors, numbers and other data flashing across the screen, all vital information for the trainers preparing a group of college players for this week's NFL combine.
Science and technology have become a big part of sports in recent years.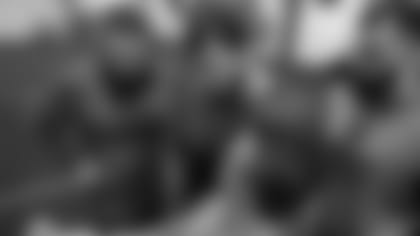 One of the latest examples is a heart-rate monitor that TEST Sports Club trainers use to take tracking workouts to another level.
''It's remarkable,'' said Kevin Dunn, the CEO and owner. ''This shows the actual work. Science shows the end result. It tracks every minute of every workout in the facility.''
Players wear a strap around their chest and the plastic monitor picks up the impulses from the heart. It measures heart rate, performance percentage, calories burned and more.
As a player's heart rate goes up, the corresponding color tile on the screen changes from yellow to blue to red or whatever. All the information is stored and sent to trainers and the individual athletes.
''We set goals each day based on how long workouts are, how intense workouts are and we can pinpoint if we need to back down on volume of their workout if they're overworked or sleep deprived,'' Dunn said.
''We used to guestimate how many calories they were burning. Now I can run a report on my laptop and list these guys and it will tell me everything.''
Four of the 22 players who worked out with Dunn and director Geir Gudmundsen at TEST are in Indianapolis this week. They are: wide receiver Justin Hardy (East Carolina) and offensive linemen Austin Shepherd (Alabama), Laurence Gibson (Virginia Tech) and Mark Glowinski (West Virginia). Other players are preparing for their pro day.
NFL organizations put varying emphasis on a player's combine results depending on a team's draft philosophy and needs. For some players, combine performance is a deal breaker. For others, it opens up new opportunities.
''The heart monitor definitely helps me out just by looking at the number of calories I burn so I know how much I have to take in to maintain my weight,'' said Hardy, a walk-on who set the career catches record for bowl subdivision history.
LSU fullback Connor Neighbors wasn't sure what to expect when he first wore a heart monitor.
''I just assumed it monitored your heart rate, but it helps with everything from recovery to diet to how hard you're working and that alone sets the schedule for when you rest,'' Neighbors said.
Joe Flacco, Patrick Peterson, Demario Davis and other NFL stars have also trained at TEST. Last year, LSU quarterback Zach Mettenberger spent several weeks here following reconstructive left knee surgery.
Trainers helped Mettenberger return to the field for his pro day just four months after repairing his ACL. Mettenberger was drafted by Tennessee in the sixth round and started six games.
''We called him Wolverine because of how fast he recovered,'' Dunn said. ''He was in here every day at 7:30 a.m. and worked hard till 5 p.m.''
Players at the combine are tested for six measurable drills, including the 40-yard dash, bench press, broad jump, vertical jump, shuttle run and three-cone drill. If they don't prepare, they'll be at a disadvantage.
Athletes at TEST train six days per week for six to eight weeks to be ready for their most important job interview. They focus on improving measurables and practice positional drills.
While heart-rate monitors are new to TEST this year, other technological advances have helped along the way.
The Coach's Eye video app takes high-definition pictures and allows trainers to watch in slow motion and break it down frame by frame.
''It's such an incredible coaching tool, especially having it on the field because immediate feedback is much more effective, especially visually,'' Dunn said. ''You can do a rep, see what it feels like and then watch it because what might feel right isn't actually right.
''Combine training is all predetermined drills so it's literally doing the same steps. It's the first time they're doing something predetermined because football is so chaotic and random.
''But 40 yards here is the same as 40 yards in Indy and 40 yards on their pro day. The Coach's Eye app helps us teach the guys exactly what to do and when and not just by telling them, but letting them feel it and seeing what it looks like.''
From Kyle Williams to Reggie Ragland, here's a look at how some recent Bills have fared at the NFL Combine.