Coming in as a new defensive coordinator this offseason Jim Schwartz wanted to effectively establish a bond between the players who would make up his defensive unit this season. Coaches are frequently using visual reminders to motivate players to perform at their level best every time they step on the field, and Schwartz was no different. The night before the season opener Schwartz unveiled a chain of Carabiner clips to his defense to symbolize their commitment to one another on the field.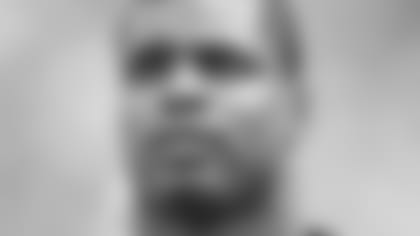 "He preached that as a defense we don't need or want any weak links," said Da'Norris Searcy. "That's the significance of the chain. Everybody links up and says they're going to be accountable for what goes on in the game. You're going to know your assignments and know what to do and go out there and compete and play your hardest for the guy next to you."
A defensive player who is inactive for the game is the one who wears the chain on the sideline on game day serving as a visual reminder to the men playing about their commitment.
"When we see that reminder on the sideline with whoever is the inactive guy over there shaking that chain around we remember that we're here for one another and we have to keep playing," said Preston Brown.
In past seasons the Bills' defense was guilty of having lulls in their play, even if only for a short period of time. It invariably led to giving up a third down conversion, a big play in the pass game or worse. Buffalo's defense collectively wants to be performing at peak efficiency from start to finish every Sunday, so the buy in with the chain was unanimous.
"It made a lot of sense to me," said Marcell Dareus. "It's just being dependable especially the guy who will be out for the game. He's the guy who holds the chain. It's a mental thing. Some guys really get up for it and we all believe in it. That guy with the chain is our biggest cheerleader on the sideline. We're all up for it and it means a lot to us."
"I actually thought it was good. It shows that everybody is all in on defense and we're all together and we've all got to be one," said Nigel Bradham. "There can't be a weak link in the chain. That's the motto he's set for us and I know why. I feel like it was a perfect example. That's one of the reasons we're so passionate and geeked up out there."
Thus far the accountability has been sound. The Bills' defense is second in the NFL in yards per carry allowed, third in rushing yards allowed per game, fifth in third down defense and eighth in points allowed.
The chain is brought out the night before the game in meetings and it's at that time when each player makes their personal commitment to the defensive effort Sunday.
"We remind each other the night before every game. You tell the guy next to you, 'I've got your back. Regardless of the situation I'm not going to give in or give up on you,'" said Dareus. "Once you link in you're automatically telling everybody that you're giving your all every play for everybody else. So there's not even a thought of will I or will I not late in the game? It doesn't matter if it's the fourth quarter. I already promised I'm going to give it everything I have and we're going to see it all on film so they're going to know that I laid it all on the line."
When the unit comes to the sideline after forcing a punt or getting a turnover the chain holder makes a point of rattling the chain to keep defensive players charged up and mindful of their pledge.
"Yeah we'll come to the sidelines after a big stop and the guy who has the chain will be shaking it up and down , so it's a good thing to have on the sideline," said Brown. "It gets you riled up and reminds you what you're out there for."
"It symbolizes us," said Bradham. "That's what it's all about going out there and having fun and showing we're all in it together. If we're going to be a great defense it's going to take all of us."