It didn't take long for the Bills to address their offensive line in free agency. A day after the market opened, Buffalo hosted OL Chris Williams and just hours later the six-year veteran signed a multi-year contract agreement.
"I'm excited to be here," said Williams just minutes after signing. "I'm excited for the opportunity. Buffalo seems like a great place to play. The fans here are outstanding. I've played here a couple of times and the team is turning the corner and I'm just here to help them win and I'm excited about it."
SEE ALSO: Williams embraces March blizzard in Buffalo Buffalo made no secret that they were looking to fortify their offensive line this offseason. The Bills gave up the fourth-most sacks in the league in 2013 (48) and rotated three different players at the left guard position through the course of the year last fall.
"We're excited about this start to free agency and our plans moving forward," said GM Doug Whaley. "With the signing of Chris Williams, I am particularly excited about the direction our offensive line is moving in because we wanted to address this position and we feel like we filled the need with a very good player."
Williams was a highly touted offensive tackle prospect coming out of Vanderbilt in the 2008 draft and was taken 14th overall by the Chicago Bears. Being added to one of the more ineffective offensive lines in the league as a rookie, Williams was expected to be a savior and linchpin of Chicago's rebuilt line.
Though the Bears were able to reduce the number of sacks they surrendered from 43 in 2007 to 29 in 2008, Williams play was publicly criticized. By 2009 when injuries struck the Chicago line Williams, being the more versatile lineman, was moved to guard. The move turned out to be a blessing for his career.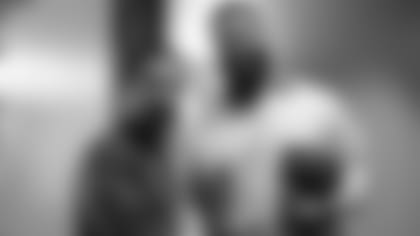 "I ended up kicking inside because of our situation in Chicago and I was the guy who was most likely to move so they kicked me down and I was in and out since then (with the Bears)," he said. "I eventually made it my home."
Williams played two and a half more seasons with Chicago flipping between guard and tackle before new general manager Phil Emery chose to release him in the middle of the 2012 season. He was promptly picked up by St. Louis and eventually became a fixture at left guard for the Rams.
"It's something I like to do. I like playing inside, it's fun," said Williams. "I've always looked for opportunities to play and find my way onto the field and wherever that is that's where I'm going to be."
For Williams the influence of veteran offensive line coach Paul Boudreau was instrumental in the veteran lineman reinventing himself as a solid, dependable guard. Now he's eager to raise the level of his game again under the guidance of head coach Doug Marrone and offensive line coach Pat Morris.
"Coming in here with coach Marrone and coach Morris I'm really excited about it," he said. "I'm going to continue to develop my game because I'm always trying to work to get better and I think it's a great opportunity here to do that."
Left guard is where Williams said he is expected to line up as Buffalo's commitment to him makes the starting job his to lose. Williams started all 16 games at left guard with the St. Louis Rams in 2013 and was part of an offensive line that held opponents to 36 sacks – eighth-fewest in the NFL (fourth-fewest in the NFC).
The Rams did show interest in re-signing Williams, but the veteran lineman liked how he could fit with the offensive group in Buffalo.
"The Rams were interested and we had some other teams interested as well, but this seemed like the best fit for me and was the opportunity that I was the most excited about, so I definitely didn't hesitate to pull the trigger here," Williams said.
The veteran lineman wasn't shy in mentioning his preference to run block instead of pass block, but understands every offense must have balance. At the same time he's anxious to make himself a dependable addition to an offense that ranked second in the league in rushing last season.
"With the offense being second in rushing that's exciting for any o-lineman to come into and hopefully we can continue that and be first in rushing," he said. "I feel like the team is a dangerous team, very talented and it's a team that's going to win a lot of football games and I just want to be a part of that."