It was a busy day for Bills top draft choice Sammy Watkins on the first day of team organized activities at One Bills Drive Wednesday. Watkins got reps with the first team offense during team segments and made a handful of plays in the passing game, and after a post-practice weight room session signed his rookie contract.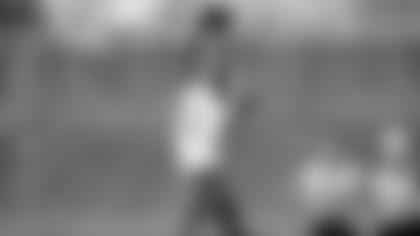 During routes against air (no defenders) Watkins' best catch was the one he made outside his body frame on a high pass from EJ Manuel. The receiver reached over his head with both hands and snared the pass without breaking stride.
In an early 11-on-11 team segment Watkins made a pair of receptions both on passes from Manuel. The first came on a crossing pattern as he gained separation coming across the field for a 12-yard gain. Three plays later Watkins picked up another 15 yards on an out route, getting both feet in before stepping out of bounds.
The Clemson product had a couple of other receptions underneath. Two other passes however, were broken up by defenders including one that went for an interception.
All in all Watkins felt he knew his assignments, but did not feel that he was playing at full speed.
"Right now I'm kind of slow. I'm not going full speed. I'm not running real fast. I'm thinking still," said Watkins. "It's a process that I have to get by and once I get to rolling full speed running out of routes and breaks it'll be totally different.
"It's just a process of me grasping everything in a certain amount of time. They're just throwing me out there to see how I react. I think I reacted pretty good. For the most part I knew everything I was doing. I just wasn't at the speed I was supposed to be at."
Kouandjio rotates in
Watkins wasn't the only draft choice making a good first impression. Erik Pears is the incumbent starter at right tackle and that's where he lined up when the team portions of practice began. However, second-round pick Cyrus Kouandjio was rotated in for a few reps here and there.
Head coach Doug Marrone was clear in stating his willingness to see what the Alabama product can handle.
"When you feel someone's ready to go from the standpoint of knowledge where they're not going to get anyone hurt, throw them in there," Marrone said. "I've had a lot of success by taking young guys and once they know what they're doing, throw them in there with the first group and see what they can do. I think you'll see a lot of that as we forward in camp."
Manuel lays out goals
A much more confident and poised EJ Manuel took to the practice field Wednesday. Demonstrative in the huddle, Manuel had some good early chemistry in the passing game with the aforementioned Watkins, Chris Hogan, Marquise Goodwin and tight end Tony Moeaki.
Manuel wants to make the most of every practice session.
"I definitely want to use these 10 practices being OTAs to get better at specific things, coverage recognition, truly getting trust with my receivers," he said. "A lot of the things we want to do offensively is timing routes, so that's something we can continue to build over these next three or four weeks."
Moeaki was a target that Manuel looked for a handful of times. With Scott Chandler limited Moeaki saw some first team reps and made the most of it. His best play came courtesy of Manuel, who spotted the tight end leaking out down the left sideline behind his defender.
Manuel hit him in stride for a would be touchdown.
"We connected on some passes, so it was nice for me just because I haven't been around him too long," said Moeaki. "Everyone needs to build off today and just watch the film and get better."
Defensive newcomers show up
Corey Graham and Brandon Spikes were two of the new additions on the defensive side of the ball this offseason. Both of the free agent signees made plays during the team segments.
Graham jumped a Sammy Watkins route underneath for an interception return for a touchdown and had another pass breakup later in practice. The cornerback's INT earned a low five from the head coach.
Meanwhile Spikes batted down a pass attempt over the middle from EJ Manuel.
Spikes was also calling the plays on defense and was on the field in nickel packages. It looks as though the veteran linebacker will be given the opportunity to prove he's a three down player.
Several veterans limited
Most of them were participating in some portion of practice, but none of them did any work in 7-on-7 or 11-on-11 due to offseason surgeries. Marrone ran down the list of players who will be limited in the OTA practices as they recover from procedures performed not long after the 2013 season was over.
Among the most notable were Kiko Alonso, Scott Chandler, Stephon Gilmore, T.J. Graham, Leodis McKelvin, and Aaron Williams, Mario Williams and Robert Woods.
Marrone addressed Alonso and Woods specifically.
"They're coming off procedures also, both of them," he said. "Kiko had a hip and Robert had an ankle. Those guys have been here the whole time working and we're just being progressive, making sure they're working their way back. We know they'll be available and healthy for the season."
Not in attendance at all at the voluntary camp were veteran defensive linemen Alan Branch and Manny Lawson.
Schedule
The Bills will be back on the practice field on Thursday at 10:30 am.