The NFL represents many different things to many different people.
To some it's an old American pastime. To others, it's a reason to drink beer on a Sunday afternoon. To others, it's a favorite weekly event, and memories that last from childhood.
But to a small, elite group of people, it's a career.
This week, the NFL hosted drafted rookies from all 32 teams outside of Cleveland, Ohio, to give the newest members of that elite club some perspective on the game, culture, and life they're about to step into.
"I think as a rookie you deal with so many new things," said Bills kicker Dustin Hopkins.  "You're handling your finances for the first time on a large scale. You're embarking on a new journey. I think a lot of times you're trying to catch up so you look at it as a business at first, so after a tour like the one we had of the Hall of Fame, you kind of step back and realize that man, I'm playing a sport that I've dreamed about playing my whole entire life."
All eight of the Bills 2013 draft picks were in attendance for the four day Rookie Symposium, which consisted of a number of workshops, videos, and some notable guest speakers from that same group fortunate enough to earn a living playing football.
"Anytime you get some wisdom from the guys who have been before you, you definitely want to take advantage of it," said rookie QB EJ Manuel. "You want to take in everything they say, and take something away from it. You don't want to be one of those statistics that ends up broke or ends up missing out on an opportunity to play in the National Football League. You have to take every talk you get and every bit of wisdom you get seriously."
Not only did the rookies see and hear from some of the legends of the NFL, but they visited the Pro Football Hall of Fame in nearby Canton, Ohio, where many of those players are immortalized.
"It makes you want to leave the same legacy that you see in the Hall of Fame, when you look at the busts of those heads of the men that have made those sacrifices to play the same game that you played, to just enjoy the history of the game that's given us so much," said Hopkins. "A common quote said this week was that we're standing on the shoulders of giants."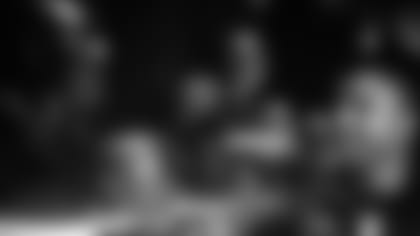 One such giant is Hall of Famer Bruce Smith, whose bust was paid a visit by his godson and fellow Bills first round draft pick Manuel.
Manuel and Hopkins also found company in the Hall as Florida State University alum, visiting the bust of notable Seminole Deion Sanders. Hopkins called it a "wow" moment."I remember seeing his bust a bunch of summers ago on his kitchen table, and that was incredible to see it," said Manuel. "I took a bunch of pictures with it. But to actually see it here amongst these other great players and names is just awesome. It puts a lot of it in perspective."
"Seeing those people that have been in the same place that you were and realizing that you're embarking on a new journey and you want to leave that same legacy, I just had to take a step back," he said.
The Ralph Wilson, Jr. Pro Football Research and Preservation Center, one such legacy in Canton, gave Bills rookies a newfound respect for the influence Wilson has had on the National Football League.
"Mr. Wilson was one of the founders and part of the lead group that helped create this league that transcends being a game," said Hopkins. "It's a huge production and culture, and all the cultural influence that the game has on the United States right now and what an integral role he played in it is pretty amazing."
Where past met present this week at the Hall of Fame, Hopkins, Manuel, and their fellow recently introduced NFL brethren gained knowledge, perspective, understanding, and inspiration to continue the legacy of those before them and begin to form their own.
"I've always been taught that a good name is more important than great treasures," said Manuel. "Keeping that respect about yourself and keeping your name clean adds to your legacy. Obviously when you play well you have a legacy playing football. I want to be remembered as more than a great football player but also as a great man."