All along Doug Marrone has stated he just wants his best five linemen on his starting offensive line. On Monday the Bills head coach stated that his right side of the line is essentially set.
"I like (Erik Pears) there at right guard and I like Seantrel at right tackle," said Marrone. "I'm not going to totally give myself to it because obviously if an injury occurs something might change, but if everyone remains healthy and everyone stays the same, and they continue to keep playing like they're playing that's what we'll go with."
Henderson and Pears have only been lining up alongside one another for a week as the move was first made last Monday in the final week of training camp. Marrone admitted he would've made the move sooner, but the club was waiting on Cordy Glenn to be cleared for full practice participation to return to his left tackle position after starting camp on the Non-Football Illness list.
For Pears, the position is not completely foreign. He made two starts there back in 2009 while with the Oakland Raiders, but last Saturday against Tampa Bay was his first start at guard with the Bills. Making matters even more challenging he was often lined up against two-time Pro Bowl defensive tackle Gerald McCoy.
"I thought he did some really good things against what I think, who I respect as one of the top players at his position," said Marrone.
"Football is football either guard or tackle," Pears told Buffalobills.com. "There are some nuances at guard that you have to pick up that you don't see at tackle and I'm going to pick those up on the fly, but I'm just happy to get work. I want to work wherever they want me to work."
For Henderson the switch was a welcome one. The rookie tackle played his entire college career at right tackle at Miami. His only adjustment is getting used to playing with Pears as a tandem.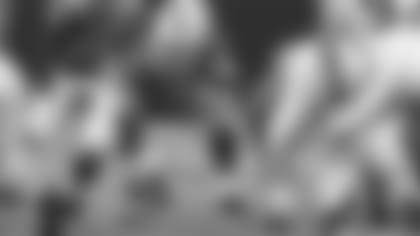 I feel good back on the right side and me and Pears are getting used to playing with each other. We're just communicating," said Henderson. "Anything I need help with as far as calls or as far as plays or who we're blocking Pears has always got my back. He helps me out with anything I need or whatever questions I have."
"He's got a lot of natural ability that's obvious anyone can see that," said Pears of Henderson. "We've just got to make sure we're on the same page. I'm going to help him with anything I can possibly help him with whether it's in the classroom, pre-snap, on the field and make sure we're on the same page."
Time is short to get comfortable playing with one another and anchoring down Buffalo's right side, but Pears is confident they'll get to a point where they feel comfortable come the Week 1 opener at Chicago.
"Absolutely," said Pears. "How long have we been playing football? A long time, all the way from high school to college to now. Obviously it's different levels, but it's all football. As long as we're on the same page with what we're doing we'll be fine."