For three years Preston Brown watched his college teammate earn Big East Rookie of the Year and Big East Offensive Player of the Year honors as well as Sugar Bowl and Russell Athletic Bowl MVP accolades in their final two seasons together. Both drafted out of Louisville this past spring, Brown and his counterpart Sunday, Teddy Bridgewater, will be staring at each other for most of Sunday across the line of scrimmage at Ralph Wilson Stadium.
"It's going to be exciting," said Brown, Buffalo's leading tackler through six games. "Just looking over there I know he's going to be smiling and laughing. We always had that fun where we'd be talking to each other so it'd be fun to see him out there."
Bridgewater, who has already taken a long look at game film of Buffalo's defense has noticed number 52 a lot.
"He looks pretty good," said Bridgewater of Brown. "You wouldn't think he's a rookie the way he's flying to the ball and the way he's covering guys. He's looking like a guy in great form."
Bridgewater, a first-round pick of the Vikings last spring, and Brown a third-round choice of the Bills are used to squaring off against one another from all those days in practice under head coach Charlie Strong.
READ: Strong is the tie between Preston Brown and
"We went against each other a lot at Louisville and it was fun," said Brown. "He would check the play off just to try to mess with me and switch things back and forth so it was always a chess match with Teddy so it was fun practicing against him every day."
The stakes are a little bit higher this week as the Bills are looking to bounce back off a division loss to New England, and the Vikings are trying to do the same after a defeat at the hands of division rival Detroit.
Bridgewater has had his share of struggles in his rookie season. Sunday will mark just his third start this season after the team lost Matt Cassel for the year due to injury and Bridgewater missed a game with an injury as well. In his return to the field last Sunday he threw three interceptions and was sacked eight times. But Brown knows no matter how bad things might be going Bridgewater doesn't quit.
"I know he threw three picks last week, but that's not going to bother him," Brown told Buffalobills.com. "He's still going to come out here slinging it this week. "Teddy is as hard as anybody I've been around. When he's out there playing it doesn't matter if you hit him hard, he's going to keep getting up and keep fighting. That's what we always knew when we were playing, we knew he was always going to get up and give it all he has."
Brown saw the gleam in Bridgewater's eye from the moment he walked onto the Louisville campus as a freshman.
"I could just tell he was special," said Brown. "Just first to see how he was straight out of high school, but making reads in practice. He had an amazing grasp of the offense right from when he first got there. He took it in and studied and really prepared like a pro from day one."
By the team's fourth game Bridgewater was the starting quarterback as a freshman and never gave the job up. He wasn't always successful in his first collegiate season, but he never looked rattled.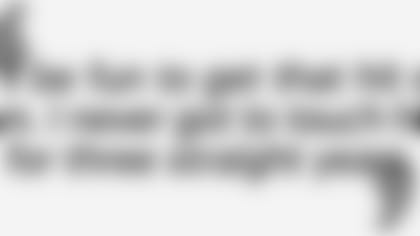 The following year Bridgewater and Brown were part of the team's leadership committee as coach Strong didn't have a practice of naming captains.
"It was me, Teddy and our two safeties, Calvin Pryor and Hakeem Smith on leadership committee, so we were they guys who really stayed together and had the player-coach kind of interactions with coach Strong," said Brown.
Brown said Bridgewater was a perfectionist and would stop practice himself during series and start them over again.
"One of the big things with Teddy was he would always re-start the offense if they were having a bad series in practice," said Brown. "If anybody had a bad play we'd just re-start it and start the whole thing over. He really made sure that we got things going right because he didn't want to have any missed plays in practice show up in the games."
There weren't many miscues in Bridgewater's college career. The former Cardinals' QB threw for almost 10,000 yards and had a 3:1 touchdown to interception ratio. The career highlight for both Bridgewater and Brown at Louisville was their upset of Florida in the Sugar Bowl despite being two touchdown underdogs.
Florida had the number three defense in the nation and allowed less than 13 points a game. The Gators had given up five touchdowns all season. Bridgewater threw a pair of touchdown passes in the Cardinals' 33-23 upset victory and earning game MVP honors.
"The guy was always making sure he knew what was going on with our game plan and who we were going against," Brown said. "He's going to make sure he knows the ins and outs of the defense. You've just got to be prepared because he's a great competitor so he's always going to come out and give it his best shot."
In much the same way Bridgewater has seen Brown play a versatile role in Buffalo's defense, but isn't the least bit surprised that his former Cardinals teammate is leading the Bills in tackles.
"It doesn't surprise me because you're talking about a guy who is 250 pounds and can run sideline to sideline and just make plays," Bridgewater said. "I've been able to watch his great ability and his athletic ability for the past three years. It's just the expectation level for Preston. I think he's a guy who has been coached well and raised well and he knows what it takes to be a successful football player."
On Sunday Bridgewater will be looking to throw his first NFL touchdown pass against the Bills, but Brown has other ideas.
"It'll be fun to get that hit on him," Brown said. "I never got to touch him for three straight years. If you touched him back at school coach Strong would put an end to practice, so it would be fun to get a chance to chase him around."