1. Shaq and I are on the same page
Bills head coach Sean McDermott addressed the team's decision not to pick up the fifth-year option on former first-round pick Shaq Lawson.
McDermott made it clear that the club and Lawson are comfortable with where things stand right now.
"The critical piece to that is we've had communications with Shaq and we are on the same page with where we are and how we view Shaq," he said. "This doesn't necessarily mean that after this year that we're going to go our separate ways. We like where he is and the work he's put in of late. I think the critical piece is we're on the same page with where we are and where he is."
Lawson put together his most productive season in a Bills uniform in 2018 and demonstrated full buy-in to McDermott's mantra of 'Respect the Process.' Provided that continues in 2019 and Lawson is again productive this fall, the defensive end stands a good chance of continuing his career in a Bills uniform.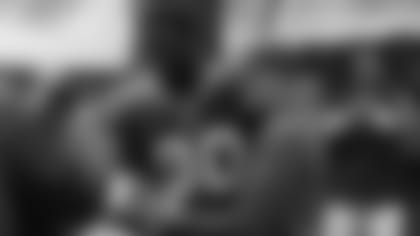 2. Void of Anderson retirement allayed by Dorsey's presence
With the retirement of veteran QB Derek Anderson on Thursday, some might be concerned about the void left in the quarterback room. Anderson was a valuable mentor to Josh Allen in a number of ways and helped speed up the young quarterback's learning curve.
Head coach Sean McDermott said they knew about a week before the start of the team's offseason conditioning program in mid-April of Anderson's intentions and completely understood where he was coming from.
As for filling the void left by Anderson from a mentor standpoint, McDermott believes they have filled it already in the form of quarterbacks coach Ken Dorsey.
"We feel good about adding Ken Dorsey to the room," said McDermott. "Ken and Derek worked together hand in hand in Carolina for a number of years. I'd be a little more concerned about it had we not added Ken Dorsey to the mix this offseason. With some of the experience that Matt (Barkley) brings to the table knowing this is not his first go around. That combined with the influence that Brian (Daboll) has in the room. We feel comfortable with what we've got."
Dorsey and Anderson were even teammates when both were quarterbacks in Cleveland for three seasons together from 2006-08. Dorsey was also Anderson's quarterbacks coach in Carolina.
3. A big hill for Christian Wade to climb
Buffalo's international player, RB Christian Wade is also getting the opportunity to compete in the team's rookie minicamp this weekend.
For Wade it's a trip to the deep end of the pool pretty quick without much prior football knowledge.
He's got a big challenge in front of him. I try to put myself in his shoes, to have never really played the game. You imagine we're in the meeting and you put up an offensive line and this is the 'A' gap, this is the 'B' gap and this is the 'C' gap. That's new for him. So for things that most of our players have been around since age five or six. He's getting introduced to those concepts for the first time. He's in for a long haul here, but I think he's up for the challenge.
"Watching Christian and the way he works… he has a great work ethic. He brings positive energy to our building and we value that here."