1. Trust in Josh Allen's scramble decisions
It may make every Bills fan hold their breath to watch. It's likely that head coach Sean McDermott holds his breath a bit too. But it sounds like Josh Allen's decision making when it comes to tucking the ball and running has reached a point where McDermott is breathing a bit easier.
When asked if he'd like to see Allen slide a bit more, McDermott expressed a level of trust in his quarterback's decision making based on the circumstance he's facing in a game.
"I think that's one of those deals when you're in the pilot seat you have to do what's right for the situation and reading the angles," said McDermott. "I would say to tell him to go out there and tell him to lower his shoulder 100 percent of the time is wrong, and I would say to tell him to slide all the time is wrong. He's in the driver's seat and there are so many situations, but he understands the importance of protecting himself and he has good awareness and instincts as far as that goes too."
Allen did not slide on any of his scramble plays, though he did run out of bounds to avoid unnecessary contact. He had a couple of designed runs called, but also scrambled more than a handful of times and gained 38 yards last Sunday, including a three-yard touchdown run.
2. McDermott confirms running back depth chart
After rookie Devin Singletary ripped off 70 rushing yards on just four carries last week and had almost 100 total yards from scrimmage in his NFL debut, McDermott was asked who his starting running back is going forward.
"Frank Gore and then we bring in Devin (Singletary) and then we bring in TJ (Yeldon)," he said.
Reporters were trying to pin him down on whether Singletary will be supplanting Gore as the feature back after a strong debut performance, but McDermott doesn't view his running back pecking order that way.
"We have a depth chart and (Gore is) listed as our number one back," said McDermott. "But we're just trying to win games, so whoever is going to carry the load whether it's matchup-wise, or game plan-wise or health-wise, we have a lot of confidence in all three of those guys."
When asked if Singletary's Week 1 play boosted his confidence in the rookie, McDermott said the following.
"It certainly didn't hurt. You've seen some of the things that our backs have been able to do, including Devin," he said. "We're just trying to win games. Whatever helps us win games, that's our feature back."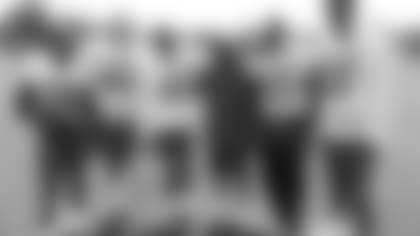 3. Taron Johnson, Andre Roberts not practicing
Both CB Taron Johnson and WR/return man Andre Roberts are both not practicing here on Wednesday. TE Tyler Kroft is limited as he works his way back from foot surgery in the spring.
Coach McDermott called Johnson day to day with his hamstring injury.
If he can't play Sunday against the Giants, it's likely that Siran Neal steps in, but McDermott did not rule out other options.
"We feel confident in the guys we have in there," said McDermott. "Siran did a nice job in there and we have some other pieces who have worked in there in the past as well."
Veteran CB Kevin Johnson has experience in the slot and veteran S Kurt Coleman could be a consideration as well.