Cody Ford heard about the devastation occurring in his hometown and knew he had to help. He could not have known just how far his help would go.
The Buffalo Bills offensive lineman partnered with the relief organization Eight Days of Hope to donate $10,000 worth of supplies – including generators, pallets of water, and mattresses – to Pineville, Louisiana last week in the wake of Hurricane Laura. One of those generators was given to Joan Broussard, a single mother of four whose youngest daughter, Kylie Bush, is kept alive by feeding pumps.
Without electricity, Broussard and her daughter had been relegated to taking long drives around town. The drives served a dual purpose, to protect Kylie from the scorching Louisiana heat and to charge her pumps, one by one.
The generator gave the family newfound hope.
"That, for Kylie, it's lifesaving," Broussard said. "I mean, it makes a difference of life and death for her."
It was the sort of impact that Ford strives to make in his hometown, inspired by the giving spirit of his late grandfather, Eddie Rabalais. Ford has strived to follow in the footsteps of the man he lovingly called "Papa" since his passing in 2015, when Ford was a redshirt freshman at Oklahoma.
"When people talked about my grandfather, one of the main things that was always brought up was how much he would give and how much he cared for other people and how much we would do for people," Ford said.
"And so for me to do that, it was definitely something I know he would be proud of and something that probably came from him. It was him living through me."
'Run behind Cody'
Scotty Harrison joined the coaching staff at Pineville Highschool when Ford was a senior. He still remembers seeing a big kid – about 6-7, maybe 290 pounds – lined up at left tackle and making a remark to the other coaches: Wow, that kid is big.
"They were like, 'Yeah, he'll never see the field," Harrison recalls. "I'm like, 'What are you talking about?'
"They're like, 'Our left tackle is over there on the baseball field right now. He's playing baseball. When he gets here, you'll know it.' Let me tell you, they weren't lying because Cody is an absolute animal on the field."
Harrison watched Ford block his way to an All-State nod as a senior at Pineville High, a decorated collegiate career at Oklahoma and, finally, a second-round selection by the Bills in 2018.
"Whenever we would walk into that high school huddle, everybody knew that you were going to run behind Cody because he was going to do everything he could to pave that way," Harrison said. "When it comes to pass blocking, you want him on your team because he's going to make sure you don't get hurt.
"That's kind of what he's doing now with his community. He's still there trying to protect his community and make sure they get through everything OK. He's a great guy, he's a great friend, and I have a lot of love and respect for him."
Protecting the community was a priority for Rabalais, a pharmacist for 45 years who spent his free time volunteering at his church, Sacred Heart of Jesus; organizing retreats through A.C.T.S. (Adoration, Community, Theology, Service); and mentoring youth programs. Rabalais was a school board member for 18 years and was well known in his community, in part for his famous jambalaya.
"One of the most memorable things about him was my uncle played college ball at Northwestern State," Ford said. "Every home game, we would always go up there. I went to every home game with him. He would cook a big pot of jambalaya for everybody. Family, friends of the families, it didn't matter who. He was just like, 'Hey, come get a bowl.' So, that was kind of his whole personality."
Harrison said he was on his own A.C.T.S retreat a year ago when he heard Rabalais' name mentioned, proof of his long-lasting legacy.
"He tried to help people and take care of those in need the best he could and any way he could," Robin Graham, parish manager at Sacred Heart, said. "He stayed active within the church and was not only a mentor to his grandson Cody, but he was a mentor to other men. He was always a pillar, a Christian man. He was always here."
Ford thought of his grandfather after hearing from family and friends when Hurricane Laura devastated his hometown on Aug. 27. He reached out to the Bills community relations department to see how he could help, which led to his partnership with Eight Days of Hope, a relief organization with which the Bills had worked during the COVID-19 pandemic.
Within 72 hours, an 18-wheeler full of supplies had arrived at Sacred Heart.
To Harrison, it was just Cody being Cody.
"My son plays basketball in high school," Harrison said. "Cody came into the locker room and talked to him before the game. Anything I ask of Cody, he's always done it. He's very family oriented. Nobody means more to him than his mother and his family.
"I mean, when his grandfather passed, it was really hard on him. He tries to live exactly like his grandfather would want him to live, and that's his goal."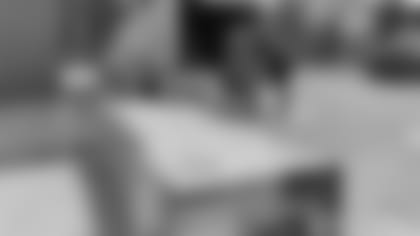 A reason for hope
Graham said that some in Pineville were still without power as of Thursday, one week after the hurricane hit. The large, vibrant pine trees for which the town was named had crashed into roads and homes. Spawning tornadoes added to the damage.
Though relief efforts in Pineville have made progress – some families have electricity and many roads have been cleared, Graham says – the situation remains dire 100 miles south in Lake Charles, where some could be without power for as long as six weeks.
In both towns, the situation is intensified by the sweltering Louisiana summer, where the heat index regularly exceeds 100 degrees.
"One of the things, after a major hurricane like this, people can't fathom the discomfort that families are walking through," Steve Tybor, founder and CEO of Eight Days of Hope, said. "I mean, right now it's survival. People are trying to do the basic things to provide for their families, their loved ones, and that's food and shelter – things that maybe you and I take for granted.
"I mean, I can go to my refrigerator right now, there's food there. I've got a generator in case my electricity goes out. But so many families, especially down south in these smaller towns … there are many communities in Louisiana that are not going to have power for four to six weeks. What do you do?"
Tybor, a Buffalo native, founded in Eight Days of Hope after he, his father, and 684 other volunteers participated in a relief mission in which 84 homes were rebuilt in eight days after Hurricane Katrina. The organization has been dedicated to disaster relief ever since, including efforts following Hurricanes Michael, Harvey, and Florence, among others.
"I always tell people right after disasters, what we try to do and other people who do what we do, is we try to bring hope to people who are feeling hopeless," Tybor said. "We're trying to love and serve the brokenhearted. Sometimes it's simply with palettes of water like we delivered to Pineville because of Cody's generous donation, water that's not available right now but is because he stepped out and said, 'Hey, I want to make a difference.'
"Right now, it's food, water, power. Forget about rebuilding. Forget about meeting with the insurance company. Right now, it's all about surviving, and Cody's generous donation is helping dozens of families survive in Pineville as we speak."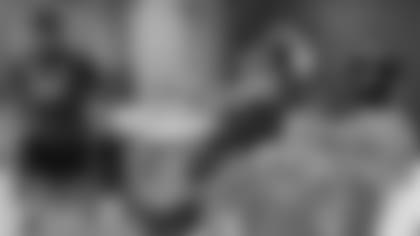 A sense of peace
Kylie Bush was born with malrotation volvulus, a condition in which the small intestine is twisted and causes a dangerous blockage from its blood supple. Broussard said the ailment cost her daughter most of her intestine and nearly took her life.
The challenges piled up from there. Bush had a small bowel transplant when she was 17 months old but lost the organ after a case of strep throat at age 4. She was on a waiting list for six years before undergoing a triple organ transplant in 2016.
Since then, Bush has had two bouts of cancer along with steroid-induced diabetes. While most of the world adjusted to life behind a mask during the COVID-19 pandemic, Bush - now 14 - has worn one her whole life. Something as simple as the flu can require a trip to the intensive care unit.
"She's even too complex for the two hospitals here in Alexandria to take care of," Broussard said. "So, by them providing us with the generator, it gave me just a sense of peace that I could at least keep her medical appliances charged and keep here away from the hospital unnecessarily because unfortunately with COVID, that's very dangerous for her as well."
Broussard was one of many recipients whose situations were changed by Ford's contributions. One woman, Graham said, had been forced to gather in a home with 20 family members after the hurricane. Two generators went to elderly couples who had trees go through their home.
"That's where they were having to live, but they had nothing and they were elderly," Graham said. "One of them is on hospice. So, it allowed him to have some comfort in what could be his last days."
Ford said one family direct messaged him on Twitter expressing their gratitude. Another tagged him in a photo on Facebook showings kids with their generator.
"The kids had a big smile on their face," Ford said. "That definitely made everything worth it."