On Friday night, Bills head coach Sean McDermott will receive a prestigious honor as he is set to be inducted into the William & Mary Athletics Hall of Fame. 
A Tribe Football Alum of the Class of '98, McDermott made his mark on the program, becoming one of the top defensive players on the team and setting the standard for generations to come. His legacy is one of overcoming adversity, playing with heart and being a leader on and off the field.
He will go into the Willian & Mary Hall of Fame during Friday night's ceremony at the Sadler Center.
"That's huge. Especially coming from a walk-on that went in there and I wore number 83 as a defensive back and that wasn't really a popular number back in the day. But you know, it's a great honor, especially at a school like William & Mary, where it's not just athletics, it's the combination of a student athlete, both academically and athletically," McDermott said of the honor.
McDermott came to William & Mary as a walk-on in 1993 and it quickly became evident that he had the talent to be an impact defensive player for the Tribe. Longtime W&M head coach Jimmye Laycock (1980-2018) remembers watching a young McDermott rise through the ranks on the team.
"He worked his way up to earning a scholarship and then became an integral starter in our secondary and a co-captain," Laycock said."He helped us be very successful and win a championship. He was a tremendous player, as well as a tremendous leader."
In 1996, McDermott became the full-time starter as a defensive back and was one of the key pieces in leading the Tribe to a Yankee Conference title in 1996. William & Mary went to the NCAA Quarterfinals that year and their 10-win season set a program record at the time.
The following season, McDermott continued to improve his play. He earned third-team all-conference honors and second-team All-ECAC honors. During those seasons, Laycock noticed many qualities in McDermott that elevated not only his play, but the play of others on the team. 
"It was his intensity. And his consistency," Laycock said "Whether it was a big game or whether it was a Tuesday, practice he was ready to go no matter what. And he set that example for other teammates, and I think that's one of the reasons why we were so successful when he was here."
Pittsburgh Steelers head coach Mike Tomlin was a former teammate during McDermott's first two seasons at William & Mary, and though Tomlin was two years older than his teammate, he was impressed by how McDermott carried himself at such a young age.
"I just remember the level of maturity that he came in with. Sean's personality today is very similar to his personality when he was 18. He was singularly focused. He was serious. He was a straight shooter," Tomlin explained.
There were even signs of McDermott's budding acumen as a potential coach while he was still a player. Laycock recalled that McDermott had the ability to understand the defensive schemes even without the coaches pointing it out, and he was able to make adjustments and communicate that to the other defensive players on the team. 
"He knew exactly what we were doing, what we've covered, how to make adjustments and all that kind of thing," Laycock said. "He could make every call when he was playing."
As McDermott went on to graduate from William & Mary, he and Laycock had conversations about moving into the field of coaching. McDermott had the desire to become a coach and worked with Laycock as a graduate assistant in 1998. Following the grad assistant year, McDermott earned an opportunity on staff with the Philadelphia Eagles and thus started his professional coaching journey. 
"If he kept on going with that he could be a very successful coach," Laycock said.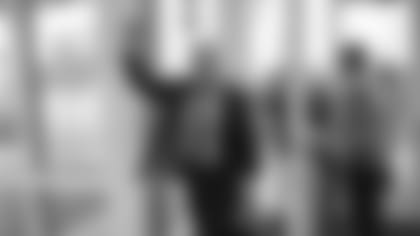 McDermott, of course, rose through the ranks with the Eagles and then spent several seasons with the Carolina Panthers as the team's defensive coordinator (2011-2016). There, McDermott reunited with Panthers head coach Ron Rivera after the two had served on Eagles staff together for four seasons. 
Rivera and McDermott are still friends to this day and Rivera, now the head coach of the Washington Commanders, said he's proud of McDermott for how he started from the bottom of the coaching staff positions in the NFL and worked his way up to becoming a successful head coach with the Bills. 
"A lot of times guys come in and they just get opportunities right away," Rivera shared. "But Sean had to earn his and so he learned the basics of football from the bottom up."
"The one thing I'd say is he's a tremendous worker. He does a great job and he wants to know everything he can about the game."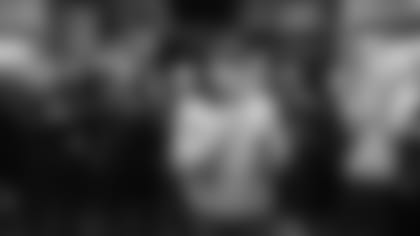 Tomlin said that McDermott's preparedness, whether it be in football or his personal life, is a quality that has helped him achieve as much as he has. To illustrate that point, Tomlin shared that his wife Kiya Winston met McDermott during an offseason program/family vacation in North Carolina in 2004 for faith-based families and coaches.
"Sean was not married but he was thinking about it. And that's just Sean. He put himself in an environment around families and coaches, and things of that nature. It was like he was information gathering. And that really struck my wife like a lightning bolt. She thought it was the coolest thing ever," Tomlin said. "That's just reflective of who he is."
In 2012, Tomlin had his own Hall of Fame induction for William & Mary and has seen firsthand what a unique and special experience it is.
"Just appreciate the reunion that is the weekend, the opportunity to see old faces and spend time with people that you hadn't seen in a while and appreciate your teammates. That's what it was for me and I'm sure he'll appreciate it on that level as well," he said.
As McDermott gets set for his big night, one thing that he is reflecting on is the person you choose to be in moments of adversity.
"I think it's kind of how you deal with life sometimes, the adversity you face, approaching life with a chip on your shoulder," he said. "And where we are at the Bills organization and how much success we've had now, taking this organization from where it was to where it is now but knowing that we're steadfast in where we're trying to get to is, to me, that's the burning desire you have as a college player and as a walk-on for me and leading this football team."