They languished near the bottom of the league when it came to special teams play in 2013. Advanced metric site Football Outsiders had Buffalo's special teams ranked 30th in the league that year. Buffalo's personnel department set out the following offseason to acquire players that offered leadership and special teams experience. A year later the results were dramatically better earning a top five ranking in 2014.
The Bills special teams units ranked fourth on Football Outsiders list of NFL clubs and in many games this past season it was easy to see why. The leadership provided by veteran specialists like Boobie Dixon and Corey Graham combined with entrenched teams players like Nigel Bradham, Marcus Easley and Da'Norris Searcy helped to bolster the unit's talent and commitment.
"We kind of knew we were going to be able to do that," Graham told Buffalobills.com. "Special teams you just need to have a few guys that really buy into the system and really want to do their job and work real hard on special teams. When you bring in guys like myself and Boobie (Dixon), guys who really care about special teams you should be alright typically. Guys bought into it. Guys went out there and competed their butts off."
Some of the group's biggest improvements came in the area of coverage. While the Bills defense certainly deserves a share of the credit for the improvement, both the return and coverage units on punt and kickoff had far better numbers in 2014.
On punt coverage, working with rookie punter Colton Schmidt, the Bills improved from 25th in the league in 2013 to fourth this past season allowing just 6.5 yards a return. Easley credits their coverage success on punts to Schmidt, who ranked seventh in the NFL in punts downed inside the opponent's 20-yard line (32).
"He gets a lot of hang time and he puts the ball exactly where he needs to be," Easley said. "As cover guy, we're expecting the ball to be one place and as long as he puts it there and we're all in sync, then it's usually a successful punt."
The situation was much the same on kick coverage, where kickoff specialist Jordan Gay provided help as well. Buffalo moved from the 17th-best kick coverage unit to third this season allowing a return average of just 20 yards.
While Gay had his share of detractors, who openly questioned using a roster spot on a kickoff specialist, the first-year player was effective. He raised Buffalo's touchback percentage (41.5%) almost 20 percent from a year ago to 60.5 percent, good for ninth-best in the NFL. Buffalo ranked 24th in touchback percentage in 2013.
Easley, despite missing six games with a knee injury, still led the coverage units in tackles, with Ron Brooks emerging as a solid gunner on the opposite side and finishing second in tackles.
"Easley was very good at it already and Brooks went out there and was amazing," said Graham. "So when you have guys that work real hard out there you'll have a good group."
The quality coverage led to a decided field position edge by the Bills in most of their games. That's why come season's end Buffalo ranked fifth in the league in average drive start with possessions beginning just beyond their own 30-yard line on average (30.2). Even the Bills' average drive start after kickoffs ranked in the top 10 as they averaged their own 22.5-yard line.
Buffalo had a couple of returners to thank for helping in that area. C.J. Spiller held down the kick return job until a Week 7 injury forced him from the lineup, but it was not before a 102-yard return for a touchdown in a Week 2 win over Miami. It wasn't until the last month of the season, where with injuries to Marquise Goodwin and Leodis McKelvin, the Bills sought to acquire a return specialist.
They claimed Marcus Thigpen off waivers from Tampa and he paid immediate dividends. He scored the only touchdown in an upset win over Green Bay in Week 15.
"That's why they brought me here," he said. "They put their trust in me. I'm looking for an opportunity to be here."
Buffalo's punt return average improved from 29th in the NFL in 2013 to 12th as their average return jumped just over 3.5 yards.
"We had returners throughout the year who made plays for us," said Graham. "We were fortunate to get another one late in the season and he was a big improvement for us. Whenever you have guys that buy in and returners doing a good job you're going to be good on special teams."
They were other game changing plays turned in by Buffalo's specialists. The Bills got a pair of blocked punts from Dixon. One came in the Week 2 win against Miami and the other in the displaced game against the Jets in Detroit, which was recovered for a touchdown by Manny Lawson.
Mario Williams also had a blocked field goal in the upset win over the Packers.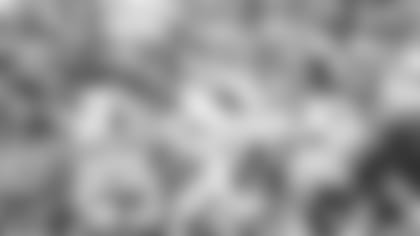 "We were able to help the offense and defense with field position, put them in good positions," said Easley. "We even made some plays with scoring as far as punt returns, kick returns, and a couple blocked punts. We know there's three phases to every game and we know special teams did their part this year."
Their success has made Buffalo's specialists a confident group moving forward. Knowing a lot of their key pieces are expected back in 2015, the Bills believe their special teams units could become the league benchmark.
"We pretty much know we can play with anybody," said Dixon. "We just know that we've got to play with high intensity and we've got to finish. We're just fighting for that respect."
"We fell short of our goal being the best special teams in the league," said Easley. "We were in the top five which is big improvement from last year, but we want to be at the top. We want people to look at us and be gunning for us at the end of the year."