INDIANAPOLIS, IND. – Players from FBS schools dominate the NFL Scouting Combine compared to those from FCS schools, but that doesn't mean FCS talent is nowhere to be found. If NFL scouts see potential in a player that will translate to the NFL, that player will get an opportunity to prove at the next level. For example, the Bills drafted FCS product Spencer Brown out of University of Northern Iowa in last year's draft because they couldn't live without his size, length and toughness. Brown started 12 games, including the playoffs, for Buffalo as a rookie.
Brown's former college teammate Trevor Penning is gaining attention at this year's NFL combine for traits similar to that of Brown. Penning is 6'7, 330 pounds, has 34 ¾" arms and 10 ¼" hands. Brown had the same arm and hand length as Penning but was one inch taller and weighed in about 20 pounds lighter ahead of the NFL Draft.
As Penning talked to local media on the podium in Indianapolis on Thursday morning, he couldn't help but sing Brown's praises for his help along the way.
"Spencer has been big for me, listening to a guy that was literally here like one year ago," Penning said. "He knows what's going on. He knows what to expect. Just hearing him and the process, how it went for him, how it's helped me, it's been great.
"He's been really good to me for just helping me out along the way."
Thinking back to being in Penning's spot just one year ago, Brown can't believe how much has changed and how happy he is with the opportunity he received in his rookie season.
"Everything I've ever wanted is happening," Brown said looking back on his first year in the NFL. "I went to a great team, went to a team that's contending for a Super Bowl. Buffalo is a great place outside of the facility to live. Sometimes I feel like I have those virtual reality glasses on like there's no way this is real."
Having the chance to make it to the NFL coming from an FCS school makes it even more surreal when you get to the next level. Penning is hoping to be in a similar situation as Brown and is projected to be drafted in the first round. Both felt like they belong in the NFL because of how UNI prepared them.
"They coached us hard, turned us into athletes that we weren't in high school and really just helped us grow not only physically but mentally as well," Brown said of his former school and head coach Mark Farley. "I look back at myself when I was a freshman in college and then I look back when I was a senior college, there was just a huge jump."
Part of that huge jump was Brown and Penning each gaining close to 100 pounds during their time at UNI. The university prides themselves on putting a huge emphasis on strength.
"Jed Smith, the strength coach, the amount of hours he's put into us and invested into us, it's huge," Penning shared. "I'm going to say it. It doesn't matter FBS or FCS, we are one of the strongest teams in the country. I mean, we're moving weight in there every day. We're pushing ourselves. 
"Just crazy numbers are going on in there and it all goes to the dedication we've put in in the weight room."
Penning said he squatted 625 pounds this summer and benched about 425 pounds. Those numbers are wild but the transformation pictures that Brown has shared are even wilder.
"Our strength program was very, very good," Brown said. "It was a good fit for a lot of guys like Trevor and me. We came out of high school very small or undeveloped, hadn't really worked out like we should be for football. As soon as we got to UNI, they really shaped us into what they want and you just got to buy in. 
"We both did the same thing and it's kind of the result that you're looking at now."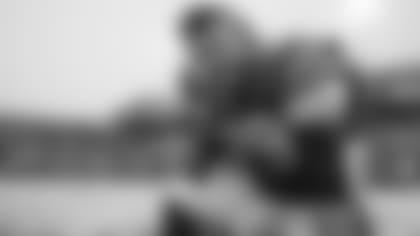 UNI helped them both become the players they are today and they love the recognition their school has gotten at the Senior Bowl, NFL Combine and the NFL Draft over the last few years.
"It's all kind of coming together for the program, not just the players but the program is starting to kick out a lot of guys," Brown shared. "There were a lot of guys before us that kind of paved the way and we were chasing them, their stories and everything we heard about them. And now we're the ones being chased. Hopefully the turnover is going to keep picking up and that's the goal."
"It really shows that it doesn't matter where you play, FBS, FCS, division three," Penning said. "If you're good, you're good and being able to be here and show that is super awesome."
Brown thinks Penning won't just show out at the combine, he believes Penning has a bright future ahead of him in the NFL.
"He's just a very large man that plays like a very large man," Brown shared. "He just throws guys around and he's violent. He loves everything that it takes. And I remember working out with him, he's a workout freak. Anything that needs to be done for him to be successful, he's going to do it."
Penning said it would be awesome to block for a quarterback like Josh Allen and get to play alongside his former teammate.
"It's definitely crossed my mind for sure," Penning said of playing next to Brown. "I think it'd be super cool. My first start I actually played right guard next to him. That was a very cool experience so why not do it again?"
The former UNI product would also love to welcome a familiar face to Buffalo, especially after a rookie season where he started in 10 games.
"It's show up, work hard, do the right things, just be a team guy," Brown shared. "And that's what I was and still am, so that's why I was a perfect fit. Buffalo is the perfect place for me. I went from small school to small college and now I'm in one of the smaller NFL cities, so it's a perfect fit for me."
Penning's physicality and work ethic definitely fit with the Buffalo Bills. We don't know if Penning will still be around at No. 25 or if Bills will go with an offensive lineman at that pick but wherever he ends up, Brown and Penning will share a sense of pride knowing that more UNI players made it to the NFL.
"To think I'd be in this situation five years ago or whatever it was, it's insane but it just shows really how much work I've put in and how much I've dedicated to my craft," Penning said."
When Brown looks back on his first year at UNI, he shares the same feeling as Penning. And in preparation for his second season in the NFL, Brown is dedicated to coming back as someone who has taken his game to a new level.
"I'm just super pumped to get back in the building, get around everybody again, see teammates again and kind of get back to normal," Brown said. "I'm anxious to get back for sure. And we know what we have and it's just time to go out there and act on it and work on things that help us get better."
Brown shared he's in California right now and will work with former tackle and six-time Pro Bowler Joe Staley before he heads back to Buffalo in April.