"I speak for everyone within the Bills organization when I say that we are all suffering a deep and profound sadness with the passing of our Hall of Fame owner Mr. Wilson," said Bills CEO and President Russ Brandon. "We have lost our founder, our mentor, our friend, and this is a very difficult time for us all. We extend our deepest sympathies to his wife Mary, his daughters Christy and Dee Dee (Edith), his niece Mary and his entire family.

"Mr. Wilson had a relentless passion, a deep love for his Buffalo Bills, the City of Buffalo and the National Football League.  He also loved the Bills fans and all of the people of Western New York who embraced the Bills.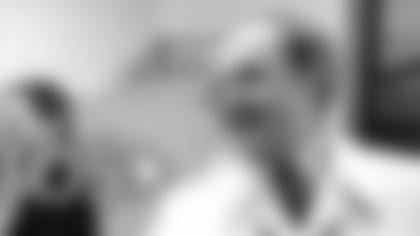 ](http://www.buffalobills.com/photos/photo-gallery/Ralph-Wilson-Jr-1918-2014/6f6791d3-abb4-4823-98ab-ac5bb0db6050)
"This incredible man was the personification of the Buffalo Bills. His life was grit, determination and resolve. He was bigger than life in many ways and yet he was the everyday man, driving his Ford Taurus to the local store and greeting everyone as they called out "Hi Ralph!" He will be greatly missed by those in our community whose lives he touched.
"Mr. Wilson was a man of true integrity, charisma and a hero in every sense of the word. His service to his country in the South Pacific in World War II is well documented. He was a pioneer in the American Football League. He was instrumental in forging the merger between the AFL and the NFL. Mr. Wilson will long be remembered as a man who was true to his word and did countless acts of kindness and generosity for so many, while never seeking the limelight in doing so.
"More than anything, he wanted to bring a Super Bowl Championship to Western New York. He wanted it for the players, the coaches and the franchise. But mostly he wanted it for the fans.  No owner has wanted a title more for these reasons than Mr. Wilson. In the end, he was extremely proud that his Bills are the only team to have played in four consecutive Super Bowls.
"For those of us fortunate to have worked for him, we'll miss his kindness, his insight, his leadership, but mostly his sense of humor. He possessed the unique ability to turn a negative into a positive.
"Our organization, our league, our community has lost a great man.
"Right now all of us are absorbing this tremendous personal loss. We are performing our day-to-day functions as we normally would. We understand our fans' curiosity in wanting to know what the future holds for our organization and that will be addressed in the near future. But at this time, we are committed to honoring the life and legacy of Ralph C. Wilson, Jr., the man who delivered NFL football to Buffalo."