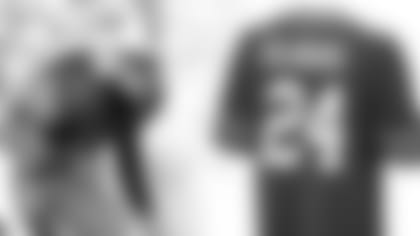 Bills cornerback Stephon Gilmore took to Twitter today to announce that he's changed his jersey number to 24.
As the team's 2012 first round draft pick, Gilmore played his rookie season wearing 27 after donning South Carolina's number 5 jersey in college, but had always hoped to wear 24 in the NFL.
"I just think I'd feel more comfortable in 24 and I just wanted to change my number because that's what I really wanted coming out of college," Gilmore said. "I always wore 5 growing up and I knew when I wanted to go to the league that I wanted to wear 24. You can't wear 5 in the NFL playing cornerback."
The number opened up with the release of Terrence McGee in February, a veteran cornerback who had worn number 24 for the Bills during his 10-year tenure on the team.
"I know Terrence had it last year and I had to wait my time for it," Gilmore said. "He earned his number and was a great player for the Buffalo Bills."
As to whether or not Gilmore sees this as a numerical passing of the torch, he said, "Terrence was a great player but I'm going to be my own player and try to be the best player I can be and try to be one of the best cornerbacks in the league. That's my goal."
Jersey in production - The Bills Store will update when jersey is available and will ship as soon as it arrives. More information to come. Pre-Order your jersey NOW!
Gilmore is the 17th player in team history to wear 24. He joins:
Billy Kinard
Booker Edgerson
Bob Gladieux
Ernie Kellerman
Ken Stone
Ed Jenkins,
Al Randolph
Doug Jones
Lemar Parrish
Gary Thompson
James Perryman
Johnny Shepherd
Kurt Schulz
Ray Hill
Billy Jenkins
Terrence McGee