He's regarded as one of the top prospects in the draft class, but there's an awful lot of noise in the media about Jadeveon Clowney and his work ethic after it was theorized that he coasted at times in the 2013 season that saw him log just 3.5 sacks. Double teams and opponents game planning specifically for him likely had more to do with it. One of his former college and high school teammates, who was a top 10 pick himself, is helping him keep the distractions in the pre-draft process at arm's length.
Stephon Gilmore, who was his college teammate for two years, including Clowney's redshirt season, has been helpful in shepherding the talented pass rusher through the months between the end of his 2013 season and the 2014 NFL draft.
"We went to the same high school and played two years in college together," Gilmore told Buffalobills.com. "In my hometown we stay like five minutes away from each other. So he's always hitting me up and asking me what the pre-draft process is about."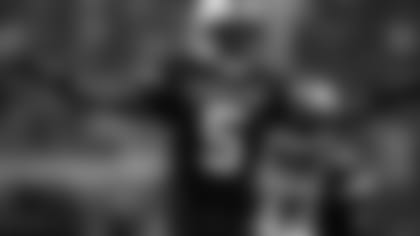 Gilmore has been dispensing knowledge via text and phone calls to Clowney keeping him informed and prepared for each step of the process. From what Gilmore can see all the talk questioning Clowney rolls off the pass rusher's back.
"He's the type of player where people can talk, but he's still going to do his thing and have fun," Gilmore said. "He's a great dude and keeps a level head. Like I tell him just keep working hard and everything else will take care of itself. He doesn't really like to listen to negative talk. Just go out and play. That's his approach."
Buffalo's top cornerback said he knew Clowney was going to run fast at the NFL combine where he clocked a 4.53 40-time. Gilmore witnessed Clowney's speed in high school.
"I knew he was going to work out well because he was the last leg of our 4x100 relay team (in high school)," said Gilmore. "I knew he was going to run fast."
Clowney was the anchor leg on the team, Gilmore was the second leg.
"I'd help get us a lead then he'd finish it up," said Gilmore, who ran a 4.38 at the combine.
Gilmore's counsel has been simple and straightforward. Work hard leading up to the draft and once you're drafted work that much harder knowing full well what the expectations are like for a top 10 draft pick.
"I just tell him when you get drafted you've got to work hard and play hard when you're out on the field," said Gilmore. "Just do what you've always been doing since you were a kid playing football. He's a confident player. Nobody can tell him what he can't do. He'll be a good player in this league."
And for those that don't know Clowney the person, Gilmore offers the following.
"I just think he's a great person. A lot of people don't know him. They just know him from the outside," he said. "He just needs the right place to be to step his game up. He just has to go to the right team in the right scheme and I think he'll be a great player."