The NFL held its first Coach and Front Office Accelerator program last week at the Spring League Meeting in Atlanta to further promote diversity among clubs. Each club nominated two prospects to participate in a two-day program, which involved meeting owners, breakout sessions and sitting in on part of the league meetings.
After this past year's hiring cycle, the NFL's Workplace Diversity Committee knew something else had to be done to help with the obvious need to hire more diverse candidates in head coach and general manager roles.
"We've actually met a lot this year, and we talked about a lot of things," Committee member and Bills owner and president Kim Pegula said. "One of the themes that really kept coming up was a lack of engagement with diverse candidates across ownership and decision makers. That just became a theme that we heard a lot whether it was owners themselves, people that were in the hiring process, or candidates in general."
Pegula said the NFL acted swiftly to put together the Accelerator program and identified spring meetings as the perfect time in the offseason for an event like this.
The Bills nominated assistant director of player personnel Terrance Gray and senior defensive assistant/defensive line coach Eric Washington to attend the program. Gray and Washington came away from the experience feeling like it could truly help get more minorities in decision-making roles.
"Arthur Blank opened the entire event with an address that really revolved around why we were there in terms of trying to make sure that every person that was qualified in the NFL had access to certain aspects of the hiring process as it pertained to head coaching positions and general manager positions," Washington said. "It was a really good event, and I was glad I was able to go."
In addition to networking with ownership, the men and women in attendance appreciated the chance to collaborate with each other.
"I think the main thing was personnel and coaching getting to interact in those sessions, being able to learn from each other," Gray shared. "Also getting to hear different philosophies, core values of leadership and how you run a team because they gave us some problems to work through as a group. And then, one person would present so you kind of had to go around the table and hear how you would work through an issue."
The biggest takeaway from the two days was the opportunity to have conversations with owners that didn't come with the added pressure of an interview.
"I liked the fact that all 32 clubs were involved, and it wasn't an interview process," Pegula said. "It wasn't about your wins and losses. No resumes were being passed. It was just to simply understand the up-and-coming diverse people within the league and being able to just see them as people."
"One comment that stood out to me was an owner said, 'I didn't realize the pool was this deep,'" Gray shared. "I think that summarized all of what the intention was. It's just awareness and being able to break down some walls. We had three owners present to us and talk about what they look for when they interview and what are important attributes.
"One overlapping theme was familiarity and comfort. So how do you achieve that goal if you've never had any interaction or anything along those lines?"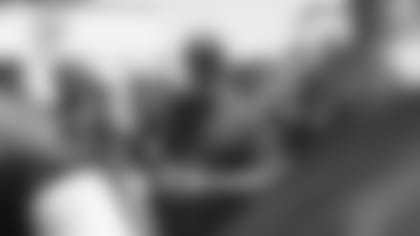 Even though Pegula hasn't been a part of the hiring cycle for multiple seasons and doesn't intend on hiring anytime soon, she appreciated the opportunity to get familiar with rising candidates.
"You always try to find that connection," Pegula said. "It's crazy because there are all these different people, different clubs, different walks of life, different backgrounds, different ages and you realize how many things in common you have with a lot of these folks. There was someone who went to Penn State and somebody who knew someone else who knew this coach. It was like six degrees of separation from everybody else and it served as an ice breaker to realize how much everyone has in common."
"It helped break down barriers and put faces with names," Gray said. "Now you can tie that to a conversation that you've had. Fast forward to a hiring cycle, it's more than just a list of names from a search firm or recommendations. An owner can say, 'I remember him or her from the Accelerator Program. We had a great conversation, talked about family and got to hear their vision. We think they would be a great candidate, so let's interview them.'
"I think it really opened up that door. It really kind of broke down some barriers because if you hadn't had any interaction with the owners, then you really are just a name and a resume, a name and a body of work."
Washington and Gray are hoping once the next hiring cycle comes around, they will be able to see the benefits of the Accelerator program. More than anything, they both appreciate the common ground they found with several different people in positions of power.
"I do think that it has built a bridge between some very talented individuals and the people who are in decision making positions, whether it's the league office or ownership," Washington shared. "I think the people who were involved had access to the folks that are going to make these decisions, and I do believe that it will stimulate the hiring process. I think that that's a great thing for the league in the long and the short term."