It was the way Tim Russert was greeted around the world when he crossed paths with fellow Bills fans. There was nothing more that needed to be said. That was the Buffalo greeting – short, sweet, and as sincere as it gets.
Longtime host of one of the most acclaimed news programs in television history, Tim welcomed these Bills interactions as he did political debate. After all, if it was Sunday morning, it was Meet the Press. If it was Sunday afternoon, it was the Buffalo Bills. One was a career, one was a pastime, but on ground so even, both were fundamental parts of Tim Russert's identity.
On many occasions, Tim brought the two together on national television, closing his show with "Go Bills!" or even taking the broadcast with him to Super Bowl XXVII in 1993. He famously ended the show before that 52-17 loss to the Cowboys with, "Now it's in God's hands, and God is good, and God is just. Please God, one time. Go Bills!"
His passion was magnetic, his optimism was contagious, and the way he talked about and believed in the city and team he grew up loving influenced his audience, most of whom had never lived in Buffalo.
Among those – but in a considerably more intimate audience – was his son Luke with wife Maureen Orth. As Tim's show committed the family to Washington D.C., Luke didn't have the South Buffalo upbringing that so shaped his father and his sports allegiances.
But as a Russert, it didn't matter.
"I honestly think being a Bills fan is something that's passed down into your blood," Luke said. "My grandfather was a die hard Bills fans and he passed it on to my dad. I was given a Buffalo Bills jersey when I was probably two years old, so there was really never any doubt that I'd be a Bills fan."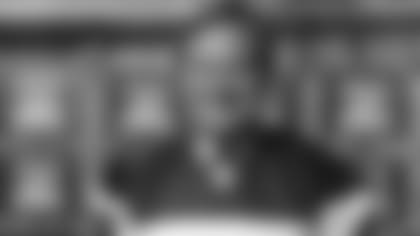 If blood ties weren't enough, between visits to Western New York during the summers, Bills games during the season, and even a couple of trips to the Super Bowl in the early 90s, Tim gave Luke an understanding of a place he wouldn't call home, but would come to appreciate.
"I remember we went up to Buffalo after Norwood missed the kick and we went to City Hall and the mayor still honored him and gave him the key to the City," remembered Luke. "We were right up there, close to that stage, and the whole crowd chanted, "We love Scott! We love Scott!" Even in Scott Norwood's deepest, darkest, terrible days, the city rallied around him. That's Buffalo."
Tim once told NFL Films, with unwavering optimism true to the City of Good Neighbors, that he believed he would live to see the Lombardi Trophy make its home in Buffalo.
The favorite son of Buffalo, diehard Bills fan, internationally respected journalist, and most importantly family man and father never saw that dream realized, passing away unexpectedly on June 13, 2008.
"I think for any father and son, sports memories, going to sporting events, going to concerts, those are definitely the best," said Luke. "You remember those moments. And so for me, his legacy lives on through that. It lives on through the Bills. It lives on through Springsteen. It lives on in going to baseball games."
"And that's one of the reasons I enjoy it so much even in the toughest times, because it's this thing that is forever there. No matter what happens, there will always be football, there will always be baseball, there will always be basketball, there will always be hockey, there will always be concerts."
He said it's a nice way for him to remember his father, through those shared experiences and the familiarity in settings and events that trigger memories.
"There are definitely moments when I think about how my dad would have reacted," he said. "When we beat the Patriots in 2011, that was one of those moments when I really would have liked to talk to him and experience how happy he would have been about that."
But Luke has also developed his own Bills fan identity, meeting up with Bills Backers in D.C. and Boston, where he went to college.
"Interestingly enough when I went off to college and was in enemy territory in New England, I became an even bigger Bills fan because there was such a great rallying cry and I got into Bills Backers bars. I got to see the Bills play at Foxboro in full Bills regalia, which was awesome."
Now an NBC News Congressional Correspondent and fill-in host of the Daily Rundown and Andrea Mitchell Reports on MSNBC, he's building his own career in the tradition of his father.
And as an honorary Buffalonian, it's Bills fans that are carrying on a different tradition for Luke.
"It's definitely been something that to this day even, five years after my father's passing, people stop me and say, "Hey Luke, Go Bills."