If Ronald Darby breaks up to passes in Sunday's game, he will have the most passes defensed through the first five weeks of a season in NFL history. And he's a rookie!
9.We're only a quarter in.
With four games down and 12 to go, there is much football yet to be played. Keep the faith, Bills fans.
8.It's the unofficial fan road trip of the season.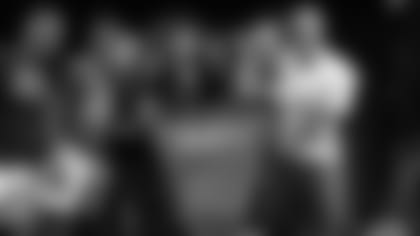 We've heard the Shout Song ring down the streets of Nashville more times than we can count already this weekend. Bills fans have made this game – thanks in part to the fantastic city it's in – the road trip of the year, and are stampeding their way down to Tennessee to make us proud, yet again, as the best fans in the NFL. We're ready to hear you loud and clear at Nissan Stadium on Sunday!
7. #ItsBoobieD Time.
As the incredibly entertaining running back says, "Fireman coming!" With Karlos Williams sidelined with a concussion and LeSean McCoy with a hamstring injury, Boobie Dixon will be carrying the bulk of the rushing load in Sunday's game, and we're ready to #FeelTheRush.
6. Penalties won't be the storyline.
Last week, the yellow flags were the talk of the town. After a week of practices in which Rex had everyone drop and give 10 push-ups after a penalty, except the person who committed it to show how many he's impacting, penalties should be curbed heading into Tennessee. It's a storyline nobody wants to relive.
5. We'll turn the tides in Nashville.
We don't have to remind you – or give the name of the play-that-must-not-be-named – but the Bills will look to march down to Nashville with better luck than in the past and march back north with a W.
4. Two new starting QBs.
One's a rookie. One's a veteran in his first year as starter. Both still have three quarters of a season to prove their worth. Tyrod Taylor vs. Marcus Mariota isn't the matchup we've been waiting for since the draft, but whether you're in the "play the rookie" camp or the "let him develop" camp, Bills vs. Titans will be one to watch.
3. Rex reroutes rookies.
Speaking of Mariota, in six seasons as coach of the Jets, Rex went 9-2 against rookie quarterbacks. We know he's the Heisman Trophy winner and all, but we like those odds.
2. New playmakers will emerge.
With Sammy questionable for the game and Shady out, it's time for some new faces to get their names in the headlines. Charles Clay has stepped up bigtime over the past few games. Who's next?
1. A road win would be oh so nice.
After a dominating win in Miami sandwiched by two home losses, a win in the Titans house is beckoning with open arms. Here's to bringing home the win on this weekend business trip.