Shining is not an option; it's mandatory. The national spotlight is on us, and on Thursday night, it's time to show the country what the 2014 Buffalo Bills are all about, especially when they play hungry. The Bills are 3-2 all-time in Thursday Night Football matchups, and you better Bill-ieve they're not about to let that record slip to an even 3-3.
The Bills defense and Ryan Tannehill will continue their…friendship.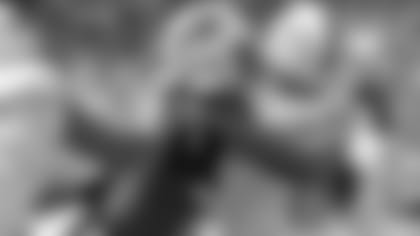 Think of this as the kind of friendship that didn't start on the right foot and has only gotten worse. The kind that really only benefits one party. The kind which usually gets physical. But also the kind that ends in a hug. (See photo evidence above.)
The Dolphins are wearing...
Aqua. All aqua. We'll reserve judgement and let YOU decide what you think of their monochromatic uniform scheme. It's only the fourth time in team history that they'll break out this combination, and the Bills will look to make sure this fashion statement spells bad luck.
(P.S. The Bills will wear the oh-so-chic blue pants, paired with a white jersey. Now that's style.)
The stone crab bet is ON.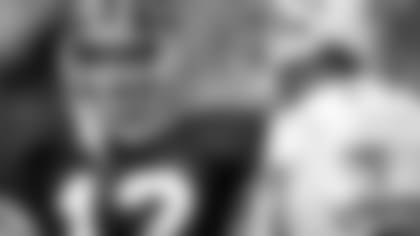 Hall of Fame quarterbacks Jim Kelly and Dan Marino might have been rivals in their heydays, but now that they've become friends off-the-field, they like to keep things competitive with a friendly bet each season. If the Dolphins sweep the season series from the Bills, Kelly owes Marino strip steaks. If the Bills sweep the Dolphins, Marino owes Kelly stone crab. Since the Bills won the first 2014 matchup, they'll need just one more win for Kelly to have himself a little Floridian feast.
Here are 10 other things you might not know about the Bills-Dolphins rivalry.
Marrone goes for his second season-sweep.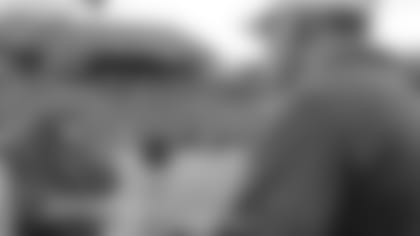 As you read, Jim Kelly wouldn't mind a sweep, and neither would Bills head coach Doug Marrone. In his rookie year with the Bills, Marrone swept the Dolphins, and winning Thursday night's game would make him 4-0 against the Bills AFC East rival. He might not get treated to stone crab after a 2-0 season record against Miami, but something tells us he'll be just as content with some victory wings back in Buffalo.
Sammy, Nickell, Nigel, and more are headed home.
Nigel Bradham (Crawfordville, FL), Randell Johnson (Miami, FL), Nickell Robey (Frostproof, FL), Garrison Sanborn (Tampa, FL) and Sammy Watkins (Fort Myers, FL), will all be headed back to the Sunshine State for a homecoming of sorts.
"I'm going to have a lot of people there," said Watkins, readying for his first game close to home. "Somewhere around twenty, thirty or more than that. I have to count them up."
And let's not forget that Sammy had good hometown luck in college. He set an Orange Bowl record during his 2014 performance with 227 receiving yards and was named the game's most valuable player.
"I had my best game of, I would say, my collegiate career (at SunLife Stadium) and I can't wait to go back there and play there," he said. "I know how it feels to play on that field. I know what it takes to win on the field and we just have to go out there and execute our plays."
You'll be able to tune in anywhere…anywhere!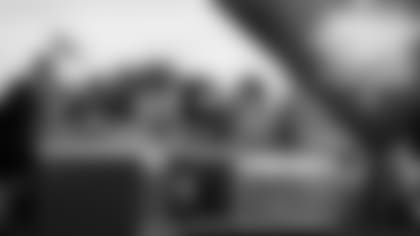 Alright, not anywhere, but anywhere that gets NFL Network, you're in business. While you Bills Backers around the country might not get each Sunday's Bills game on your local stations, this game will be seen by you and the rest of the country during a national broadcast. As the home for Thursday Night Football, NFL Network will bring their Thursday night crew made up of some people you've probably heard of including Deion Sanders, Michael Irvin, and Rich Eisen, not to mention CBS's Jim Nantz, Phil Simms, and Tracy Wolfson on the call among others.
The playoff battle is HOT.
They're a division opponent with the same record. The Patriots are in command of the AFC East. It would be reeeeeeally nice to notch one in the win column on Thursday night. It's really just that simple, so we'll leave there. That's motivation enough.
Did we mention it's in primetime?
The Bills are 2-0 in the past 15 years when facing the Dolphins in primetime. We all remember that awesome win in 2012 at Ralph Wilson Stadium when the Bills hosted the Fins on Thursday Night in the middle of November. There's been a change in venue, sure, but with a winning record and more on the line in 2014, nothing's stopping us from continuing the sweep.
We're playing the Dolphins!
And what reason more is needed?