1 – Offensive coordinator Brian Daboll expects Allen to earn every opportunity
As head coach Sean McDermott promised, Josh Allen took some first team reps on day two of training camp. Although Allen is getting valuable repetitions with the first team, offensive coordinator Brian Daboll understands the importance of allowing Allen to earn his opportunities, whilst not rushing a decision on who will be the starting quarterback.
"I think whenever we make the decision, it will be the right time to do so," he said. "We will do our due diligence collectively as a staff."
Daboll also stressed that the decision will be made by the entire leadership group, and not by one singular voice.
"Our head coach will make a decision along with input from the rest of us," said Daboll. "We will know the right time."
Allen seems to have a solid grasp on the idea that he will have to earn every opportunity at this level. He recently remarked that his development will take time, and he is taking the learning process in stride.
"I want to continue to grow every day and improve, and really take what coach Daboll tells me to heart," said Allen. "He [Daboll] has been around a lot of really good quarterbacks. He knows his stuff, so to be in a system with him and learning from him; it's a treat."
Allen's play on day two of camp was a bit better than on day one as the nerves began to diminish.
2 - Shaq Lawson and Harrison Phillips saw some time with the first team
Rookie defensive tackle Harrison Phillips and third-year defensive end Shaq Lawson were both sprinkled into the first team on a rotation basis on day two of camp. Phillips again demonstrated his near-flawless technique on the field, leaving many wondering why he fell to the third round. To this point, he appears to be the number one guy to fill in for Star Lotulelei and Kyle Williams when necessary.
Shaq Lawson looked quicker and thinner than in 2017, and it appears to be benefitting his game. His first step looks to be markedly faster than in previous years, and it is certainly a result of his reduced weight and body fat percentage.
"Now I am the fastest I have ever been," remarked the former first-round pick. "I came back to camp weighing 262 lbs., and I am trying to stay in that range."
When asked how tough it was to avoid certain foods, Lawson admitted that it was difficult, and detailed how he was able to drop weight rapidly.
"I ran a lot," said Lawson. "Some stuff I just said 'no, I can't touch that'."
He seemed eager about the opportunity to use his physicality moving forward in camp, as practices will soon begin to involve full pads. He understands that his added speed will help but noted that he prefers a power style.
"Football is football," said Lawson. "I am excited to get the pads on so that I can get back to my power rush game."
Lawson was grateful for the opportunity to play with the first team and explained that the coaching staff knows him well.
"They know what kind of player I am," he said. "They just wanted to know that I could take care of my body."
Lawson figures to see more time with the first team defense as camp rolls on, and the coaching staff has rewarded him for his hard work to this point.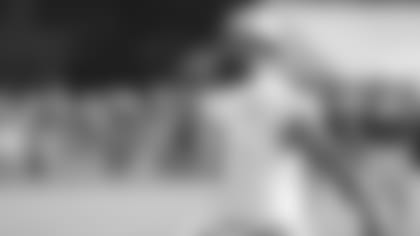 3 – Newly signed defensive tackle John Hughes practiced for the first time
After signing with the Bills on the day of the first training camp practice, John Hughes participated for the first time. Hughes was happy to be back at practice with an NFL team after a recent surgery.
"It was great," he said. "This was my first time getting back on the field since Christmas Eve last year."
Hughes has a tall task ahead of him in terms of learning a brand-new defense after having been signed on the first day of camp, but he is confident in his ability to do so.
"I'm feeling pretty good so far," said Hughes. "I am lucky to get into camp early when there is still time to learn and they are still installing things."
Hughes began and has played most of his career with Cleveland, but he most recently played with Tampa Bay and New Orleans. He spoke about the welcoming nature of this Bills team.
"It isn't just veterans," he said. "Everyone here has been helping me learn."
Bills fans should be happy to know that Hughes is 100 percent committed to being a part of this organization, and he described his crazy process getting to Buffalo.
"I had about three hours to get onto a flight and my flight got canceled," he said. "I got in my car and drove here (from Cleveland). It ended up working out, because now I have my car with me."