1. Most competitive practice of camp
The Bills have had some productive practices at training camp, but Tuesday's session, the third in pads was easily the most competitive between the offense and defense during team periods.
"That was probably was the most competitive," said Lorenzo Alexander after practice concluded. "You always try to figure out what the tempo is while also protecting guys. In practice you always try to run up to that line as much as you can. We probably had a couple of guys go over it. But that's okay. You'd rather it go that way than be too soft, especially in this game."
It was a thud practice where defensive players can thud up with shoulder pads against the ball carrier, but not take them to the ground. But the thudding was clearly harder than it was the first day or so in pads as players were closing on the ball quicker and offensive players were lowering their shoulders more often.
Pulling guards and tackles on run plays also had a bit more pop in their pads as they worked to neutralize defenders and open holes in the run game.
One play in particular led to some retaliation. Ray-Ray McCloud caught a pass over the middle and as he was sliding to the ground, S Dean Marlowe close in and tried to finish him off with a forearm to the back. Problem was that McCloud got lower than Marlowe expected and his forearm connected with the side of McCloud's helmet knocking it clean off his head.
McCloud was alright, but didn't appreciate the hit in this kind of setting and went after Marlowe following the play. McCloud punched Marlowe in the helmet, but players from both sides of the ball quickly jumped in to break things up.
"This is Week 2 of camp, third day in pads," said Tre'Davious White. "Guys are aggravated. Guys miss their families, so it's all in the spirit of the game and being a competitive team. Coach McDermott wants tough guys, but ones that are smart too."
"We have to be able to practice at that level to get guys ready," said Alexander. "It'll ramp up when we get into games."
The most competitive play of the day however, was on a deep throw from Josh Allen to John Brown. Kurt Coleman raced from the middle of the field to the deep left sideline to help Levi Wallace in coverage and tipped the pass for Brown toward the sideline, presumably in an effort to knock it out of bounds.
Brown fell down as he tried to slow down to make a play on the ball before Coleman and while on his back caught the tipped ball for a 40-yard completion.
2. Run game making good progress
There have been a few 9-on-7 run periods thus far in training camp. For the offense, Tuesday may have been their most consistent performance in that area of their game.
The team had a red zone run period scripted, and though the defense had a few good stops, the Bills offensive line fared well.
The first play from scrimmage did not yield much for LeSean McCoy as he just got back to the line of scrimmage, but on the second play there was a good-sized hole for McCoy to exploit and he did for a 10-yard gain.
On the very next play, Quinton Spain pulled and delivered a crushing seal block to spring Frank Gore for a 10-yard gain.
"Frank just told me to give him some space so I gave him a little bit of space and he hit the hole," said Spain.
The defense didn't take kindly to the success the offense was having. Star Lotulelei brought an abrupt end to the string of successful plays for the offense when he tossed the opposing offensive lineman aside and stopped Devin Singletary in the backfield.
That was followed by a nice tackle in the hole by Mike Love, but on the next play Singletary made a good read and bounced a run outside for a big gain as he reached the secondary on the run.
"We had some pretty good runs today," Singletary said. "We had some of our best runs. When that hole is wide open all you've got to do is run through it."
Even TJ Yeldon, Senorise Perry and Marcus Murphy had some good success during the run period with the second and third units. Yeldon found the end zone on a red zone run play after a good pulling block was provided by Wyatt Teller. Yeldon exploited another hole for a big gain on the very next play. Perry had a pair of decent runs and Murphy reached the end zone thanks to a good pulling block from D'Ondre Wesley.
"We come out here and compete and start stacking days," said Quinton Spain. "We had a great day the day before yesterday, so we have to stack them up knowing how the defense is going to come out. So we have to pick up our tempo too."
During 11-on-11 team segments there were some good holes as well. LeSean McCoy had a spring in his step as he saw a big hole in front of him and likely would've reached the end zone from his own 40-yard line as he scampered into the secondary. A short time later McCoy had another big run with only Micah Hyde left to chase him down the sideline after a 30-yard pickup.
Jon Feliciano got jump bumps from both Matt Barkley and Josh Allen after he got into the secondary to help lead a screen play and blocked a safety to spring Singletary.
"That was great hustle by him to get out there on a screen and get downfield and block a small guy in space," said Spain of Feliciano's execution.
Even offensive coordinator Brian Daboll was pleased with what he witnessed. After the 9-on-7 run game period, he said, 'Those are some good (expletive) runs men!'
Perhaps making the performance of the offensive line even more impressive was the fact that it was done without Mitch Morse in the lineup.
Morse missed practice for a second straight day. When he sat out Sunday it was called a maintenance day. But after a day off Monday, Morse was reduced to doing conditioning work on the side.
So the starting offensive line was left to right, Dawkins, Spain, Bodine, Feliciano and Ford. But the center and right guard positions were alternated almost every other series with the first unit.
There were series where by the fourth play whoever was the right guard would move inside to center and whoever was the third man out between Bodine, Feliciano and Spencer Long would rotate in at right guard. That rotation continued throughout practice with all three getting snaps at center or right guard.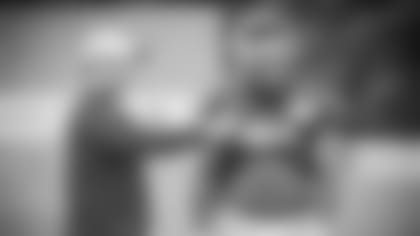 3. Kyle Williams at camp, D-line makes plays
He didn't have to come to training camp because he retired, but that apparently couldn't keep Kyle Williams away. The six-time Pro Bowl defensive tackle was invited to camp by head coach Sean McDermott to offer some coaching pointers to Buffalo's defensive linemen.
"I love football. I love the Buffalo Bills so being invited back to share what I know and try to help our guys out is a blessing," Williams said. "I'm glad to be here."
"I knew he was coming out here, so it's good to have another perspective from a guy who just played the game at a high level and can see some things," said Alexander. "Whether it's my game, Ed's (Oliver) game, whoever he's watching he can lend a fresh perspective rather than a coach who has been here the whole time."
Bills top pick Ed Oliver has called Williams' knowledge of the game a 'cheat code' for him as a rookie.
"I had to be a cheat code because I wasn't blessed like Ed and some of the other guys with what they've got," said Williams. "I want to try to hand these guys the keys to being better and maximizing what they have, teaching them what I did and what'll help them."
And what Williams sees in Oliver is an explosive, powerful athlete.
"The main thing is he and everybody else trying to get a little bit better every day," said Williams.
Perhaps Williams' presence inspired Buffalo's defensive line because they were active in Tuesday's practice.
Whether it was Star Lotulelei's tackle for loss in the backfield on McCoy, Shaq Lawson's sack of Josh Allen off the edge or Jordan Phillips batted pass that Matt Milano took the other way for an interception, the D-line was around the ball a lot.
MLB Tremaine Edmunds also looked good in covering the wide areas of the field. He had a pair of tackles for loss. One came on a jet sweep and the other on a slip screen.