Taking into account that in a 9-on-7 run period that the defense knows what's coming, Buffalo's run defense was amped up for the series that kicked off team work in practice Wednesday.
From the moment the series started, the defensive front was determined to fill every gap and keeps offensive gains to a minimum.
A day after the offense was able to open some holes in the run game, there were few to be had Wednesday.
"We had a good day today and we were fired up coming back out," said DT Jordan Phillips. "We do what we do."
Matt Milano held firm in a hole on the second play of the series for a no gain carry for the offense.
Lorenzo Alexander and Tremaine Edmunds followed with solo stops on the next two plays.
Kurt Coleman stopped Frank Gore on a thud shoulder tackle just beyond the line of scrimmage for a minimal gain, while Harrison Phillips posted a tackle for loss on Devin Singletary.
"It seemed like we had a pretty good day. The offense has been doing a really good job of executing their calls, so we're trying to get better every day," said Harrison Phillips. "We know the offense will win a period and we'll win a period. That's what comes with a good team. I'm anxious to see the tape."
Jordan Poyer had a good back side tackle on Frank Gore, who tried to find a cutback lane, and even S Abraham Wallace came up to fill and stop Marcus Murphy just past the line of scrimmage.
The wins for the offense came from Singletary, who juked a couple of defensive linemen in the offensive backfield and then surged forward and got to the end zone on a 10-yard scoring play. Yeldon got through the line on one of the last plays of the period after a good block by both Dion Dawkins and Quinton Spain.
Phillips admits that the drill is a bit advantageous for the defense because they know the run is coming and their linebackers can cheat up pre-snap.
"We know our linebackers are coming down super hard in 9-on-7 and we're supposed to win that period," said Phillips. "It was fun and we all got better."
A pair of two-minute drill series were run about midway through practice and both of those went to the defense too.
The starting unit offense had the ball at their own 25-yard line with 1:33 on the clock, and we believe they had a timeout at their disposal.
On the first play from scrimmage, it appeared that Ed Oliver, who got rotated in for some first team reps Wednesday, got a sack. But the coaches let the play unfold completely and Josh Allen hit John Brown down the left sideline for a 35-yard gain and a first down.
After hitting Devin Singletary on a check down throw, the offense had 55 seconds left to cover 38 yards and reach the end zone. But good coverage forced Allen to throw the ball away on the next play and he had to scramble on third down and could not get out of bounds before he was tagged off for a "tackle."
The following play was a scary one for fans in attendance. As Allen tried to sidestep the pass rush penetration of Ed Oliver, who was driving Russell Bodine back into the pocket, Allen's left leg got tangled with Bodine's as he was trying to re-establish an anchor and stop Oliver.
Fortunately Allen got his leg out of trouble in time to avoid getting his knee bent awkwardly on the play as that play was blown dead.
Allen proved no worse for the wear and remained on the field.
The Bills QB saw an open Tommy Sweeney over the middle, but the pass was low and incomplete.
From the 22-yard line with 19 seconds left, Allen looked for Zay Jones in the right rear corner of the end zone, but he wasn't open so he threw it away as the offense had to settle for a 40-yard field goal from undrafted rookie K Chase McLaughlin.
Bills S Kurt Coleman, who filled in for Micah Hyde after he stepped out of practice early with an undisclosed injury, was pleased to see the defense force a field goal after giving up a questionable big play, that could've been called a sack.
"I think the very first play he held it a little longer," said Coleman of Allen. "If it was a live game who knows if he would've gotten that ball out to John Brown. He threw it clear across the field for a big gain. Even if that catch was true, being able to respond after that play and hold them to a field goal, that's exactly what you want."
The third teams on offense and defense had a chance to run the second series, but it didn't end well for the offense. Rookie Tyree Jackson hit TE Keith Towbridge for a 15-yard pickup on the first play of the series, but had his second pass batted out of the air at the line for an incompletion. Then on 2nd-and-10 from his own 25, his pass down the left sideline to David Sills was tipped up in the air by CB Denzel Rice, and Rice came down with the ball for the INT, ending the drive.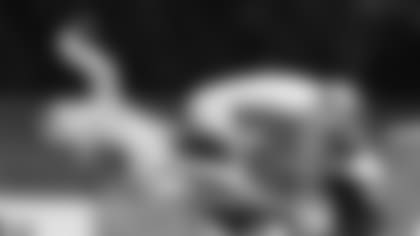 With Mitch Morse in concussion protocol and Spencer Long sidelined with knee soreness, there were some anticipated changes for the starting offensive line and some unexpected ones.
With Morse and Long out, Buffalo had Russell Bodine at center and Jon Feliciano started at right guard. While those moves were expected, what wasn't was seeing Ty Nsekhe get some starter reps at right tackle.
"It was good," said Nsekhe. "I'm used to stepping in when my number is called, so I'm used to it. Like everything it takes time to adjust and I'm getting my feet under me. So it's all coming to fruition."
Late in practice, rookie Cody Ford saw his first snaps at left tackle with the starting unit after spending the entire first week of camp at right tackle.
"That's one thing you know, when you go back home for the offseason, in the summer, you don't limit yourself to just working on your one position," said Ford. "You work everything that way. If something like that does happen, you're prepared."
Ford and Nsekhe have often teamed up after practice to do extra pass sets and other technique drills. They also watch extra film together. So far, it's paying off.