It was a somewhat geared down practice from the previous four sessions that were all in pads. Players were in shells and a fair number of vets got the day off, but that didn't slow down Bills top pick Ed Oliver any.
In a red zone 11-on-11 drill, Oliver flat out dominated the line of scrimmage. Running with the first unit on defense at times with Star Lotulelei getting a rest day, Oliver surged through the line of scrimmage on a handful of occasions getting into the offensive backfield and either blew up offensive plays or completely disrupted the timing of the offensive execution.
Oliver downplayed the impact he had in practice chalking it up to how familiar he's become with the Bills offense seeing it every day for the last week.
"We're seeing the same thing every day. You don't have to think now. So it's getting comfortable," Oliver said. "Just looking at the film everybody runs the same kind of offense, just with some different tweaks, so you get used to playing against somebody it slows everything down."
Early in the red zone period, Oliver blew up a pair of linemen to penetrate into the backfield and force Matt Barkley off his spot. Rookie DE Darryl Johnson got the QB pressure on the play to force an incompletion.
Two plays later Oliver beat his lineman in a one-on-one situation and got pressure on Josh Allen before he wanted to get rid of the ball and hurried him into an incompletion.
A series later, Oliver had his play of the day. He used a stab move and knocked the opposing offensive lineman off balance sending him into the center's legs who also fell on the play and affected the other guard who stumbled as a domino effect was unfolding. The play was effectively blown up from Oliver all on his own.
Finally, late in practice, Oliver again won at the line of scrimmage and forced Josh Allen into a checkdown throw to Cole Beasley for a minimal gain.
"I'm looking at a bruise on my calf from Ed Oliver, so I know he's been really good," said Josh Allen. "Just the aggressiveness he brings to the line obviously."
For most of the practice Oliver lined up next to Shaq Lawson, who was the starting defensive end with Jerry Hughes sidelined by an ankle injury. The tackle-end tandem proved to be a headache no matter who lined up against them.
"A guy like who has been here for three years and knows the system, he's been a big help to me and lining up on the same side we can call it up as we go," said Oliver of Lawson. "That's a credit to him because he just tells me what he's doing and I listen."
The scary thing is Oliver is just beginning to scratch the surface, but after a week it's clear he's the most explosive interior lineman on the roster and fires out so low that he's a handful for anyone who draws him as a one-on-one matchup.
"I'm still evolving as a player and every day I come out here I'm a little bit better," Oliver said. "I just need to come with something new every day. That's why I watch film, to come up with something new, something fresh."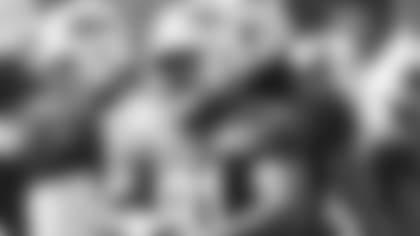 It's safe to say that Ray-Ray McCloud had a difficult rookie season. An injury late in last summer's preseason compromised his trademark quickness and escapability for much of his first NFL campaign. Opportunities were soon few and far between for McCloud on Sundays.
This offseason however, McCloud recommitted himself to the game fully recognizing it has his profession and his body as his chief asset.
"For me, the offseason was about focusing on my spirit mentally and that helped me physically," McCloud said. "I've become a better professional, taking care of my body and working on the little things to prevent injury day in and day out."
Positioned in the slot in the spring practices, McCloud performed so well that he's been running right behind veteran Cole Beasley in the slot receiver role.
"I see myself as a receiver, but as far as slot, if that's my role, I'll fill it," he said. "Whether it's lining up inside, lining up in the backfield, coming around in motion, it's all making me a better player."
Through the first week McCloud has gotten some first team reps in the slot whenever Beasley rotates out, and he showed up on Thursday.
In a 9-vs.-9 red zone period, Allen found McCloud in the end zone on one of the better timing routes of the day for a touchdown.
He also did a good job sitting down in the hole in a zone coverage for a first down completion from Allen.
"On the field if I have a hot (route) or a guy rushes, he's had that knack for getting open in a zone and it makes it easier for us as quarterbacks," Allen said.
Allen believes the progress in McCloud's game is rooted in his more focused approach off the field.
"On the field he's doing the right things, but I think it starts in the meeting rooms," said Allen. "He's very attentive and is asking the right questions. He's taken a lot of good steps in the right direction. It's been exciting to see him being aware of what's going on."
In the five-week break between minicamp and training camp, McCloud went home and worked with a lot of former college and high school teammates like Artavius Scott, Nelson Agholor and Deon Cain.
"We all just came together and worked out and pushed each other," he said.
McCloud figures to be battling for one of the last spots at the receiver position on the roster, but so far, so good.
"My philosophy is make a play a day," said McCloud. "You do that and one play turns into two and two turns into three."
3. Mike Love moving on up
He was on the Bills practice squad for most of 2018 as a rookie, but through the first week of training camp, DE Mike Love is moving up the pecking order at his position. With both Jerry Hughes and Trent Murphy sidelined at practice Thursday, the second-year pass rusher was running as the first team left defensive end.
"They told me to keep getting better," said Love. "Thee wanted me to work hard in the offseason on my burst and lower leg strength. I've been grinding my butt off. So that's why I've been comfortable playing out here."
Love dropped six to seven pounds to improve that burst off the line and win around the edge.
For the majority of camp, Love has been the team's second team left defensive end opposite Shaq Lawson behind the two starters, Murphy and Hughes.
Love has flashed his ability to bend the corner and move quarterbacks off their spot in the pocket. He attributes it in part to having a firm grasp of the defensive system, now that it's his second year playing in it.
"When you know the system you can move a lot faster," he said. "You know what's going on. There's no thinking. They do a good job of teaching us the plays and making sure we have it down."
Love didn't make much of his first team reps. He's squarely focused on raising his game each practice.
"Whether it's first team, second team or third team reps, I'm just coming out trying to get better every day," he said.
The way Love took steps to do that was to expand his repertoire of pass rush moves, particularly his counter moves.
"In this league you have to switch it up and have some counters," said Love. "So I'm working on two new ones and I'll use them when the time is right."