1. Offense clicks in 7-on-7 red zone
SPARTANBURG, SC - On the first day of joint practices with the Carolina Panthers at Wofford College, Buffalo's offense demonstrated some good chemistry in the red zone during an early 7-on-7 period.
Zay Jones got things started with a high-reaching acrobatic grab over his head at the goal line that drew cheers from Bills fans just 20 yards away.
Two plays later Josh Allen gunned a slant pass into a tight window to John Brown for a touchdown.
"I thought we did a good job today," said Allen of the offensive performance. "Different environment, playing in different weather against a different team. I think we adjusted pretty well. Our juice was there seeing a different team across the ball from us. We needed that. I was super impressed with how we handled things."
Matt Barkley continued the positive momentum for the Bills offense.
He found Duke Williams underneath in the middle for an eight-yard touchdown pass.
Barkley then had the prettiest pass of the period as he dropped a pass over Cam Phillips' shoulder on a corner route for a touchdown. The fans in attendance erupted as Phillips made a leaping grab and got both feet down before his momentum carried him out of the side of the end zone.
The series closed with Barkley hitting Christian Wade out in the right flat and he scampered over the goal line before the Panthers defender could reach him.
"We're just trying to make some plays against some different looks and some different faces and play the game of football."
2. Allen benefits from Panthers 3-4 defense
The Bills offense has been facing their own defense for the better part of the last two weeks every day in practice. Facing the Panthers on Tuesday, Josh Allen and company saw a defensive front far different from that of their own.
"It's a chance to get our offense in front of a different system and scheme and to develop as a team," said head coach Sean McDermott. "The benefit is we come down and face a different defense as opposed to the one they played the last couple of years. It's good for us because we're going to go against some 3-4 opponents this year."
Buffalo's offense made a fair number of plays in the short to intermediate areas, but had a tough time connecting on some deep shots.
Josh Allen had a solid strike over the middle to John Brown who was cutting across the field, but the two couldn't link up on a deep post pattern. Allen dropped it right over Brown's shoulder, but he couldn't hang onto the ball as it fell incomplete.
Buffalo's quarterback was most encouraged by the way things were organized up front against the 3-4 scheme. This despite the continued practice of mixing and matching interior line combinations.
"They do a couple of different things, especially their front four," Allen said. "They line up a little differently so we had to change some protections. We've got to be right on those. I thought we did a good job."
After practice concluded Allen went to seek out Panthers Pro Bowl linebacker Luke Kuechly for his thoughts on a particular play concept the Bills ran against him during the team segment.
"I talked to him about a play and he said it's a good concept and we talked about the hardships for a defense on that play," said Allen. "I wanted to know why he did what he did on the concept we ran. I just took a couple of words from him here and there.
"Obviously people revere him as one of the smartest guys in the league. I spent some time with Luke before in the past just hearing him talk about football. I talked to him about a certain play after practice and just the insight that he has and knowledge he has is pretty awesome. In the end we don't have each other on our schedules, so we're just trying to make each other better."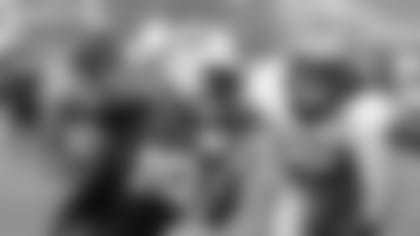 3. Wide receiver Isaiah McKenzie steps up
The first two weeks of training camp at St. John Fisher were not super productive for Isaiah McKenzie, who was running with the second and third team offensive units during that time.
Then came the preseason opener and McKenzie flashed his trademark burst in the passing game where he had two receptions for 62 yards including a game-high 38-yarder. He also had a productive punt return that gave Buffalo's offense a drive start in Indianapolis territory that led to Buffalo's first touchdown.
McKenzie has since carried that play into the last three practices.
"I think of late he has picked up where he left off last season," said head coach Sean McDermott. "You saw his production in the game the other night. So there's some good competition at that position for us."
McKenzie appears to be moving up in the receiver rotation as he is getting more reps with the second unit and he's made the most of them.
In the final 11-on-11 period, McKenzie made three receptions including a touchdown catch on a crossing route when he demonstrated soft hands despite being on the receiving end of a bullet pass from Matt Barkley.
"It is coming to me more fluidly the last few days," McKenzie told Buffalobills.com. "The plays I know like the back of my hand. Now I'm just looking at the defense and the adjustments I have to make and working on my craft.
"I just want to be consistent. The last few days I've been consistent and I've been doing my job and that's all I can do."