1. Josh Allen produces points, Brian Daboll goes upstairs
Head coach Sean McDermott's demand was the offense had to score more points. Coming into Sunday's game Buffalo ranked 25th in points per game at 19.3, but the offense, with coordinator Brian Daboll moving upstairs to call plays, hung 23 points on the board before the first half was over in Miami en route to a 17-point win (37-20).
Josh Allen and company delivered points on their first four possessions as they employed a no huddle, up tempo scheme. Buffalo's quarterback admitted that he feels more comfortable operating the no huddle attack.
"Yeah I do," Allen said. "I think it's a little easier for me to see everything and make some checks at the line and get ourselves in a good enough situation where we can call a play and be okay with it. We had some pretty good answers today. Our guys ran the ball hard and our big guys did a good job of protecting and moving the ball up front and moving the line of scrimmage, so hats off to them."
Buffalo scored on five of their first six drives, and though they went 0-for-2 in the red zone in the first half, the Bills did get a pair of touchdowns from beyond the Dolphins 20-yard line.
"We were doing a pretty good job of keeping the tempo where we wanted it," Allen said. "Our guys did a great job of protecting and running the ball. Obviously when we get down there we want to get seven, but we'll take the three. We'll take moving the ball and finding productive plays, finding completions."
Following a pair of field goals by Stephen Hauschka on the team's first two possessions, Allen capped a five-play 81-yard drive with a 40-yard touchdown strike to John Brown, who slipped down the right sideline, then eluded an attempted tackle at the five to reach the end zone.
"It was zone coverage and the safety got out of his area," said Brown. "Josh did a great job of looking him off and hit a nice hole shot."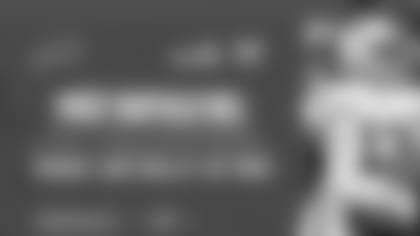 Then after another field goal drive, Allen beat the blitz and found Dawson Knox over the middle, who escaped the grasp of a defender and reached the end zone for a 23-yard scoring play to make it 23-7 late in the first half.
Even after a 101-yard kick return touchdown kept the Dolphins within striking distance before the half was out, Allen and the offense came out and put another touchdown on the board on their opening drive of the second half, marching 53 yards on nine plays. Again it was Allen delivering as he spun away from a pass rush and beat a Miami defensive back to the front right pylon for an eight-yard touchdown run.
Devin Singletary helped pace the run game with 15 carries for 75 yards to average five yards per rush.
And after Miami again closed to within 10 with a touchdown drive of their own, Allen drove the Bills offense going 6-for-6 passing for 66 yards including a nine-yard touchdown to Brown on an over route to put the game out of reach 37-20.
"I thought our offensive line did an amazing job giving him time," said head coach Sean McDermott of Allen's time to throw. "That's important for young quarterback."
"Putting 37 points up is great," Allen said. "There are a few things I have to clean up. There were a few easy misses and some of the short stuff on front padding and getting ourselves an opportunity for run after catch. I have to be better there. I don't think we allowed a sack today. So our big guys played their butts off."
All told, Allen was responsible for three passing touchdowns and had a rushing touchdown in the victory as he threw for 256 yards on 21-33 passing and had a passer rating 117.7.
The performance by Allen, which included no interceptions, made him the first quarterback since Russell Wilson in 2015 with five consecutive two touchdown, no interception outings.
As for Daboll being upstairs, McDermott downplayed it, saying the coordinator has been up there before. But since Allen was made the permanent starting quarterback as a rookie, Daboll had been on the sidelines.
"All little things help here and there," said McDermott. "I'll talk to Brian and see if he liked being up there and what he was able to see. I used to call the defense from up there and you can see a lot. It's hard to see from the sidelines. It shouldn't be, but it is."
"It was very smooth and it worked out so that'll probably be what we do from here on out," said Allen.
2. Tremaine Edmunds, Matt Milano spearhead successful defensive effort
There was a lot of credit to go around when it came to Buffalo's defensive effort, but the gold star likely goes to Tremaine Edmunds. Not only because he led the team in tackles with an even dozen, along with a half sack, two quarterback hits and a pass breakup. But Edmunds also stood up in front of the whole team on Saturday night at the team hotel and said it was time to move from being good to being dominant against opponents they should dominate.
Both sides of the ball responded.
"He just told us it was just time for us to play our game and play fast and leave no doubt in mind," said John Brown. "Everybody was amped up and ready to go. You barely hear Tremaine talk so I was kind of shocked to hear him."
"Ears perk up when he talks because he's a guy that doesn't say much," said Lorenzo Alexander. "So when he talks it means something. So last night just challenging us to really take that next step in our progression as a football team. Not just being good, but let's be dominant and when we play teams that we should beat, let's be dominant. Let's not make it close. That's only going to help us on this path of trying to get to the playoffs."
Buffalo's defense committed to stopping the run early and they were extremely effective. Miami feature back Kalen Ballage was put in reverse with minus-three yards on his first three carries. Eight of the Dolphins first 13 plays from scrimmage went for no gain or negative yardage.
"They were aggressive," said McDermott of his defensive players. "They had great preparation and that's really where it starts. You go back and ask why did we get the results that we got? It comes down to those habits and we got good results."
The Bills defense came into the game ranked 26th in success rate in putting pressure on the opposing quarterback. That changed on Sunday as Buffalo sent extra pass rushers early and often at Ryan Fitzpatrick.
Edmunds and Milano expertly timed their delayed pass rushes to get pressure on Fitzpatrick, if not from them directly, from their defensive linemen. The pair combined for 19 tackles to finish one and two in that category.
"We were just aggressive in our play calling. I know we were more aggressive from a linebacker standpoint where we were adding on too," said Alexander. "So when you do that it pulls double teams off our linemen. We moved a lot and stunted a lot and they didn't adjust well so guys took advantage of some of their lack of execution."
Buffalo had seven sacks in all, a season high, with six different defensive linemen contributing to the tally. Edmunds and Milano split the other.
And whatever Edmunds told his teammates Saturday night, it certainly worked.
"I just wanted to have a little message for the team," said Edmunds smiling. "From the looks of it, it looked like they responded pretty well, so I'm pretty proud of the situation."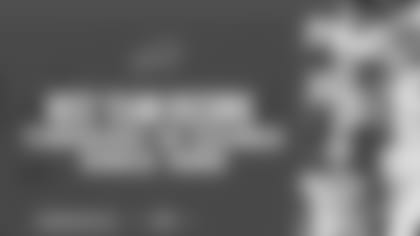 3. Kevin Johnson platoons with Levi Wallace
It was a lineup option that was asked of coach McDermott and defensive coordinator Leslie Frazier, by the media during the week. With Levi Wallace getting targeted heavily by opponents, might they consider making use of Kevin Johnson?
The coaches said they take a look at all options and never dismiss anything that could benefit the team.
On Sunday, they began platooning Kevin Johnson with Wallace at the right cornerback position.
Johnson rotated in much the same way the Bills have platooned Ty Nsekhe with rookie right tackle Cody Ford this season. He came in on the third series and saw a good deal of action through the first half. Johnson then started the second half before Wallace rotated in through the latter stages of the third quarter.
"Just working both players in there," said McDermott. "Two players we have a lot of confidence in. We have confidence in Kevin and confidence in Levi and I think it's good for both of them. It just changes the looks sometimes for the opponent. We were doing that at some other positions as well and that's healthy for us. It goes back to being team first and I really appreciate that about those guys."
Johnson and Wallace combined for seven tackles in the game.