1 – Four-minute drive delivers
After a 50-yard field goal by Ryan Succop put the Titans ahead by two, the Bills got the ball back with just over four minutes left in the game at their own 25-yard line. It was at that point that head coach Sean McDermott, who challenged his offensive line to establish the line of scrimmage all week, asked them to lead Buffalo's offense down the field.
"We decided we were going to run the rock," said Josh Allen. "Coach Daboll told me we were going to put it in the hands of our linemen. They did a really good job. That's a really good front that we faced. Tennessee is a great defense. Top 10 in basically everything. To see that from our guys and to see the excitement they had is definitely going to progress us moving forward."
Buffalo would embark on an 11-play drive, running the ball on eight of those 11 plays en route to Stephen Hauschka's game-winning 40-yard field goal as time expired for the dramatic 13-12 victory.
The combination of LeSean McCoy and Chris Ivory logged seven carries on the drive for 30 yards. Ivory ran especially hard getting yards after contact and dragging defenders with him for extra yardage.
"Both backs I thought played extremely well," said McDermott. "The combination of LeSean and Chris, I like the personality that Chris gives us in terms of the physical style and he still has an ability out of the backfield as well. So it was a good one-two punch for us."
Josh Allen delivered a couple of short completions to keep the team on schedule as well. The first a key third down conversion throw to McCoy out in the flat, and he did the rest bobbing and weaving through defenders to pick up 13 yards and a first down.
Allen also converted a 2nd-and-6 on a screen pass to Ray-Ray McCloud to move beyond Stephen Hauschka's line of demarcation of the 35-yard line.
"The pass to Shady, he made a great play," said Allen. "The one to 14, Ray-Ray, he came up big. That's a rookie making a really good play. Dion Dawkins got out there and made a huge block to spring him free and really get us into field goal position."
"It was a good kick," said Hauschka. "It wasn't, like, the best one of the year. It was good. It got the job done. I didn't want the wind to push that thing left. That's why I started it kind of right-center, and that's where it ended up."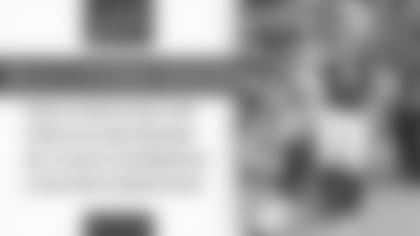 2 – 'D' is opportunistic again
The Tennessee Titans came into Sunday's game having fumbled the ball just twice all season, and they recovered each of those cough ups. The Bills forced the Titans to match their season total in just over a half on Sunday, and more importantly recovered those loose balls.
On the opening drive, Tremaine Edmunds forced Tennessee receiver Taywan Taylor to fumble after a short reception, and Matt Milano came up with the loose ball on the fumble recovery. It set Buffalo's offense up at the Titans 47-yard line.
Eleven plays later the Bills were in the end zone as they staked themselves to an early 7-0 lead.
"The defense did a good job," said McDermott. "They gave us chances. They took the ball away."
The second forced fumble came when Shaq Lawson jarred the ball loose from Dion Lewis and Jordan Poyer recovered at the Titans 49-yard line.
"It's all about the ball. You knew what type of game this was going to be—it was going to be won up front," Lawson said. "I saw the ball a little loose, and I started hitting it. Finally, it came out."
The Bills offense moved the ball enough to get a 40-yard field goal from Stephen Hauschka to take a four-point lead into the fourth quarter (10-6).
Buffalo's third takeaway came via the interception when Taron Johnson jumped an inside route to pick off Marcus Mariota in the second quarter at the Tennessee 35.
All told, Buffalo's first 10 points all came off takeaways by the defense.
"We're always thinking about stripping the ball, catching tips and overthrows, trying to create more opportunities for our offense," said Lorenzo Alexander. "Some games you get them, some games you don't. I think we're at the top of the league in terms of forcing fumbles and stuff. We have a lot of guys just flying around. You've got guys hustling. You're going to be in position to pick up some balls and we were able to do that."
Jerry Hughes even forced another fumble on a strip sack of Marcus Mariota with under five minutes remaining in regulation on third down, but the ball went out of bounds before Buffalo could attempt a recovery.
"We put the time in during practice to focus on that," he said of forcing fumbles. "We watch the film so we know the guys who are susceptible to that. For us it's not just random and we tackle someone and he fumbles. No, first guy tackles and the second guy comes in and he's fighting his head off to get that ball out. That's how we're coached. That's how we play so we can get a short field for our offense so they can go out there and execute."
On the season, the Bills defense improved their turnover differential to a plus-one on the year.
3 – McCoy gets to carry load
After 29 touches in the first three games he played, LeSean McCoy was a whole lot busier against the Titans on Sunday.
"No, that was not by accident. He's one of our better players," said McDermott. "I thought Brian (Daboll) did a good job of calling the game, in particular in key situations. We moved the chains. Time of possession was 34 minutes to their 26. Anytime you can do that you give yourself a chance to win the game."
On the team's first scoring drive, McCoy matched his carry total in the entire game at Green Bay the week before with five carries.
By halftime McCoy had logged 13 carries for 41 yards. Though he averaged just 3.2 yards per carry, the Bills stuck with the run game to stay in manageable down and distance and for the most part it worked.
Six of the Bills nine possessions went for seven plays or more as they had just one three and out in the game.
"They told me they'd give me the ball this game, and that was kind of the main focus," said McCoy. "Get the offensive line going. Running the ball, throwing the ball to me. Using Chris (Ivory) in there in different packages. Making the game a lot easier for Josh, easy reads, running the ball and doing some play action games on the perimeter because he can run. That was kind of the game plan. The game plan was nice."
McCoy went up and over 100 all-purpose yards for the 74th time in his career with a total of 108 against the Titans (85 rushing, 23 receiving). It ties him with Adrian Peterson for the active career lead.
By game's end McCoy had almost as many touches against the Titans (26) as he had all season (29).
"That's how it's supposed to be," said McCoy chuckling after the game.
Frey Electric Electrifying Play of the Game