1 – A stranglehold performance
The Bills won't get a lot of style points for their 24-10 victory over the Patriots on Thursday night football, but what the way in which they won served notice that they have the ability to kill a game when they have a lead.
Buffalo's run game wasn't quite as productive as it had been the last three games when it eclipsed 160 yards, but it was effective enough in keeping the Bills offense on schedule. It also killed an enormous amount of time on the clock as James Cook and Devin Singletary combined for 115 yards on 27 carries.
Bills center Mitch Morse felt the balance between run and pass with 37 runs and 33 pass attempts kept the Patriots defense honest.
"I think when you have a guy like (Matt) Judon or (Josh) Uche or any of those interior players they have, they're just darn good football players, so anytime we can put ourselves in a position where we're not just taking five step drops and playing a lot of empty (backfield) and make them think a little bit, that helps us out a lot," Morse said. "To do that and for the offensive coordinator to make those calls and feel like he can, we have to execute a little bit. We were able to adjust on the sideline and work on the plays that were working for us. It felt good to execute in the run game to give ourselves a little bit of a cushion to not feel like we have to drop back and play one dimensional against a very challenging front."
"I thought (Coach) Dorsey did a good job of mixing those (run calls) in," said Josh Allen. "I thought Motor (Singletary) and James (Cook) ran the ball extremely hard and we were skipping some third downs, which is always a plus. And then when we did have third downs, we were putting our noses down and going and getting it being really physical, playing some physical football. So again, the more that we can get those guys going, it's just going to open up so many different things for us."
Mindful of the Bills explosive capabilities in the passing game, the Patriots played a lot of cover two shell with both of their safeties deep.
"They were kind of basically daring us to run it," said Allen. "I thought (Coach) Dorsey did a good job of staying patient. Our guys did a good job of holding on to the football and making some good cuts, making some good runs, and moving the chains when we could."
The signature possession was the marathon 15-play, 94-yard drive that pulled almost nine minutes off the game clock and effectively put the game to bed less than a minute into the fourth quarter. Beginning the drive at their own six-yard line, Buffalo rolled up more yardage on that drive than the Patriots did on their six possessions following their touchdown drive in the first quarter (28 plays, 89 yards).
"Anytime you can go 95 yards it's a plus, but when you do it that way and it's a long, sustained drive, those ones feel really good," Allen said. "Those O-linemen they love those types of drives where they can just kind of go in there and grind it out. I thought we played really well. Obviously, only 24 points but our defense played fantastic ball where we didn't feel like we had to press and make any mistakes. These are good wins, in division, away."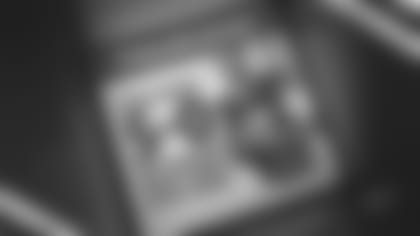 That long touchdown drive marked the team's fifth 90-plus yard touchdown drive of the season, marking the most since the team had five 90-plus yard touchdown drives in 1991.
"It's about performing at a high level in high-pressure situations, leading with Josh making good decisions, guys blocking extremely well, running backs protecting the ball," said Stefon Diggs, who had seven receptions for 92 yards and a touchdown. "Those small passes really getting us first downs or getting us eight, nine yards is huge. So we're second and inches, instead of third-and-one. I just feel like when it's a conglomerate of everybody doing a job, it leads to a lot of success."
Head coach Sean McDermott and his staff had to navigate a challenging 12 days in which they had three consecutive away games and a myriad of injuries, and his team came out of it with three important victories with the last being the most critical as it was their first win in the division this season.
"(I'm) impressed by the leadership, the character of our football team and the stretch that we had over the last three games here," McDermott said.
2 – Red zone roll
Buffalo's offense didn't run up the score, but when they reached the red zone, they were sure to cash in with seven points. Facing the league's seventh-ranked red zone defense, the Bills found the end zone on all three of their red zone opportunities.
On 14 red zone plays, Dorsey had seven run plays called to the backs and Allen ran on two others.
"The offensive line, (offensive line) Coach (Aaron) Kromer, they've done a great job, and that's really where the game is won a lot of times," said McDermott. "I thought they had a good plan coming in and executed."
Josh Allen completed two of the red zone possessions with touchdown passes. The first, on a well-timed play with Diggs, who beat CB Jonathan Jones on a good inside fake before breaking to the left sideline in the end zone for an eight-yard touchdown catch just four second into the second quarter.
Later in that same quarter, Allen bought time rolling out to his right to the far sideline. At the last possible moment before stepping out of bounds with a Patriots pass rusher in pursuit, he fired a pass to the left of two defenders to Gabe Davis, who rerouted himself to get open for another eight-yard reception.
"I trust him," said Allen of Davis. "He made a play, and just giving him a chance to do it, so I appreciate him continuing to work on that play."
The final red zone touchdown came on a third-and-goal from the one-yard line that Singletary ran in when the back side opened up for a walk-in touchdown to cap off the nearly nine-minute drive to seal the game.
Combined with last week's 3-for-4 performance in the red zone, Buffalo has now put the ball in the end zone on six of their last seven red zone possessions. It's given the offense a feeling that they're building something sustainable in the most important area of the field for the five regular season games remaining.
"I definitely do," said Allen. "We know that we haven't been as good as we've wanted to down there and it's been a key emphasis for us, just making sure that we love the play calls down there and guys know what they're doing and executing. I think Dorsey is doing a good job of mixing it up and allowing us to go down there and be free and not having to worry about the other stuff."
"Those points are important," said McDermott. "When you get the ball down there in the red zone, you've got to cash in, and we've done that the last couple of weeks."
3 – Bills 'D' locked it down
While Buffalo's offense turned in an efficient performance, the defensive side of the ball was throwing up stop signs for the Patriots attack. Leslie Frazier's unit held the Patriots to just 242 total net yards, the lowest total allowed by Buffalo since Week 3. A big reason for their success was their ability to stymie New England on third down.
The Bills held Mac Jones and the Patriots offense to just one third down conversion on their first eight attempts, forcing New England to punt on six of their first eight possessions with three of those possessions being three-and-outs.
"Our D-line was getting after him like those guys have been doing all season," said Jordan Poyer. "Greg (Rousseau) really stepped up. You can go down the line of guys that really stepped up in that game and us on the back in just trying to give them extra second to get to the quarterback. And it has been a huge emphasis for us over the past couple weeks. Getting off the field on third down and so that's something that, Coach Frazier and Sean had a really great game plan for us, and we just went out there and were able to execute it and get off the field."
Buffalo's men up front had just one sack in their first game without Von Miller, but they had four tackles for loss and four quarterback hits as they harassed QB Mac Jones for most of the night and held New England's top rusher and receiver, Rhamondre Stevenson, to 54 rushing yards and 24 yards on six receptions.
"We had a good week of practice, and we came out flying around," said Matt Milano. "The defensive line held it down and was controlling the line of scrimmage. Greg [Rousseau] played well, A.J. [Epenesa] stepped up and made some big-time plays. It was a super performance. The defensive line went crazy and when they do that it helps everyone out. The rush and coverage working together."
New England's deepest penetration into Buffalo territory until the waning moments of the fourth quarter was the Bills' 29-yard line before they forced a field goal attempt that kicker Nick Folk clanged off the crossbar and out into the field of play on a failed attempt.
The Patriots did not reach the red zone until there were under four minutes left in the game and even then they forced a field goal.
"We just knew we had to make them one-dimensional, whichever way that was," said Tremaine Edmunds, who led the team with six tackles in his return from a groin injury. "Obviously, we pride ourselves on stopping the run. It's not always pretty but I think guys did a good job this week of taking accountability towards that."
Buffalo's defensive stops led to a wide disparity in offensive plays. By halftime, the Bills' offense had 41 to the Patriots' 24. And the time of possession after three quarters of play was more than 2:1 with Buffalo having the ball for 31:14 to New England's 13:46.