1. Gaine's wide-ranging background a key factor
In promoting Senior Personnel Advisor, Brian Gaine to the Assistant GM position left vacant by the departure of Joe Schoen, who was hired as GM of the New York Giants, Brandon Beane admitted that it was Gaine's very varied background on both the college and pro side of scouting that was most appealing.
"The thing that I loved about Brian was we're adding a guy that's not just strong on one side, he's strong on both," said Beane. "And he has sat in this seat, and he knows some of the challenges that you face. And then ultimately, you think you're ready, but until you sit in this seat, things fly at you that that you never thought you would deal with. And so, I think that helped Brian's case here. After we completed the interview process, we felt right now Brian is the best candidate for us for that role."
Gaine began his front office career on the college scouting side of the business for five years before flipping over to the pro scouting for another seven years. At that point he moved into more director type roles before he was a general manager himself with the Houston Texans.
"Ultimately you're looking for someone where if I get hit by a bus, you've got to be able to sit in this seat the very next day and run it," said Beane of finding a fit for the Assistant GM role. "So, you're looking for obviously a scouting acumen, but you're also looking for someone who has a feel of the building, who can connect various areas in football operations whether it's the training room, the strength and conditioning room, analytics, the video staff, the equipment guys, all those things are under my umbrella. And so, you're looking for someone who is kind of your wingman."
Gaine has not only been a GM with the Texans (2018-2019), but he was also an assistant GM with the Dolphins (2012-2013).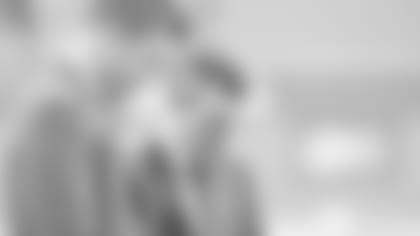 2. Terrance Gray's role to expand
Make it two promotions in two years for Terrance Gray, whom Beane promoted to Director of Player Personnel on Tuesday. Gray was promoted last year to Assistant Director of Player Personnel after Dan Morgan left to become the Assistant GM of the Carolina Panthers.
"Last year, we started to get him a little bit of pro work to see how he could handle that," said Beane. "So, he's going to have his full volume of college stuff, but we're going to add a pretty good volume of pro stuff to expand that and when we break up the preseason, he and Gaine will split up AFC and NFC. How we break down the guys just as we're trying to pare down rosters and figure out who's going to come available, who's not. Who do we like to claim and who do we not?"
Gray, who had previously held the title of College Scouting, will still run the College meetings in preparation for the NFL draft, but he is now one of the top executives in Beane's personnel department.
"He's going to be in the in the circle of trust with me and Gaine here," said Beane. "He'll do a lot of things."
3. Analytics department grows
The Bills created a new position for their Analytics and Football Research department hiring Drew DiSanto as their Sports Performance Data Analyst. The expansion of their ranks speaks to the growing influence of not just data collection, but how it's applied by the club.
"There's a lot of data. There's a lot of information out there," said Beane. "And you have to know what's valuable and what's not. There are a lot of things that you don't use, but ultimately you try and figure out what are the indicators of all this data you're getting, whether it's player evaluation, GPS data, whatever it is. But ultimately, availability is the number one ability and we want to do everything we can to have our guys practice as much as they can, to be able to play as much as they can. We put a lot into it here and I think we've got a good staff of people that really do a nice job with it."
According to Beane, DiSanto will formulate a lot of the practice and game day player data and compartmentalize it in a way that can be utilized and implemented by their sports science specialists.
"We put a lot into our player health and wellness and keeping guys on the field, tracking everything they do," Beane said. "Weight room, on the field, the grass, all that stuff, just trying to keep these guys healthy. You can't really do much about what I call the car crash injuries, a broken arm, broken leg, whatever it is. But trying to eliminate unnecessary soft tissue from overuse, wear and tear, too much high-speed running and all that volume. So, it's just adding another layer to what we have to help us track that more. It ultimately helps us build our practice schedule each week. And it's individualized so that we can look at each player's practice load. It's Stefon Diggs practice load versus Gabe Davis's practice load and beyond."