It's the first ever playoff edition of the Top Storylines. It's the Bills and the Jaguars this Sunday in Jacksonville—here's a look at the top seven storylines this week leading up to the AFC Wild Card matchup:
1.   HEAD COACHES ARE NEW TO THE PLAYOFFS
Neither Sean McDermott nor Doug Marrone have been here before—at the helm of an NFL team in the playoffs. But they both know what the postseason looks like.
McDermott has been on the sidelines for 25 postseason games in his career. He was an assistant in 19 of them in his 12-year coaching tenure with the Philadelphia Eagles. He helped take Carolina to six playoff games in his six years there as defensive coordinator.
Marrone has seen sideline duty in a total of six playoff games. The first four came while he was the offensive line coach on Herm Edwards staff with the New York Jets. Later, he was offensive coordinator in two games for the 2006 New Orleans Saints who made the playoffs with Sean Peyton as head coach.
They've each coached in one Super Bowl, and each has been a coordinator in the high stakes arena of postseason football. But for both McDermott and Marrone, this is their first crack at running the show in a playoff game.
2.   JAGS NOT QUITE BUFFALO SOUTH—BUT CLOSE
This could be the "Marrone Bowl." Or the "Dareus Duel." Or the "Posluszny Playoff." Or the ……..never mind.  You get the idea. There are plenty of Jacksonville Jaguars players, coaches and administrators who are familiar names to Bills.
You start with Marrone, then go to his coaching staff. Former Bills OC Nathaniel Hackett is the Jags play-caller now. Former Bills defensive coordinator and interim head coach Perry Fewell coaches Jacksonville's secondary. Former Bills assistants Jason Rebrovich (Clarence native), Tyrone Wheatley, and Tony Sparano, Jr. are all on the Jaguars coaching staff. Buffalo native David Caldwell is in his fifth year as Jacksonville's general manager.
On the field, former Bills first round pick Marcell Dareus will play his 10th game with the Jags since being traded away two months ago. Former Bills second round pick Paul Posluszny has been a mainstay at inside LB for Jacksonville since he left the Bills seven years ago.  Jacksonville linebacker Lerentee McCray played 13 games for the Bills last year.
There's no shortage of connections between these two franchises headed into this Sunday's game. And given the stakes of the matchup, there's no chance that anyone will decide to opt out.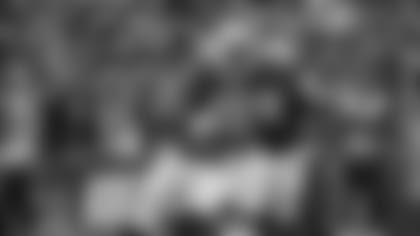 3.   FORECAST UNCERTAIN FOR SHADY
By kickoff Sunday, Bills fans will likely hear more about LeSean McCoy's ankle than they care to know. Shady got tangled up in the first half of last week's win at Miami and only played 29 snaps.
It's probably going to be a day-to-day proposition at practice this week for McCoy. And as the "straw that stirs the drink" for Buffalo's offense, the attention is warranted.
So, the question for the Bills is where do they get yards on the ground from this week, if McCoy can't go or is limited. Tyrod Taylor is Buffalo's second leading rusher with 427 yards, but it's hard to imagine a ground game based on a running quarterback. Mike Tolbert got seven carries in the second half last week after McCoy went out, and he's averaged 5.5 carries per game in his 12 games played this year. But his style doesn't lend itself to being a workhorse type of back the Bills might need.
And then there's third year running back Marcus Murphy, just elevated from the practice squad last week, and pressed into action in Miami last Sunday. Murphy ran seven times for 41 yards against the Dolphins and also caught two passes.
He's bounced around the NFL for a couple of seasons and has seen some regular season action mostly as a return specialist with the Saints. But he may play a more prominent role this week.
Bills offensive coordinator Rick Dennison says he was impressed with Murphy's work on the Buffalo practice squad since he signed in Buffalo November 6.
"We saw he has a great burst, good acceleration, good ball skills, things you look for in a back," Dennison said this week. "When the opportunity arose and '39' (Travaris Cadet) went down, we said 'let's elevate him and see what he could do.' He has practiced, he's done very well and he's picked up the scheme."
With or without McCoy, the Bills will be counting on Tyrod Taylor to deliver his usual solid performance this week in his first playoff start. Taylor finished the regular season with a record of 8-6 as a starter. He's had a strong finish, with an average 92.7 passer rating in his last three games, and no interceptions thrown in that span.
Whether it's winning tough games on the road, throwing over the middle, or challenging defenses with the deep ball, Taylor has typically had the answer for his critics with his play on the field during his three-year tenure as the Bills signal caller.
In his first playoff game, on a national stage, he may have to manufacture more answers, maybe even in the run game, if McCoy is unavailable.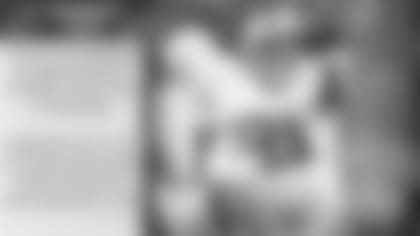 5.   BOTH TEAMS CAN PLAY TAKEAWAY
Both the Bills and the Jaguars and the Bills are among the league leaders in turnover ratio this year. Thanks to just 16 turnovers and 25 takeaways, the Bills are plus-9, good enough to rank seventh in the league. The Jags are even better, they're plus-10, ranked fifth in the NFL.
The difference comes at quarterback, however. Taylor has only thrown four interceptions this season and Jacksonville's Blake Bortles has 13.  If Buffalo's ball-hawking secondary can get a few picks this week, it would go a long way towards helping the Bills spring an upset.
6.   HEADING IN OPPOSITE DIRECTIONS
There's no doubt the postseason offers teams a chance at a 'second season.' A chance to reset after the long regular season.
But the Bills finished their regular season pretty impressively, with three wins in their final four games, four in their last six. Their only two losses were to top AFC seed New England.
Jacksonville finished up with two straight losses on the road, at San Francisco and Tennessee.
The Bills nine-win season is just behind Jacksonville's count of 10 victories. But Buffalo's strength of schedule this year surpasses the Jaguars; Buffalo's was .492, Jacksonville's was .434. The point is, this wild card qualifier vs. division champion match-up may be closer than many think.
7.   NATIONAL SPOTLIGHT ON THE BILLS AND THEIR FANS
Buffalo's first playoff appearance after 17 years means NFL fans across the country will be introduced to the likes of Kyle Williams, Jerry Hughes, Tyrod Taylor and others for the first time in the postseason.
And with a strong contingent of Bills fans expected to head south to Jacksonville for the game, the long held passion and intensity of Bills Nation will also get attention. The Bills unlikely clinch of a playoff spot has made them a national storyline this week, one that may carry over deeper into January if Buffalo comes out on top this week.