It's a Spikes family reunion, and we're all invited.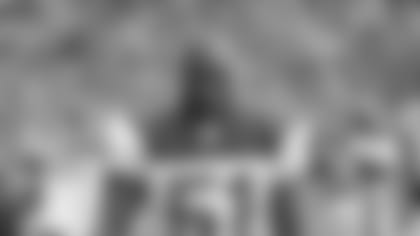 We've come to know and love Brandon Spikes, the former Patriots star who joined the good guys this year, but let's not forget where our collective love for the Spikes family began: with Takeo. Brandon's cousin Takeo had four memorable years with the Bills, and he said "a piece of my heart will always be in Buffalo." He'll reconnect with the city and fans that he loved as well as his playmaking cousin on Sunday when he returns to serve as the Leader of the Charge before the game.
A legend will be inducted to the Wall of Fame at halftime.
You're not truly a Bills fan if you can't recall Van Miller's legendary "Fandemonium!" call from 90s, whether or not you heard it live. Longtime Voice of the Bills Van Miller will be inducted to the prestigious Wall of Fame at halftime, his name revealed inside Ralph Wilson Stadium next to the some of the greatest in Bills history. It will be a special moment when his name, like his voice, becomes a permanent fixture for generations to come.
Our uniform game is strong.
The Bills are wearing the crisp white-on-white jersey-pants combination on Sunday, and it's a combination that's gotten them far. The team is 2-0 in all white, and when they win this weekend, they might just have to go for the white-out all season.
The forecast calls for (radiant) heat!
Don't listen to the weatherman. The high temperature might be forecasted at 48 degrees, but it'll be a hot one at the Ralph. The radiant heaters are getting warmed up (literally) for their debut this season and are ready to keep you nice and toasty throughout the game in the club levels and the new Coors Light Sports Bar.
It could be a record-setting day for the defensive Kyle.
Kyle Williams is only two away from becoming the all-time franchise leader in sacks among defensive tackles/nose tackles, passing Jeff Wright's 31.5 sacks. Marcell Dareus follows closely in third behind Williams' 30 sacks with 23.5.
You'll get smarter the second you walk in.
Sunday's gameday giveaway, courtesy of BlueRock Energy, is a Smart Wallet to be used for quick, easy and convenient access to your credit cards or license on-the-go. The first 40,000 through the gates will get one, so get in early!
Chandler is aiming for another career day.
With his 105 yards against the Patriots, Scott Chandler set a career record for himself, eclipsing 100 yards for the first time. The tight end currently ranks fourth on the list of Bills TEs in touchdowns with 14, and with just one more score will move into a tie for third. There's no denying that Chandler is on his game right now, and we'll have to wait and see if he can pair last week's performance with another record-setting day against the Vikings.
T Henderson and QB coach Todd Downing take on their hometown team.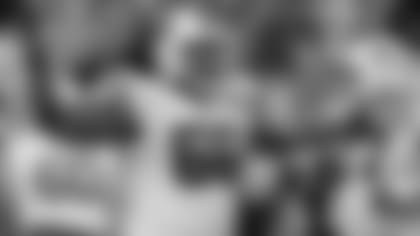 Both T Seantrel Henderson and QB coach Todd Downing are Minnesota natives. In fact, Henderson is one of many world-class athletes to come out of Cretin-Durham Hall in Saint Paul, Minnesota. The tackle not only received a number of offers for top football colleges, but a handful of basketball scholarship offers were sent his way as well. Henderson was the first lineman ever to win the USA TODAY's High School Offensive Player of the Year Award, and was ranked as a five-star recruit and the number two in the nation in 2009 when he didn't allow a single sack in 250 pass attempts at Cretin-Durham.