National media offer early opinions on the Bills 2016 draft class.
The skinny: Lawson isn't the physically-dominating player Mario Williams is, but he's a good find here in a draft without a lot of top-rated pass rushers. He was also the best player available, so fans should be happy with the selection.
Ragland was a steal in the mid-second round, even with losing a fourth-round pick in the trade up, as he'll lead the Bills' defense for ten years. Washington was fair value in the third round, though he'll need to play at his best to becom more than a rotational player. No surprise that the Bills picked Jones in the fourth round, but he'll need time to become a more accurate passer and consistent decision-maker. Williams would have been a second- or third-round pick without the injury, so that was a good pull. Listenbee's speed will complement Sammy Watkins and company. Seymour is a better player than his sixth-round draft status indicates.
The Bills smartly addressed the defense early in the draft, and found two starters in end Shaq Lawson and middle linebacker Reggie Ragland. The Bills needed to get a player on the defensive line who can rush the passer and they got that in Lawson, a player who had 12.5 sacks and 25.5 tackles for a loss in 2015. Washington is a nice rotational player on the defensive line. At Ohio State, he was used over the nose but moved to more of a three-technique in 2015. Washington is NFL-ready as a pass rusher, but he has to get better versus the run. Cardale Jones is the wild card. His tools are off the chart, but he's incredibly inexperienced. In the fifth round the Bills got a good running back In Jonathan Williams. If LeSean McCoy struggles, he can step right into the lineup. The pick of Kolby Listenbee in the sixth round was one of my favorite picks of the draft. He was overshadowed by the force that is Josh Doctson, but he can fly on the field. Let him get vertical in the passing game and get him the ball.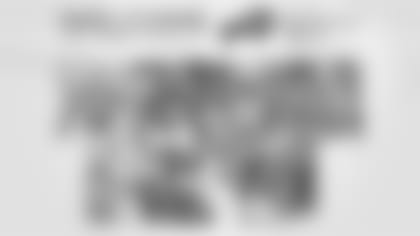 Day 1: Buffalo gets a stout run defender in Lawson (No. 2 run grade among edge defenders in the class) who also showed the ability to get after the quarterback (No. 9 pass-rush grade at 25.9). He had a breakout 2015 season after a strong performance in limited snaps in 2014, and he'll step in to replace Mario Williams opposite Jerry Hughes on the edge.
Day 2: Once thought to be a first-round pick, Ragland fell to the second where his clean run-stopping ability makes him a solid pick. While there are questions about his athleticism in coverage, he can make plays in front of him in zone, and his pass-rush ability can help him find a role on third down (he is movable blitzer, and the Bills can isolate him on running backs). Washington is another strong pick from a production standpoint, as he played all over Ohio State's defensive front the last two years and he posted third third-best pass rush grade among the draft's interior defensive linemen in 2015.
Day 3: Jones has a cannon for an arm and he's worth a developmental shot, even though his accuracy between six and 30 yards is among the worst in the class. Jonathan Williams missed all of 2015, but his 101.9 elusive rating ranked fifth in the FBS in 2014. Listenbee is a nice late-round speed addition as he may be the fastest player in the draft and it showed on the field when he was healthy in 2014 (526 deep yards, 10th in the nation).
The Bills used their first three picks on defense, even trading up to get Ragland (at a steep cost: the No. 49 selection and two fourth-rounders). He was a potential first-round fit for their defense, so finding the ILB hammer still available at the 41st pick has to be considered a win. The same really goes for Lawson, who was considered a possibility for teams like Tampa Bay and the Giants within the top 10. Third-round DT Adolphus Washington rounded out the Buffalo run, and the brothers Ryan have to like his versatility. What the Bills did on the other side of the ball is intriguing, to say the least. Cardale Jones is an ideal developmental candidate behind starting quarterback Tyrod Taylor—it does not require much imagination to see Jones uncorking deep balls to burner Kolby Listenbee in the near future. Running back Jonathan Williams will outplay his draft slot if he's healthy, although he enters a crowded backfield.  —CB
Rex Ryan made the Bills defense competitive last season, and now he gets some serious weaponry on that side of the ball with pass-rushing lineman Shaq Lawson and Reggie Ragland, who should be an instant leader in the linebacking corps. The Bills already had a good secondary, too. Ohio State's Cardale Jones is a good project of a QB to work behind Tyrod Taylor and E.J. Manuel. And watch sixth-round pick Kolby Listenbee; he can fly.
Rex Ryan saw what he had on defense, and after he couldn't get it to produce, made sure to overhaul the front seven in the image of his more ideal scheme. Lawson and Ragland, both high first-round talents, will go to work right away flying upfield against run and pass. Ryan can get the most out of Washington's quickness. The steal might end up being Jones, who should have been taken a lot earlier given his big frame, huger arm and athleticism. He landed in the right spot to develop into an NFL starter.
Buffalo clearly got better on defense by taking DE Shaq Lawson in the opening round and LB Reggie Ragland in the second round. Third-round DT Adolphus Washington also could help. Using a fourth-round selection on QB Cardale Jones is an interesting pick that could pay dividends down the road. He is a long way from being a polished passer but there is plenty of talent there.
This draft class is an impressive double-edged sword for Rex Ryan and brother Rob Ryan: it gives them some much-needed help on defense, and could also be the class the front office points to if the defense doesn't get better. It's "Here you go, Rex. This better work."
Last year was bizarro football for a Rex Ryan-coached team -- it was the defense that kept Buffalo from the playoffs. Well, here comes some help. Shaq Lawson led college football in tackles for loss last season, and was my No. 12 prospect, so I like the value at No. 19. The concern: a number of teams believe he needs shoulder surgery, even if it can be delayed. I love the addition of Reggie Ragland at linebacker (even though the price was steep), a classic thumper who lacks elite range but can be a leader in the middle of the defense. Adolphus Washington provides solid value in Round 3 at another need position along the D-line; he can be a penetrator from the interior, and early in the season I wouldn't have suspected he'd be available this late. Cardale Jones is nowhere close to starting an NFL game, but he doesn't need to be, and the value is fine.
Shaq Lawson in a Rex Ryan front speaks for itself. Good value. Reggie Ragland was great value, too.
Overview: GM Doug Whaley started with one of the best picks of round one, landing ultra-productive and ultra-athletic Lawson to book end Jerry Hughes on a downright terrifying defensive line. Buffalo moved up for Ragland, sending Chicago a fourth-round pick (117) and a 2017 fourth-rounder in exchange for an eight-slot climb. A poor athlete for a supposed interior pass rusher, Washington is low-ceiling depth. Jones does offer upside, but he'll have to be coached up from scratch. A light-footed power back, Williams was good value in round five but is redundant in Buffalo behind LeSean McCoy, Karlos Williams, and Mike Gillislee. Listenbee is a gunner/situational deep threat, while Seymour got benched as a senior at USC. Although I liked how Whaley solidified Rex Ryan's front seven, I think it would be surprising if the Bills got meaningful contributions from more than two or three players in this class.
Thumbs up. The Bills hit on both value and need with their first-round selection of Shaq Lawson (No. 19 overall) and their second-round selection of Reggie Ragland (No. 41 overall). In fact, neither Lawson nor Ragland were on the board when I made the Bills' pick at No. 19 in our NFL Nation mock draft earlier this week. Rex Ryan told me Friday he was thrilled with the selection of Lawson and picking up Ragland must have only put a bigger smile on his face. His defense needed reinforcements.
Ragland fell to the second round due to concerns over his cover skills, but he flies to the ball in the run game. Rex Ryan will love the way he practices and tackles. He was the only player I saw who was able to stop Ohio State RB Ezekiel Elliott dead in his tracks and drop him backward. This was a great value and a big upgrade for the Bills, who saw Preston Brown really struggle last season. I also love the Shaq Lawson pick at No. 19 overall. He plays with a junkyard-dog mentality that's tough to stifle for 60 minutes. Lawson and Ragland will bring immediate energy and toughness to the Bills' defense.
Analysis: Rex Ryan's defense underperformed in his first year in Buffalo, and the Bills used their first three picks there with Clemson DE Shaq Lawson, Alabama LB Reggie Ragland and Ohio State DT Adolphus Washington. The development of Ohio State QB Cardale Jones, the fourth-round pick, could be an important subplot for this class.