Following Friday's practice, Bills players met with the media to discuss the recent roster moves.
Q: Were you surprised? We were all surprised, I imagine you guys were too by the trades today.A: Definitely surprised. Being in this league seven years, every day that you step into a building, it could be your last day. Things happen around the league. Like I said, just surprised but I wish Sammy [Watkins] the best. I haven't had the chance to talk to him. I will call him tonight. It's been a fast day but I'm definitely surprised.
Q: As the quarterback, he is your primary receiver. How disappointed personally are you? That's your weapon, that's your guy.A: I have faith in our management and I have faith in Coach McDermott that they made a decision based on the betterment of this team.  Like I said, definitely just surprised that everything happened. It just happened so fast. He was with a guy yesterday, seeing him this morning and then everything is sprung on you. Like I said, it's the nature of this business and you've got to continue moving forward. Our focus as a team is still the same thing – to go out and win games. We have to continue to keep focusing on that each day.
Q: At a time where this is a win now league, you want to win now. Are you able to put a positive silver lining on something, knowing that you lost a player the caliber of Sammy Watkins? No matter how good Jordan Matthews might be, it will take time for you and him to build a chemistry.A: We have to put a positive lining. Like you said, it's a win now league and as a team, we have to refocus and do whatever it takes to win games. I've actually gotten a chance to work out with Jordan [Matthews] a couple years ago, so I know him personally. He's a great guy, great talent. It's tough to lose a guy like Sammy [Watkins] but as a team we have to refocus and continue to keep working hard to get better each day.
Q: With Anquan [Boldin] and Jordan [Matthews], how tough is it to get these two receivers up to speed and on page with you? It seems like it might be tough to get going right out of the gate.A: Anquan [Boldin] has picked up the offense very fast. Like I said, I haven't had a chance to be around Jordan [Matthews] as far as in the classroom, but I'm going to do my best along with the coaches to bring him up to speed. We know what type of talent he is just watching him on the field. He definitely can make plays, he's a very athletic guy. I'm excited to see him once he gets in, just to talk to him and bring him up to speed. I've got to spend more time with him after practice watching film with him and just getting him on the same page. It's going to be a work in progress but I'm excited to work with him. This team is going to welcome him in.
Q: Were you shocked when you heard the news about Sammy [Watkins] today? I know it's the NFL, but –A: Yeah, I'm sure everybody was shocked. But I've been in that situation. You get traded kind of unexpected so I'm sure everybody was shocked like I was.
Q: What about blending the guys in, both [Anquan] Boldin and [Jordan] Matthews here on offense? You have three preseason games to do it, but what is the challenge there?A: Well, I guess the good thing about it is [they get] here with three games to play. Learn the offense and get some real, live snaps with the quarterbacks in a live game. I think that helps them out.
Q: What's your sense of the morale of the team right now after this deal?A: Well, it's such an early process for this season. Guys are still trying to learn the playbook and guys are trying to make the team. We're trying to figure out who's going to start. We have injuries and we're trying to figure out who's going to be the guy. The good thing is, right now, even though it's a major situation with the trade, we have so [many] more things that we're trying to worry about. We have a long season and the thing is, we can't do anything about it now. We've just got to move on with what we have and get it going.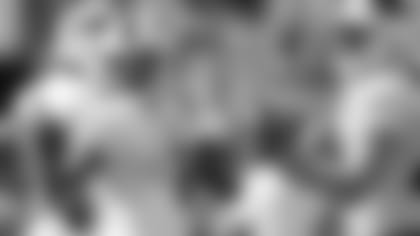 Q: Your initial reaction, Zay, when you hear that Sammy Watkins is traded?
A: Mixed feelings, you know. Happy for him. New start for him, but also sad to see him leave, one of the first people I met when I got here. So, just a lot of mixed emotions.
Q: Your first taste of the reality that the NFL is a business.
A: It's not my first taste. My dad played in it for 10 years, so I understand it, I understand how it goes. So, just got tor respect the game, respect the process. People way higher up than me make those decisions. I don't question it. I just do my job. I'm here to play receiver, I don't pick who comes and goes.
Q: What was the morale like in the receiver room when you heard the news?
A: Coach Phil (McGeoghan) did a good job of handling his troops, us. So, just try to stay as positive as possible, like I said. Mixed feelings, as well. I'm seeing one of my good friends go, but he's moving on. He's going to be happy, he's going to be just fine. And now it's up to us to lead this team, lead this offense and head in the right direction.
Q: You mention you had the rapport with Sammy (Watkins). Does it ease the blow that Anquan (Boldin) just got here?
A: I mean, Anquan is 15-year – what -- 16-year veteran, so I can lean on him know. I still got a lot of veterans on this team, it doesn't have to be a receiver. Eric Wood is a great guy to lean on. Why not grab him and ask him some questions? Richie Incognito is a great guy to lean on. LeSean McCoy -- what a --9, 10-year veteran. So, this team is full guys who have played in the league for a long time, had success in this league for a long time. And that's what I'm trying to replicate, you know, that's what I'm trying to be.
Q: What was your reaction to hearing about the trades today?A: I mean, it's like everyone else's; surprised. That being said, I've been around long enough to know that the only constant thing is change. Nothing totally shocks me anymore, but I was a little bit surprised this morning.
Q: You were talking at the end of last season that you're going to check things out; you're going to see where this team is, what it wants to do. What does this indicate for you in terms of 2017?A: I was actually just talking to somebody about it. You could view it one way from my perspective, if we got a pick this year, two two years from now for both picks. We're actually getting guys that are coming back to play those positions so I don't scout and evaluate guys, so we're actually getting people back and some picks. I know more than anything that my attitude and my leadership and the way that I work cant change because of it changes, guys change and above all that, I trust Sean [McDermott]. I'm going to do what I've always done and I'm going to go out there and get ready to win.
Q: You trust the direction of the team. Brandon Beane says they're not throwing in the towel but a move where you trade your top, maybe arguably, offensive weapon and top cornerback. How difficult is it to trust that process?A: Well, you just have to. We're sad to see Sammy go, but we were pretty effective on offense without him last year at times. We're adding a player in Jordan Matthews and hopefully he can come in and fill that void.
Q: Coach said he addressed the leaders of the team before he addressed the whole team. What was the general – did he just kind of give it to you straight? Or how did he kind of lay it out for you?A: He just said we're not throwing in the towel. [We] need your leadership in this decision and that he felt it was the right one. I trust that he made the right decision.